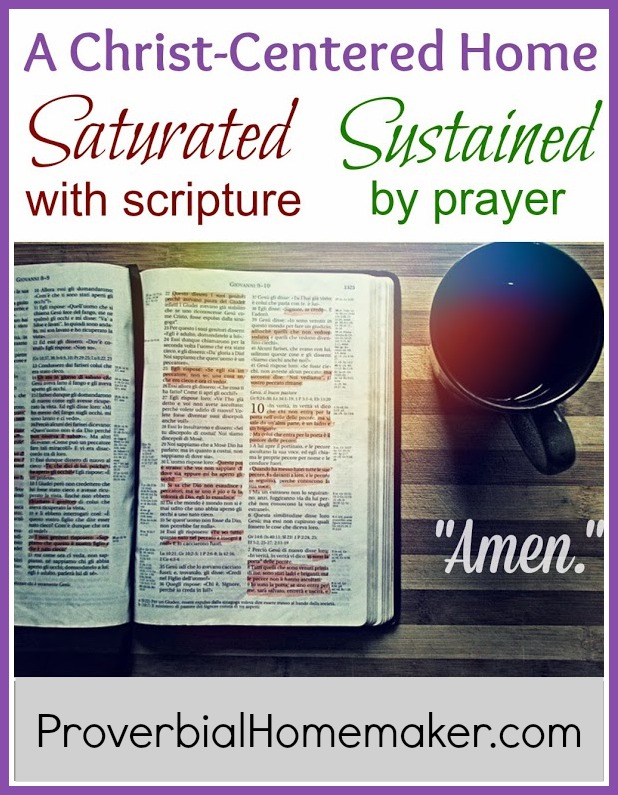 Disclosure: *This post may include affiliate links. As an affiliate, I earn from qualifying purchases. Read the disclosures and terms for more information.
Your word I have treasured in my heart,That I may not sin against You. ~ Psalm 119:11
Your word is a lamp to my feet and a light to my path. ~ Psalm 119:105
I have been on a mission to saturate our home and our days with scripture. Pictures, songs, books, prayers, routines – even how we talk to each other – all these things can be so permeated with scripture that soaking in God's Word becomes as eating and breathing in our lives.
Saturate your home with scripture:
Wall displays like these beautiful printable scriptures or vinyl lettering from Wise Decor (a participant in the grand prize giveaway on Friday!)
Several Bibles and biblical story books around the house (like in our Bible time basket) for various ages and purposes
Scripture readings and devotions at every meal or at family worship time
Family scripture memorization so that you may hide God's word in your hearts together
Even the details like your morning cup of tea can remind you of God's Word and His goodness. Scripture Tea sent me some of their delicious tea with scripture right on the tags! They would make great gifts, wouldn't they?
What other creative ways can you think of to incorporate scripture in your home? Perhaps embroidered on a pillowcase? Scripture bookmarks?

I have a coffee cup that I gave to my husband and then stole back. that says "I can do all things through Christ who strengthens me." (Good thing it doesn't say "Thou shalt not steal!") I can't even count how many times that scripture has caught my attention as I wearily face a new morning!
Sustained by Prayer
…praying at all times in the Spirit, with all prayer and supplication. ~ Ephesians 6:18
Prayer is essential. We all know this. However, the longer I am a mom, the more God is teaching me about genuine prayer. We NEED it just like we need His Word. We need it more than food and water. There are seasons where popcorn prayers may be all we can muster (oh, those newborn days), but without a deep foundation of meaningful prayer, we are simply not living as effectively as we could be.
I'm going to be perfectly honest: my prayer life isn't great. It's probably pretty typical though. I have ups and downs, but I want more. I love prayer and I know God has been calling me to deeper prayer for quite some time, but it's been slow progress. That's ok though, because God is patient. I am excited for what he's been calling me to in these next few weeks!
What can help us be faithful and go deeper in our prayer life?
Prayer Retreats. Taking an annual prayer retreat is something I started a few years back. I am so overdue! It is a great way to break through your own noise and enter into real prayer with God.
Prayer Journals. Writing things down in a journal not only sometimes helps focus our prayers, but it's a great encouragement to read back over later on. Here is a DIY prayer journal I have done in the past.
Prayer Helps. Prayer cards and calendars are very helpful tools. Here are ones I use all the tim

e.
What do you do to stay faithful in prayer? What helps you connect with God in those times of communion?
Here are more fantastic resources for saturating my home and my family with scripture and covering them in prayer.
All Posts on Establishing a Christ-Centered Home

(This giveaway is over)
Available in the US and Canada. Giveaway open through 4/16 and has 48 hours to respond before a new winner is chosen.