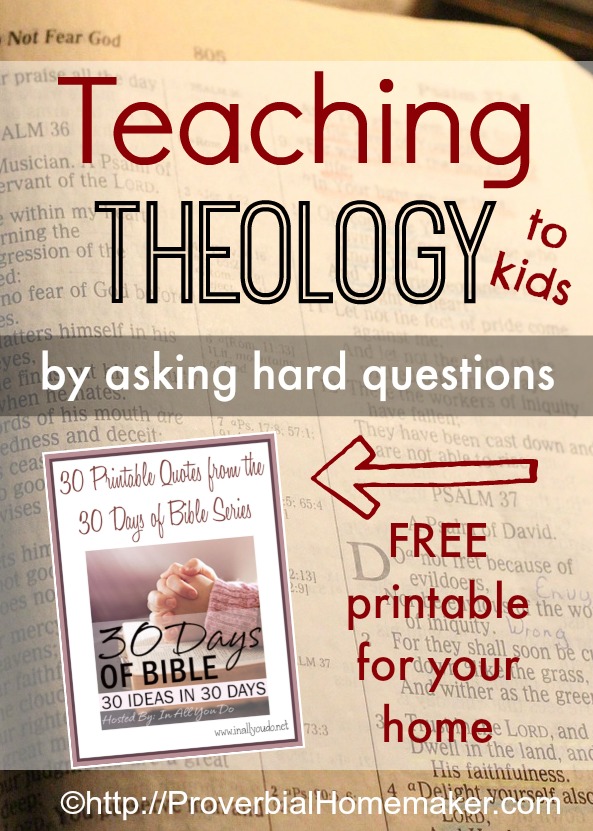 Disclosure: *This post may include affiliate links. As an affiliate, I earn from qualifying purchases. Read the disclosures and terms for more information.
Kids are full of questions, aren't they? They keep us on our toes asking us the "why" of every life situation. Sometimes those questions can provoke great thought and exploration for us as parents! How can we answer such difficult questions with simplicity and clarity?
Hard questions are usually GOOD questions that help us dig in deeper. Following Christ and really learning the Bible comes with it's own set of questions that are both difficult and essential. What is the trinity? Who created God? Why is the world full of sin? What does Christ's death and resurrection mean for us?
What answers would you hear if you asked your kids those questions? Frankly, most teenagers and even adults can't answer them with any sort of confidence. However, the Bible does have the answers to these difficult questions and more. Understanding what the Bible teaches at a foundational level can help our kids (and ourselves) develop a theological base from which we can further explore and learn.
Those are hard questions, right? Can we really expect kids to answer them when the are so difficult for even adults to grasp?
Today I am writing over at In all You Do about the how and why of teaching theology to young children. Find out what the Bible says about setting up theological facts for kids to memorize, how to use it as a teaching tool in your home, some examples from our home and teaching material you can use for teaching theology to kids.
FREE Printable Just for You!
As a part of this series, you can download this beautifully done set of quotes that draw wisdom from each post and present them in a frame-worthy way. Use them for encouragement, or print one up as a gift for someone else! We hope you are blessed by the freebie and the series as a whole.