The kids and I have been happily working through our homeschool Biology curriculum for the year and enjoyed one easy project in particular that we wanted to share with you: A DIY terrarium! It's a great lesson in what plants need to survive and thrive.
Since I wasn't ready to spend any money on fancy supplies, we used what we already had laying around the house. Frugal mama for the win! If you're looking for a simple and fun hands-on science lesson for your kids, your crew will love this project!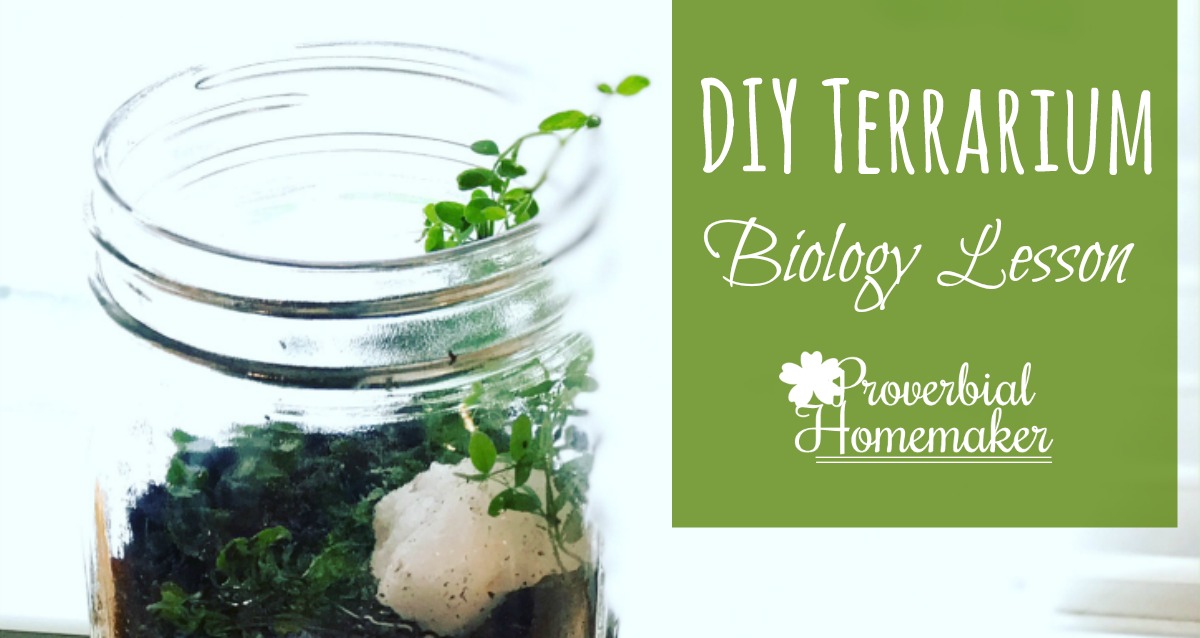 Disclosure: *This post may include affiliate links. As an affiliate, I earn from qualifying purchases. Read the disclosures and terms for more information.
This is a sponsored review post in cooperation with Bright Ideas Press. All wording, details and opinions are my own. Please see my full disclosure for more information about reviews.
This lesson was from one of our main science books this year: Christian Kids Explore Biology. I've already shared a bit on some other projects we've done this year, including our edible cell model. This time we were going through the plants unit and learning all about the parts of a plant, examining them under a microscope, what they need to survive, and more.
We wrapped up the lesson with this fun DIY terrarium project and the kids had a blast!
What is a Terrarium?
You can have an open or closed terrarium. An open terrarium may need occasional watering and can handle direct sunlight, while a closed terrarium needs very little if any watering (the water that evaporates drips back into the soil) and will need the use of activated charcoal to keep it from molding over. It also cannot handle direct sunlight quite as well.
Our plant biology uint focused on parts of a plant and what plants need to survive: sunlight, soil, and water. My kids were excited about making a little indoor garden with a DIY terrarium and I was excited for the ongoing conversations it would provide to reinforce what we'd learned!
Assembling a DIY Terrarium
Closed terrariums are great for succulent plants but we decided not to spend money on those and so instead went to our back yard. We found some good soil, nice rocks, and low-growing plants that we could add to our terrarium.
Then we looked around for some materials to build our little garden. A nice quart mason jar, some glass beads from the dollar store that hadn't found a good use yet (other than making me crazy by showing up in random places), water, and our soil and plants. That's all we needed!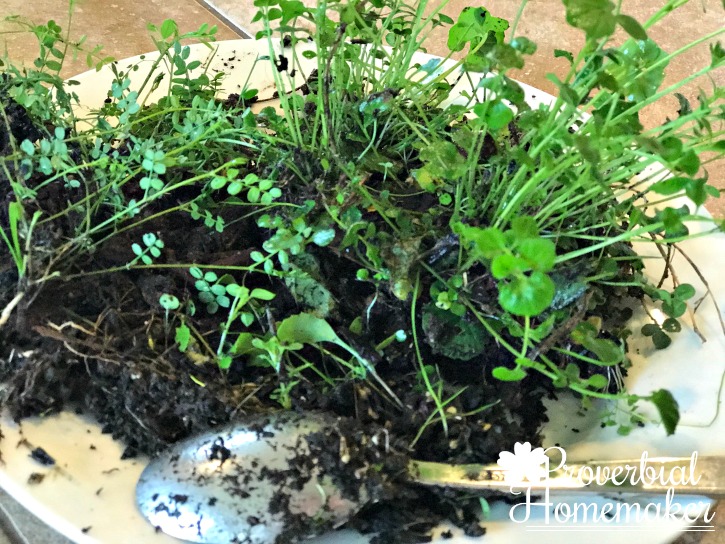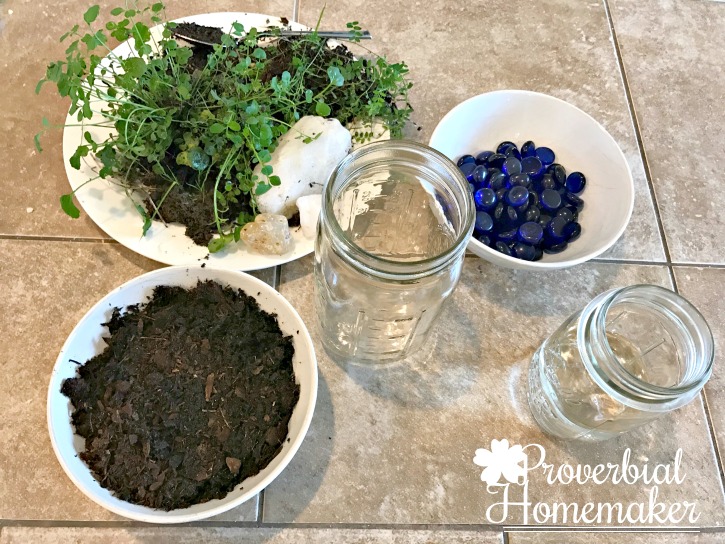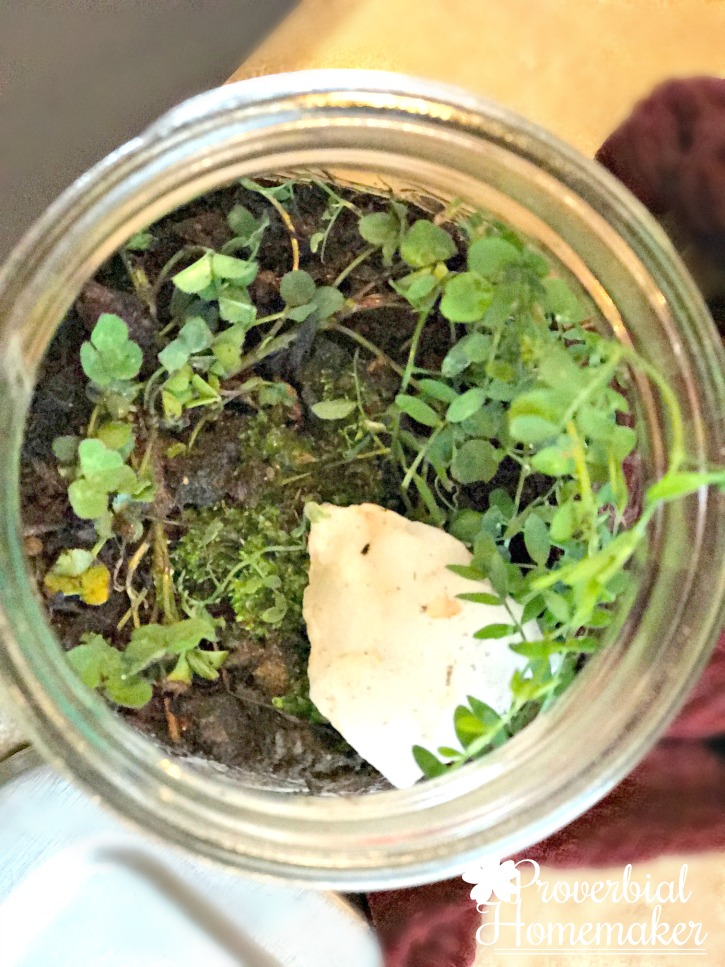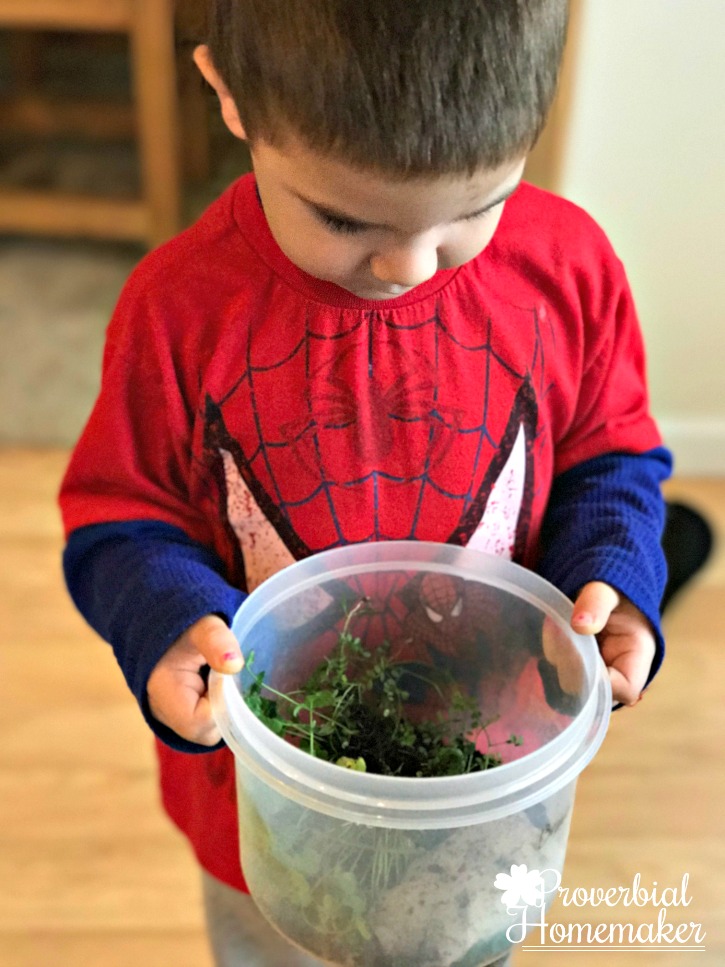 The kids all helped assemble the terrarium and had a lot of funny chats about which LEGO and/or fairy characters should live in there. The preschooler decided he wanted to make his own using the left over materials. 🙂
Of course, we also talked about all the ingredients for a successful terrarium and what our plants would need to live well on our kitchen windowsill. The layer of pebbles on the bottom help keep the roots from becoming water logged since there are no drainage holes.
Christian Kids Explore Biology
Once again I'm happy with how simple and engaging Christian Kids Explore Biology from Bright Ideas Press has been for our family. We finished up a memorable plant unit and it was easy for me to put together. Score! Find out more about Christian Kids Explore and see if it's a good fit for your homeschool!