I love using living books in our homeschool. It enriches our experience and makes it not only enjoyable and memorable for our kids, but for myself as well! But I also love having resources that help me accomplish those goals in my homeschool without requiring too much time planning, preparing, and gathering. I just don't have time for that!
This post is sponsored by Beautiful Feet Books. However, curriculum from Beautiful Feet Books is treasured in my home. This review, as always, is an honest one. I know you'll love it as much as we do!
A few years ago we discovered Beautiful Feet Books – a fantastic Charlotte Mason inspired curriculum company with living books history, geography, and more. So far we've used a handful of their curriculum options and loved them all, but my favorite by far has been their Around the World With Picture Books curriculum! We did their Part 1 set and then this past year did their Part 2 set. Our whole family (with ages pre-k through 12) enjoyed it immensely!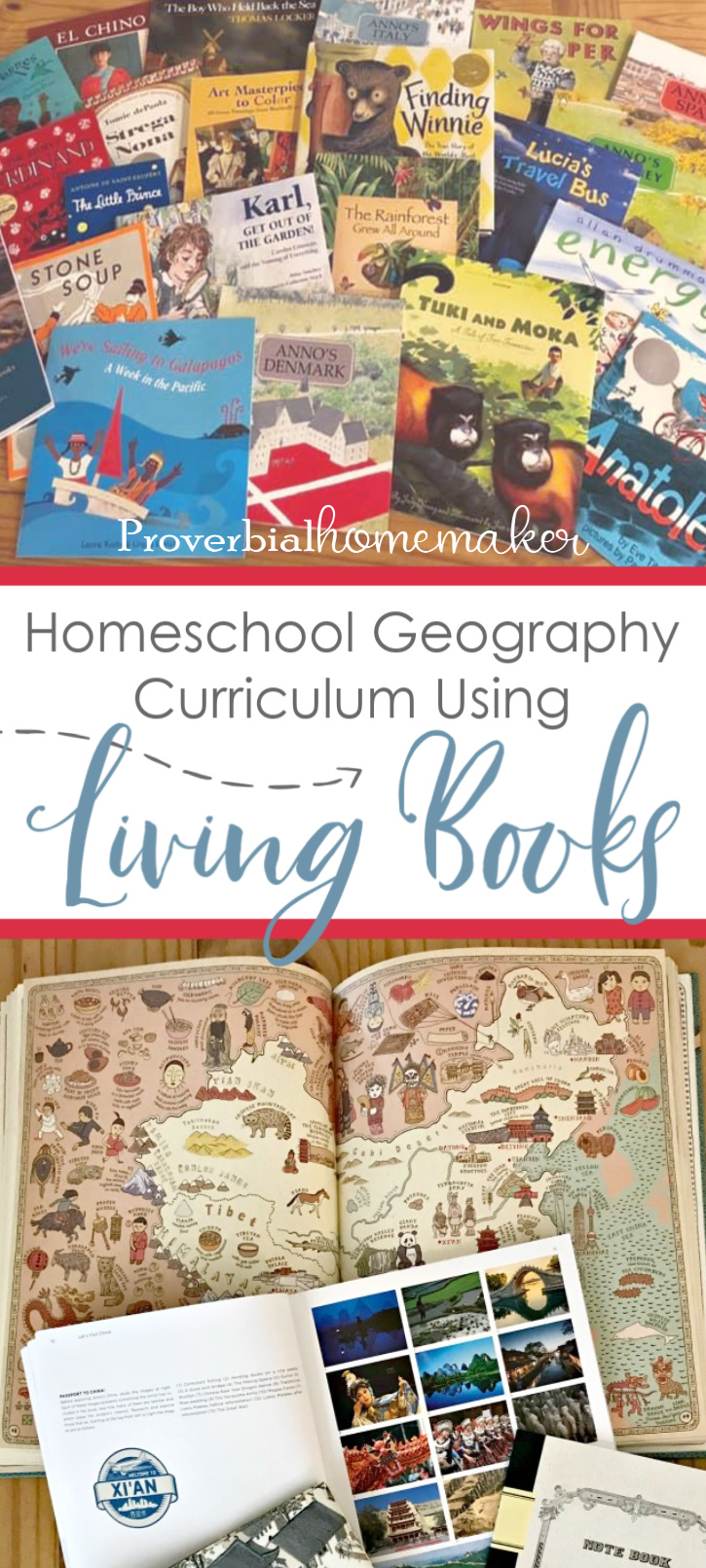 Disclosure: *This post may include affiliate links. As an affiliate, I earn from qualifying purchases. Read the disclosures and terms for more information.
Homeschool Geography Curriculum Using Living Books
Now, sometimes when people are looking for homeschool geography curriculum, they are thinking that means tracing maps and locating capitols of states or countries, maybe singing songs of the various countries and doing a sheet for each location where you color a map and find out what the state bird and flower are. Of course, there's nothing wrong with that approach and we've done it here, too!
But this is a different way of doing geography. Instead, we go a little deeper into experiencing the country and its people through good children's literature. Then we expand on that reading with activities and resources about the different cultural aspects, landmarks, famous people, cuisine, location, and physical geography of the country. It is just SO much more fun and memorable for my kids. It's also easier to do with a multi-level, one room schoolhouse approach!
Here's how we do our Charlotte Mason style living books geography lesson for each country we learn about. It's kind of like a unit study, actually. (The Beautiful Feet Books folks really hit a home run with this, in my opinion!)
Maps – Have a map or globe on hand and/or some great books with maps. The Beautiful Feet Books curriculum comes with a big beautiful book called MAPS that is perfect.
Children's Literature – Use beautiful picture books, biographies, and other great literature about that country.
History – Learn a few interesting aspects about the country's history. Many children's literature choices are historical fiction that would be perfect for this. Of course, well done biographies aimed at children are great, too!
Science – Study the animals and plants unique to the country. You could even learn about some of the inventors or famous inventions from that country.
Culture – Learn about the people and their customs. You can explore art, music, food, language, and more!
Prayer – (We added this aspect ourselves.) Pray for each nation, for their protection, good leadership, freedom, that the gospel of Christ would spread.
Narration – Have your children of all ages practice narrating back to you in their own words what you read each day.
Notebooks – Have the kids record what they learned in a notebook. This could range from a simple drawing to a bulleted list or a full paper. We like to have them write a few sentences a few different times for each country and paste in pictures or colored illustrations.
Around the World With Picture Books includes ALL of these aspects all planned out for you in a beautiful guide and fantastic literature selections.
Around the World With Picture Books Part 2
We already used and reviewed Part 1 of Around the World With Picture Books and you can view that here. But let me tell you a little about what you can expect in Part 2 of this homeschool geography curriculum.
The countries you'll cover are France, Spain, Holland, Italy, Sweden, Denmark, Great Britain, Equador, Brazil, Peru, and Chile.
Gorgeous and engaging picture books (you can get these at the library or build your home library like we do and get the whole kit.)
Study guide with activity ideas, including easy ones we can do without much prep work, if any.
Learn the culture and history of each country – food, music, art, history, and more.
Rabbit trail opportunities – they offer wonderful suggestions and links for YouTube videos, more books to explore, etc.
Notebooking instructions and a little journal to keep their notes. There are sheets in the guide that include artwork, animals, and the flag for each country that you can color and paste into the journal.
Watch My Video Review – More Details Included!
Some Considerations to Note
First, learning about geography and cultures is the perfect occasion to talk to your children about sharing the Good News about Jesus Christ, reaching other people groups with the gospel, and praying for those countries. Since the study guide doesn't really provide that you'll want to add it on your own!
Second, the whole set isn't cheap, I'll grant, but we've decided from experience that the Beautiful Feet Books selections are always so wonderful that they're worth the investment for a great library of living books.
Here are some other ways to reduce the prices:
Just buy the study guide and a few book selections
Buy the set and get the automatic $20 off and free shipping
Use their Lowest Price Guarantee offer on their packs. If you can put together their pack from a different seller and come up with a lower price, they'll match it and give you $10 credit off your order! Their pack prices really can't be beat.
If you already own 1-5 titles in the pack you can call them and they'll remove those books from your order, adjusting the price down.
I hope that was a helpful review of this homeschool geography curriculum with some good tips to get you started teaching geography with living books!
~ Tauna
You Might Also Like…
7 Ways to Incorproate the Charlotte Mason Homeschooling Method