Have you heard of Reformation Day? October 31st is a time to remember the Reformation and its importance in church history. On this day in 1517, Martin Luther nailed his ninety-five Theses to the door of the Castle Church in Wittenberg, in protest against the abuse of indulgences in the teaching and practice of the Church.
It is worth remembering because the message he (and the Scripture) communicated is so essential: Salvation cannot be purchased by anything but the blood of Christ – we are saved by grace alone, through faith alone, in Christ alone.
*** New items added to the list below on 10/13/23.
Disclosure: *This post may include affiliate links. As an affiliate, I earn from qualifying purchases. Read the disclosures and terms for more information.
A Fun and Educational Reformation Day for Kids
If you are interested in learning more about Martin Luther and Reformation Day, and want to have some fun learning activities, too, you're in the right place!
I have my favorite resources gathered for you here that will help you make a fun and educational Reformation Day for kids:
1 – (Printable) Reformation Day Fun Printable Pack for Ages 2-9! Use our Reformation Day printable pack for a fun way to teach about this historic event! See all the details and screenshots below for more info.
2 – (Hymn Study) A Mighty Fortress is Our God. Grab this free printable hymn study to learn about this classic hymn written by Martin Luther. It includes a devotion, coloring page, lyric sheet, and more.
3 – (Book) When Lightning Struck: The Story of Martin Luther by Danika Cooley. Go buy this now! I started reading this myself to learn more about Martin Luther and Reformation Day and it was SO good that I started over and began reading it out loud to my kids! It's a perfect one to read during October but can be fantastic learning any time of year. You can also download this FREE discussion guide to use with your kids as you read it!
4 – (Unit Study) FREE Extensive 12-Week Unit Study for Middle & High School Kids. If you have older kids, be sure to download our FREE 12-week Martin Luther unit study written by the author of When Lightning Struck!
5 – (Book) The Barber Who Wanted to Pray by R.C. Sproul. This is a fun little book that tells a story about Martin Luther teaching his barber how to pray.
6 – (Video) The Martin Luther Story. This is an animated video from Torchlighters (we love their videos). You can find it on Amazon (or sometimes it's free if you have Amazon Prime). Often you can find it on YouTube as well. You can also download a free printable pack here to go with the video.
7 – (Activity Guide) Make an Event of It with A Night of Reformation – Doorposts has put together a binder of everything you need to put on your choice of four different Reformation events! If you're looking for an engaging and memorable way to replace Halloween activities entirely in your home, group, or church, this is an amazing resource.
8 – (Activity) Hand Out Reformation Info and Bibles for Trick or Treaters – I LOVE this idea from The Principled Academy! They decorated their porch for the time period and set out candy with information about the Reformation wrapped around it to educate people, along with Bibles for people to take for free!
9 – (Unit Study & Lapbook) Check out this fun and FREE unit study and lapbook! – Gena from I Choose Joy put this Reformation Day unit study and lapbook together. If your kids love lapbooks for learning, this is a great one to incorporate into your homeschool!
10 – (Video) Fun Playmobile animation video on the Reformation – Watch this fun video with your kids! It's very well done and has a good gospel presentation as well.
11 – (Family Study) Use the Five Solas Family Bible Study – This great Bible study from Thinking Kids includes Scripture, activities, notebooking pages, and more. Great for homeschooling or family devotions.
12 – (Books) Who What Why? book series for kids – This is a FANTASTIC new book series from Danika Cooley. The whole series is great for Reformation Day, but the Why Did the Reformation Happen? book is particularly good for this.
13 – (Party Ideas) Want to throw a Reformation Day party? – This is a fun post with great ideas for a little Reformation Day party you can do with your kids from This Pilgrim Life.
14 – (Printable) Ten Men That Led the Protestant Reformation – This printable from Reformed Faith and Family includes biographical cards and famous quotes from Luther, Calvin, Knox, and more.
15 – (Activity) 5 Solas Hand Garland Reformation Day Craft – Cute craft idea for a hand garland from Reformed Faith and Family. Would be a great decoration for a Reformation Day celebration, too!
Our Reformation Day Fun Printable Pack
We really enjoy using this resource with our kids. It makes a great homeschool activity or Sunday school lesson. In this Reformation Day for kids printable pack, children will learn about Martin Luther, his Theses, the Five Solas, and more.
This massive 131-page Reformation Day printable pack includes a variety of fun activities for children ages 2 to 9. The activities included are: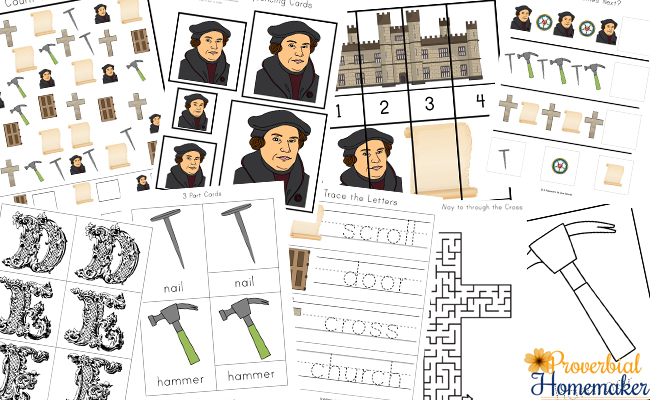 Alphabet Matching Cards – These are great for learning the lowercase and uppercase letters of the alphabet.
Vocabulary Cards – these are great for memory/matching games as well as spelling and vocabulary.
Word Tracing– These pages help children learn to form letters and spell words correctly.
I Spy– These pages are great for counting practice.
Colour Matching Cards– A great way for kids to learn their colours.
Shadow Matching Cards– These shadow matching cards are so much fun and can be used in games such as memory/matching as well.
Number Puzzles – These are great for learning skip counting.
Size Sequencing Cards– Match the cards from smallest to biggest or the other way round.
What Comes Next?
Finish the Pattern
Story Writing Pages – These can be used to retell the story of Martin Luther and his 95 Theses in their own words.
Spot and Dot – Spot the letters and then dot them.
Colouring Pages– Decorate or colour as you wish and hang up to decorate your rooms.
Count and Clip Cards– These are great for kids learning to count and recognize numbers.
Cross Puzzle
Cross Maze
Cross Shade and Cut
Cross Connect the Dots
Cross Stained Glass coloring page
Martin Luther Page
Luther's Rose / Seal coloring activity
The Five Solas activity
The 95 Theses Scroll Printable
Hymn – A Mighty Fortress is Our God Copywork Activity
Scripture Cards
Bible Copywork Pages– This Reformation Day printable pack includes 13 pages of Bible Verses in both King James and English Standard Versions for your child to copy and then memorize.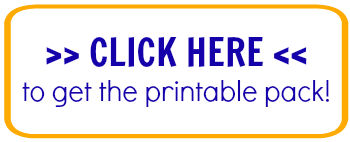 You Might Also Like…
Sound Words for Kids: Lessons in Theology