Disclosure: *This post may include affiliate links. As an affiliate, I earn from qualifying purchases. Read the
disclosures
and
terms
for more information.
In John 14:1-7, Jesus makes one of the most definitive and powerful statements about who He is. Jesus is "the way, the truth, and the life." In a society that values relativism and humanism, and balks at the suggestion that there is a "right" way, it's a highly contentious statement as well. But it's the truth. The only way to know God is to know Jesus and have saving faith in Him. No other god or religion leads to the one true God.
"There is salvation in no one else, for there is no other name under heaven given among men by which we must be saved." (Acts 4:12)
As Christians, we must hide this truth deep in our hearts and teach it often to our children. It will help us recognize heresy and teach our children the gospel. Our culture may buck against it, believing it limits their freedom and choices. But once we understand who Jesus really is and put our faith in Him, confessing with our mouth that He is the Messiah, we receive so much, including a powerful and satisfying freedom in Christ that no man can ever take away from us.
"So if the Son sets you free, you will be free indeed." John 8:36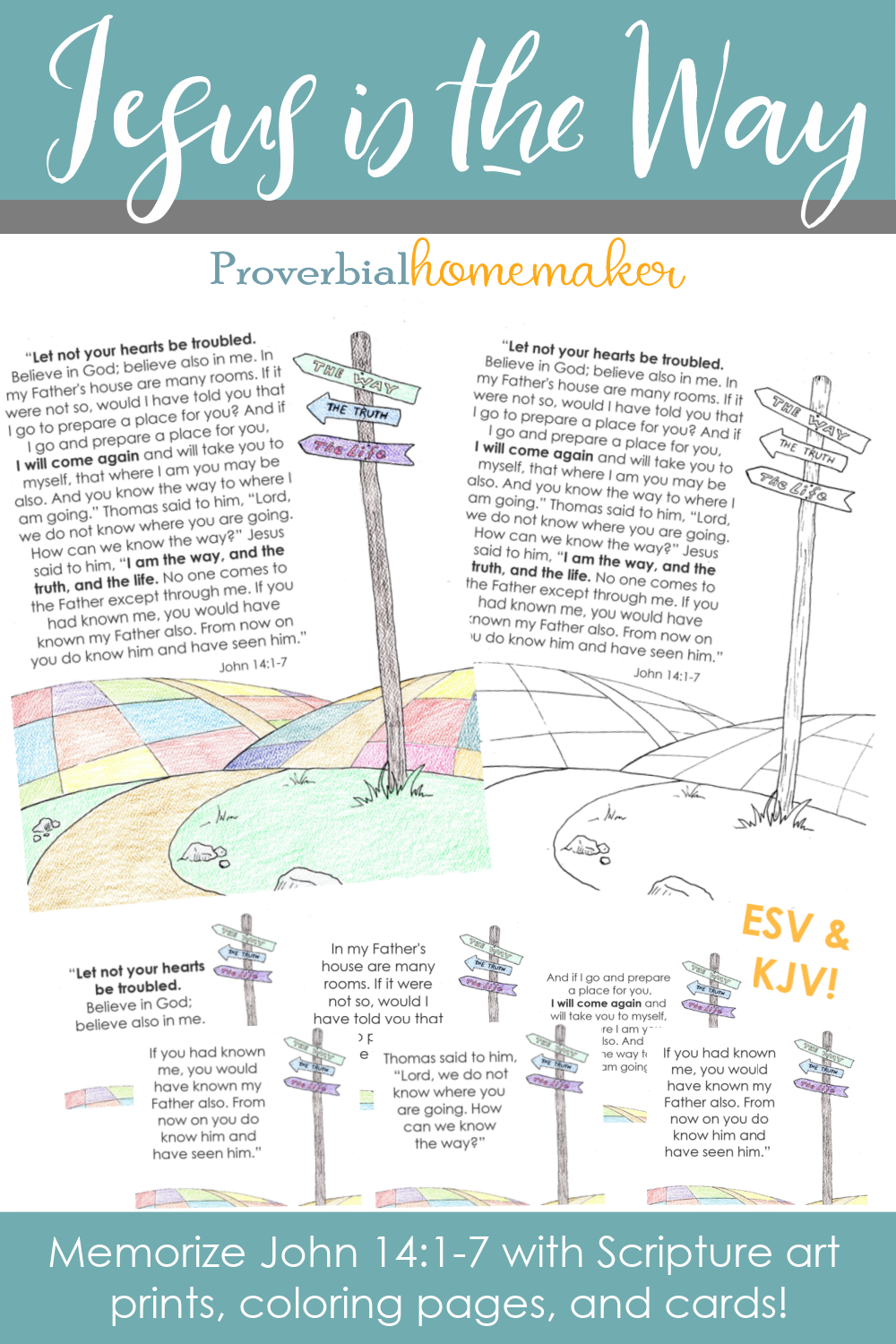 Jesus is the Way – John 14:1-7
Teach your kids that Jesus is the way, the truth, and the life! Let's take a quick look at each piece of this quote by Jesus.
"Jesus said to him, 'I am the way, and the truth, and the life. No one comes to the Father except through me.'" (John 14:6)
I am – This is one of Jesus' powerful "I am" statements. "I am" may sound simple to us, but it was packed with meaning for those who originally heard Jesus' words, affirming for all that He is God. You can read more about that in this article from GotQuestions if you're curious.
The way – The only way to know God, be saved from sin, and go to heaven is to follow Jesus Christ and put our faith in Him.
The truth – Jesus is the Word of God. He is the only truth. That means He is that standard of all holiness and righteousness, and that everything else (including all we think, read, hear, etc.) should be tested against the Word of God.
The life – The only way to be free from sin and spiritual death is through Jesus Christ. He provided the way for us to be freed from our bondage to sin, live an earthly life in fellowship with Him, and spend eternity with God.
Personal Note: I know some of you are reading this thinking that it does sound limiting, severe, and narrow. Well, it kind of is. I personally struggled and fought against it for years for several reasons, including my independent and delightfully stubborn nature. 😉 But I did come to saving faith in Jesus Christ (you can read my story here), and let me tell you, friend, the freedom is real! Wholeness, belonging, freedom, meaning… it can only be found in Jesus Christ. He really is the way, the truth, and the life! If you are struggling with this as well feel free to comment here or email me. I'm no pastor or counselor, but I'd be happy to pray for you.
Join our family as we memorize John 14:1-7 and hide God's Word in our hearts! These Jesus is the Way printable Scripture cards, art prints, and coloring pages will help your whole family to meditate on God's Word and learn the passage together.
Praying John 14:1-7
Pray through the passage together as a family or pray it over your children as a bedtime blessing for a while. Ask the Lord for the words! You can use these ideas to get started.
Lord, help us to not be troubled by our personal struggles or the chaos happening in the world. Help us to put our faith and trust in you alone.
Thank you for preparing a place in heaven for those who put their faith in you!
Thank you that the Holy Spirit is with us now and that you are coming back one day!
Thank you that you have provided the way for us to know God, go to heaven, and find eternal life in you.
Help us to stand firm in the truth of who you are.
Give us boldness to tell others about you and share the gospel message.
Lord, we pray for genuine salvation in our family and in the lives of our friends and neighbors.
Your kingdom come, your will be done, on earth as it is in heaven! (Matthew 6:10)
In the name of Jesus we pray these things together. Amen!
Love Others Through John 14:1-7
Use this passage to inspire ways to love others and point them to Christ.
Call or write a friend who is struggling with worry and encourage them to trust in the Lord.
Get a book like Window on the World and pray for various nations, that they would come to know Jesus is the way!
Share about Jesus with a friend or neighbor. Here is an article with some ideas for doing that. Brainstorm together a list of ideas for how to put them into practice!
Memorize John 14:1-7 (Available in ESV and KJV)
Download the Jesus is the Way printable pack below and memorize this passage! You'll find two custom illustrated Scripture art prints to frame or tack to your wall, memory verse cards, and coloring pages you can use to help you meditate on and memorize this passage together.
(This post is a part of our annual Read, Pray, Love efforts in the Proverbial Homemaker community. Check out past editions here. )
You Might Also Like…