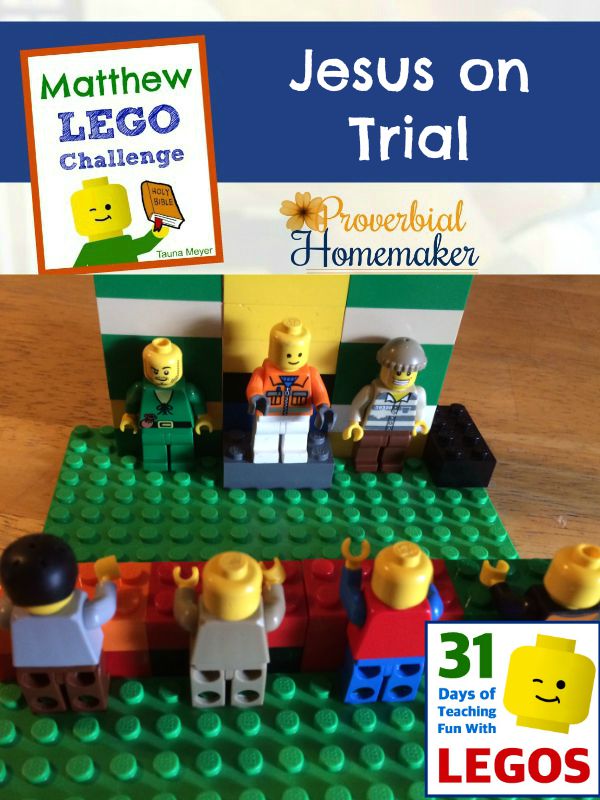 Disclosure: *This post may include affiliate links. As an affiliate, I earn from qualifying purchases. Read the disclosures and terms for more information.
Day 18 of the Matthew Bible Lego Challenge! Today's challenge focuses on the story of Jesus before the religious leaders and the high priest.
If you haven't downloaded the printable yet, you want to do that right away! You can do the challenge on your own (there are 34 days total with copywork and notebooking pages) or you can use it to follow along with us here and share your creations with us on the Proverbial Homemaker Facebook page, Twitter, and Instagram!
For the 18th day of the challenge, we read Matthew 26:57-75 about Jesus on Trial. My son decided to make a little door with a walkway that led into the room where the trial was held. 🙂
Some talking points for this scripture include what a trial looks like now vs. then, whether the trial was fair, the fulfillment of prophecy in these last scenes of Jesus' life here on earth, and Jesus' confirmation that He is indeed the Christ and the son of God.
This is the part of the study where my kids often start to get serious and ask a lot of questions. Jesus is quickly and very obviously being treated unfairly, and there is an understandable gravity and sadness in my kids as we talk through these scenes. Building them with Legos really has helped them express, explore, and understand these most important events.
This is a perfect time to talk about how Jesus lived a perfect life here on earth – something nobody every did, will, or even could do – and yet He was treated like a liar and a criminal, ultimately taking on the punishment for ALL sins. He did this for us, so that if we put our trust in Him and accept the gift of His sacrifice, we can be forgiven of our sins and live reconciled to God.
The copywork for the challenge is Matthew 26:64, where Jesus proclaims His ultimate victory and authority. The printable includes a drawing and writing page for those who would rather draw the scene.
Have fun building with your kids! Don't forget to email me their creations or share them on the Proverbial Homemaker Facebook page, Twitter, and Instagram. Can't wait to see them!
---
We are going through 21 (out of 34) of the buils from the Matthew Lego Challenge together, following a FREE kids' devotion on the YouVersion app (or the desktop version, Bible.com). The devotion is called Walk With Jesus: 21 Days Through Matthew and it is from What's in the Bible?, one of our favorite family discipleship tools! Don't forget to enter to win the What's in the Bible DVD that goes along with the book of Matthew!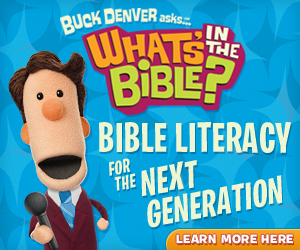 This post is a part of the 31 day series on Proverbial Homemaker all about teaching with Legos. There are more great tips and resources for you to discover! CLICK HERE TO SEE ALL THE POSTS IN THE SERIES. You can also find more Bible Lego Challenges at Proverbial Homemaker.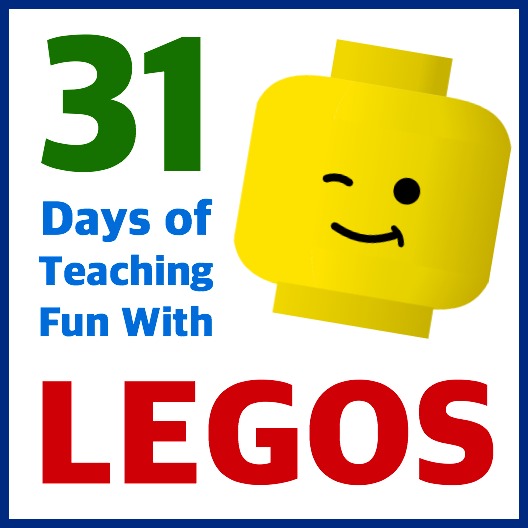 31 Days of Teaching With Legos is a part of the 31 Days of Homeschooling Tips for Moms series. There are a total of 26 homeschool bloggers working to bring you the best tips and encouragement. Check it out!
Looking for more ideas on teaching with Legos? Check out my Pinterest board! Follow Tauna Meyer (ProverbialHomemaker.com)'s board Teaching with Legos on Pinterest.