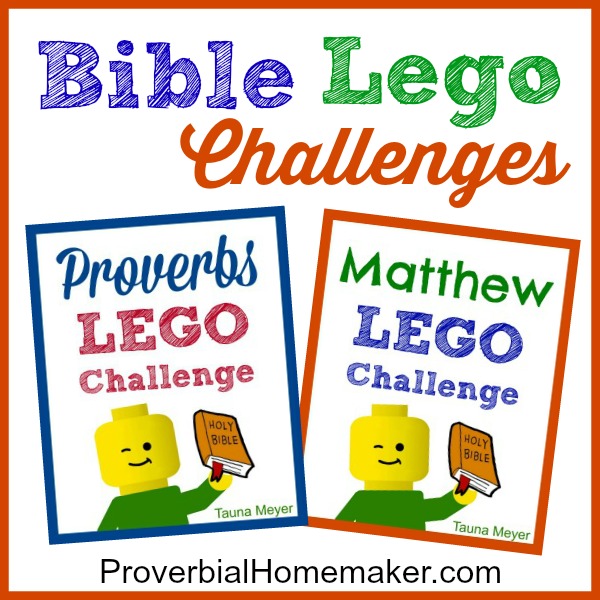 Bible Lego Challenges
Do your kids love Legos and other building toys? Now they can play and learn while building through the scriptures!
These Bible challenges are good for pre-k through about 3d grade (although older kids are enjoying them, too). They provide a hands-on way to teach the Bible. Children will meditate on the words and stories they have read or heard as they come up with creative ways to represent them with building tools. They include build challenges, copywork, and drawing/writing pages. The activities accommodate various learning styles.
Matthew Lego Challenge
The Matthew Lego Challenge includes 70+ pages of daily build challenges, scripture copywork, and simple notebooking pages. ESV and KJV versions are available.
FIND OUT MORE & VIEW SAMPLE PAGES
Proverbs Lego Challenge
The Proverbs Lego Challenge is available in the Proverbial Homemaker store for just $5.99 and also includes copywork, discussion questions, and notebooking pages for your family.
FIND OUT MORE & VIEW SAMPLE PAGES
Heroes of the Bible Lego Challenge
The Heroes of the Bible Lego Challenge and Character Study is perfect for homeschooling, family discipleship, and Sunday school settings. You can make it a part of your regular lessons or have a fun weekly interactive family time centering on God's Word. It is great for hands-on learners and can be used for ages pre-K through 3d grade.
FIND OUT MORE & VIEW SAMPLE PAGES
You Might Also Like…