The longer I homeschool my children, the more fond I am of teaching with living books because of the beauty richness it brings into our days. Living books are basically books that are beautifully done and are written with passion and expertise. Many subjects can be taught with living books, including history, geography, science, and more. This past year, we decided to do our character studies through living books, too!
This post is sponsored by Beautiful Feet Books. However, curriculum from Beautiful Feet Books is treasured in my home. This review, as always, is an honest one. I know you'll love it as much as we do!
Of course, the ultimate "living book" is the Bible, and what better resource is there for teaching godly character? So I jumped at the chance to use one of the Teaching Character Through Literature packs from Beautiful Feet Books in our home this year. Not only does it use fantastic books in a Charlotte Mason style to teach the concepts in a way my kids will remember, but it points us back to God's Word!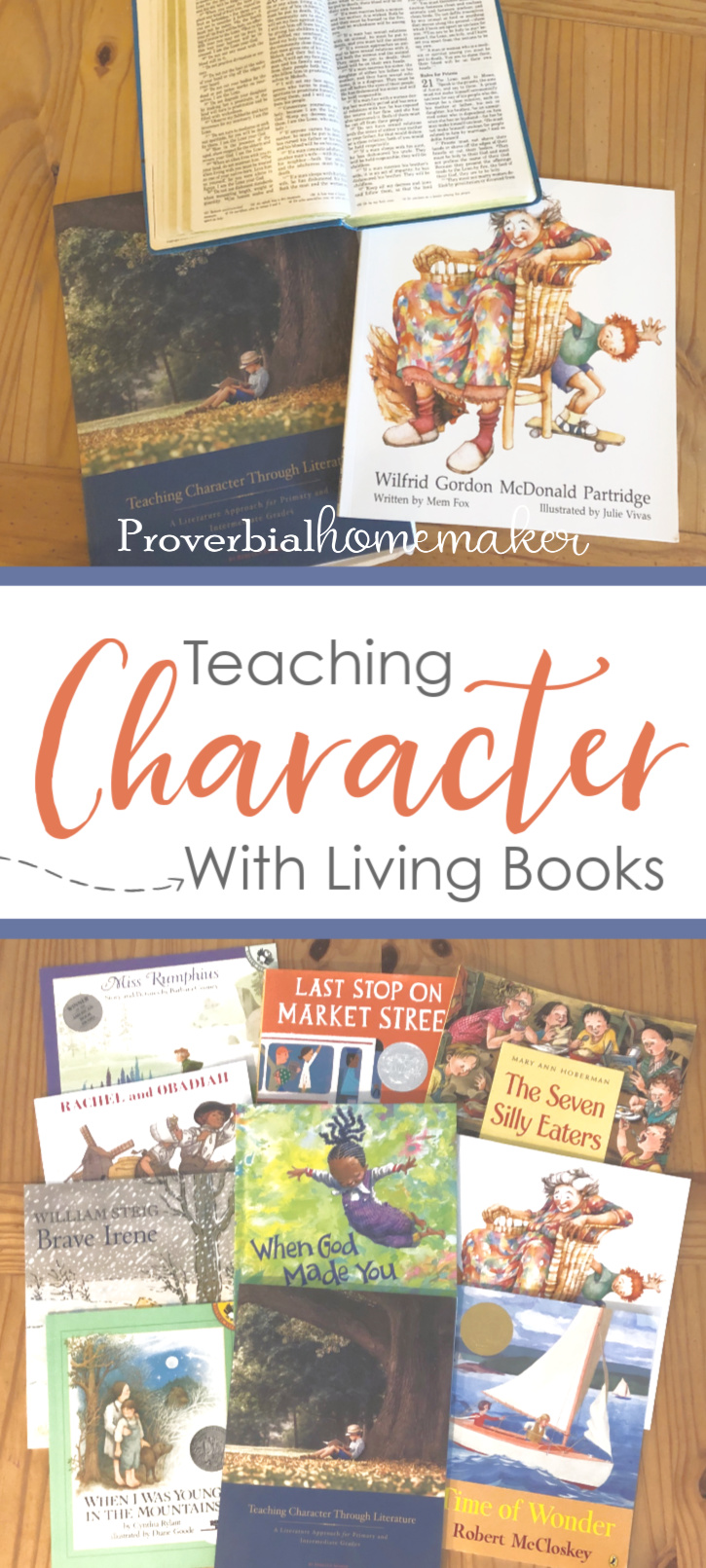 Teaching Character with Living Books
As I said, we love love love using homeschooling with living books! I was hopeful that the Teaching Character Through Literature study would be just as rewarding for our family. I was not disappointed! Let me give you an idea of what's included, first.
One teacher guide includes two levels: Primary (K – 3rd) and Intermediate (4th – 6th)
You can buy the study guide by itself or buy it as a part of their literature packs which will have all the books you need (other than your Bible)
No schedule is suggested, but I think it should be done 1 lesson every week. This allows re-reading of short stories, lots of discussion, time for memorization, etc. With that, it would be about a semester for the 13 Primary lessons and 1+ year for the 50 Intermediate lessons. (There are more lessons for Intermediate because the books are longer.)
Lessons include a Bible reading, memory verse, book reading, and discussion questions.
The guide also includes printed scripture cards and lists of the author's favorite titles, authors, Bible story adaptations, and books for parents.
There are several things I really enjoy about this curriculum. We already spend a lot of time in our family studying God's Word and instructing our children in godly character. It's a main priority for us! But since read aloud time is something we already enjoy a lot, this approach gives us a natural and meaningful way to talk about those character traits as well. The kids remember theses conversations and the engaging stories that stick in their brains!
I also really appreciated the author's comments in the beginning of the book and how they prepared us as parents to keep a right focus during our studies. And rather than being a super formal curriculum, it's more of a guide for exploration, discussion, and enjoyment that is also firmly rooted in Scripture so that we stay focused on the Truth.
How We Used It for Teaching Character with Living Books
My kids range from 2 to 11 years old. I decided to go with the Primary level of Teaching Character Through Literature, which is technically for K – 3rd. Why? Because I knew my older kids would enjoy the fun picture books, too! Plus we could always do the Intermediate level later.
You can use these studies in a variety of ways. Since they include Bible reading and memory work, you could use them as a family devotional or light Bible study. We decided to add them on as a lunch or dinnertime read aloud and discussion. Although you can skip around and do the books in any order, we just went in the order it showed in the book.
I would read aloud the suggested Bible passage and discuss. My older kids would copy the verses down into their notebooks for memory work practice. We'd also recite the verse together anytime we worked on the lesson in subsequent days. Then we'd read the literature book and have a great discussion, talking about the godly or ungodly character traits of the characters in the book, how the scripture applied, etc. The questions really were more of a launching pad for our own discussions.
For my older kids, I would sometimes add some extension activities. They might do a word study (on the character trait in focus or a related word from the Bible passage or literature selection), look up verses related to the memory verse, write out answers to one of our discussion questions, etc.
Bottom Line & A Few More Thoughts
I definitely call Teaching Character Through Literature a win for us! Our kids still ask for those books over and over again, so they have become family favorites. We plan to do the Intermediate level in the future and discover even more great books! In fact, we appreciate Beautiful Feet Books for other subjects like history and geography as well!
One thing I would add is that you should be sure to present the actual gospel to your children often. Of course, that's generally true, but especially when you're using any kind of character curriculum. Why? Because godly character is a fruit of the Spirit! Our children cannot truly follow and obey God unless they have God's Spirit in them, enabling them to do so. They must repent of their sin, put their faith in Jesus, and confess with their mouths that He is the Christ!
Godly character training and studies like these do help a lot in pointing our kids to the character of Christ, God's commandments, and our need for a Savior. But our children must always know that while godly character is worth striving for and brings its blessings in their lives and relationships, we all fall short of the glory of God and need to be born again. We need salvation and the ongoing transformation that comes through the work of the Holy Spirit.
A note about cost: I realize buying the literature packs isn't cheap. However, we've decided from experience that the Beautiful Feet Books selections are always so wonderful that they're worth the investment for a great library of living books.
Here are some other ways to reduce the prices:
Just buy the study guide and a few book selections
Buy the set and get the automatic $20 off and free shipping
Use their Lowest Price Guarantee offer on their packs. If you can put together their pack from a different seller and come up with a lower price, they'll match it and give you $10 credit off your order! Their pack prices really can't be beat.
If you already own 1-5 titles in the pack you can call them and they'll remove those books from your order, adjusting the price down.
*** 7/2022 NOTE: The book When God Made You has recently been removed from the Beautiful Feet Books curriculum.
Take a Peek Inside With This Video!
You Might Also Like…
Our Switch to Living Books for History