A while ago, we picked up these wordless Bibles at the Christian store. I knew I'd use them for something eventually. I pulled one out the other day and unfolded it and… hey! It looks like a caterpillar! *wheels turning*.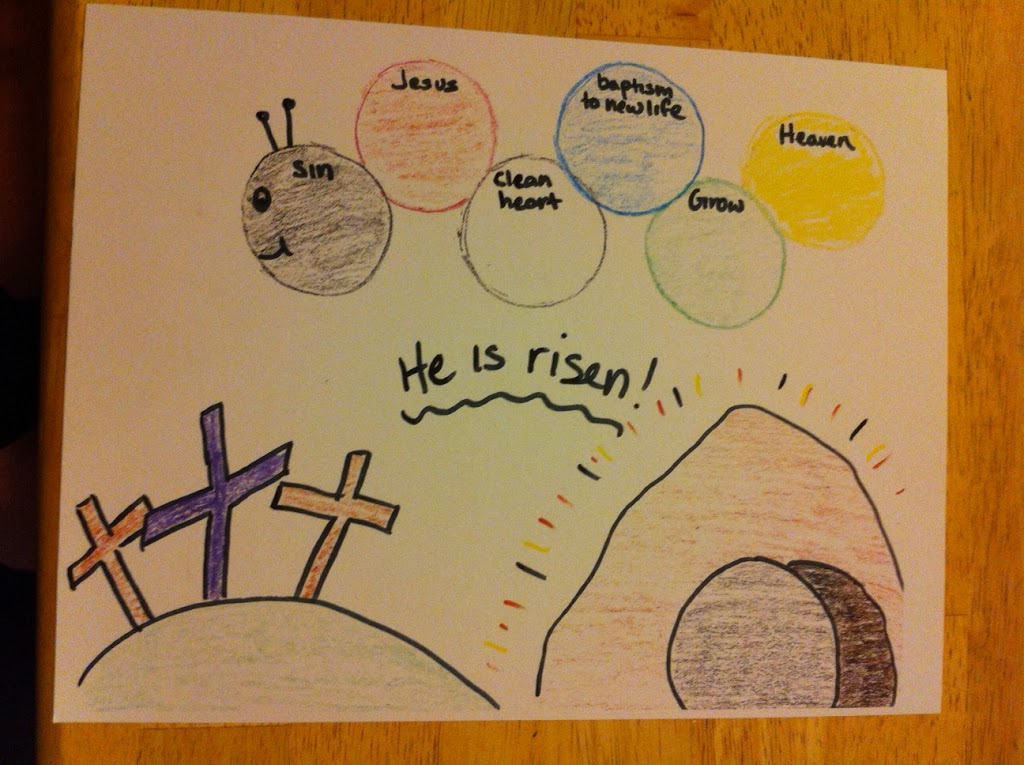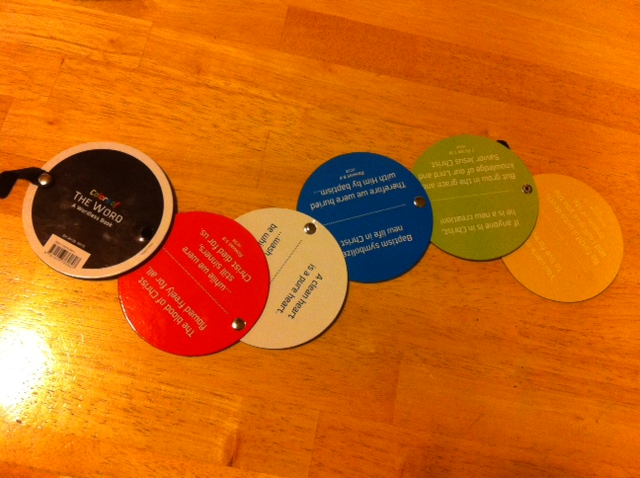 I searched high and low (for five whole minutes) but didn't find any caterpillar wordless Bible printouts. So I drew and colored my own and made copies for the kids. There really is something therapeutic about using crayons.

You know you're a real (wound up) homeschool mom when you stay up until midnight making your own printables because nothing is "just right". You know you're still a newbie (or maybe just lazy) when they're hand-drawn. 🙂 It is available here for download if you'd like to use it.

Each section of the caterpillar represents a different part of the gospel story, which, after all, IS the Easter story. I colored them in and put a short description of the meaning. Below, I added the hill of calvary and the empty tomb. I also decided to teach the kids to respond to "He is risen!" with "He is risen indeed!" and added that in the poster as well.

If I'd been thinking, I'd have made copies of the poster in black and white before coloring so they could have coloring sheets. Maybe next year.


Click here to download the caterpillar Easter page.

First I explained the concept of the wordless Bible and told the story using the ones I'd purchased. Then I gave them each a bowl of pompoms from the dollar store, making sure that all of the needed colors were in each bowl. We worked through the story all together, choosing and glueing the correct color pompom to each section.

Then we did a caterpillar/butterfly craft.





Cocoon. Each kid got a toilet paper tube. I had selected some papers beforehand and drew dashed lines where they'd need to cut. They chose their color and cut along the dotted line, and then I helped them tape it around the tube.


Caterpillar and Butterfly. The kids glued pompoms onto a clothespin to create a caterpillar. They did a second one and then we decorated and glued wings to the bottom to make a butterfly. When all was dry, they rolled up the butterfly and stuck it into the cocoon.

They push the caterpillar into the tube to release the butterfly. They loved this craft and we had a talk about how Jesus transforms us too when we ask Him into our hearts.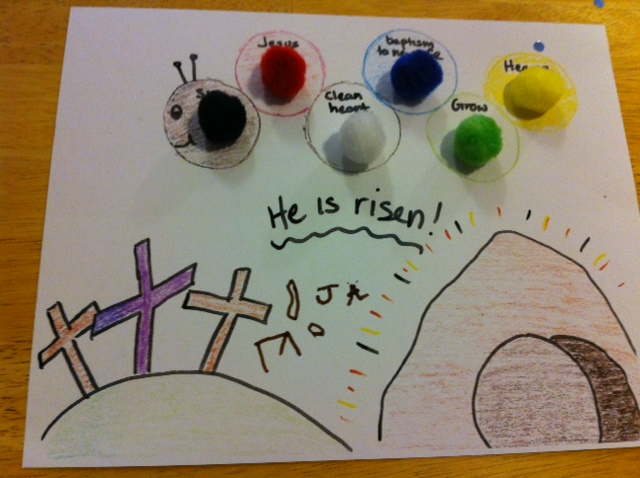 You Might Also Like: