A while ago, we picked up a wordless Bible at the Christian store. I knew I'd use them for something eventually. I pulled one out the other day and unfolded it and… hey! It looks like a caterpillar! We had just been reading the book The Very Hungry Caterpillar, so I was inspired!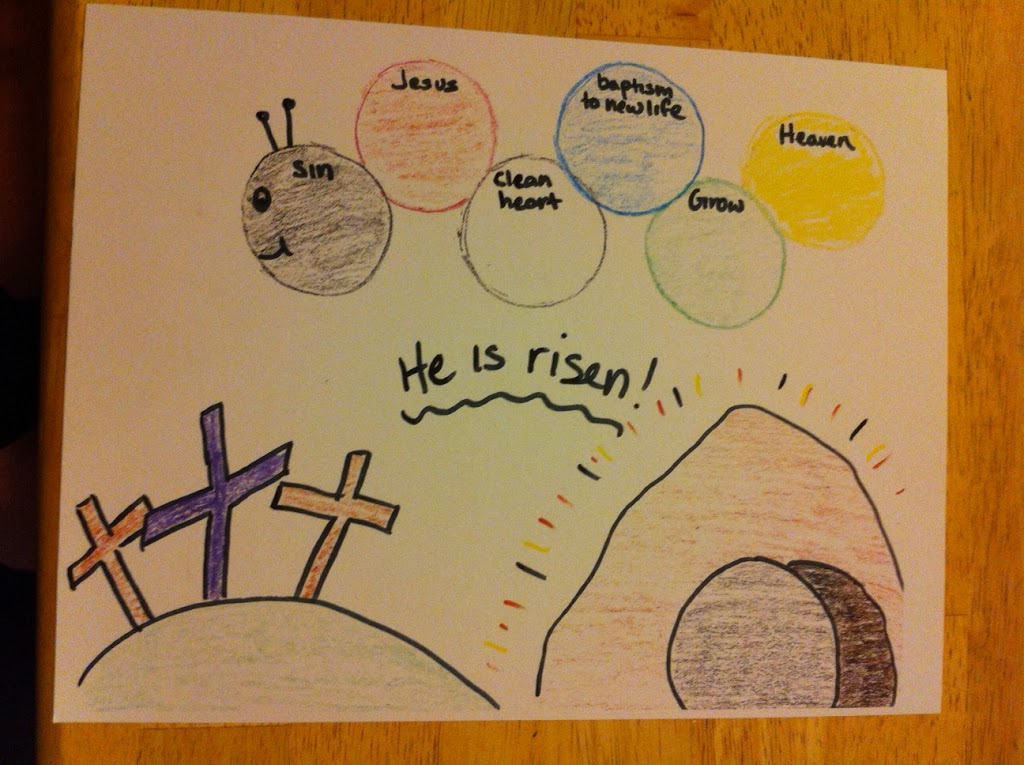 Disclosure: *This post may include affiliate links. As an affiliate, I earn from qualifying purchases. Read the disclosures and terms for more information.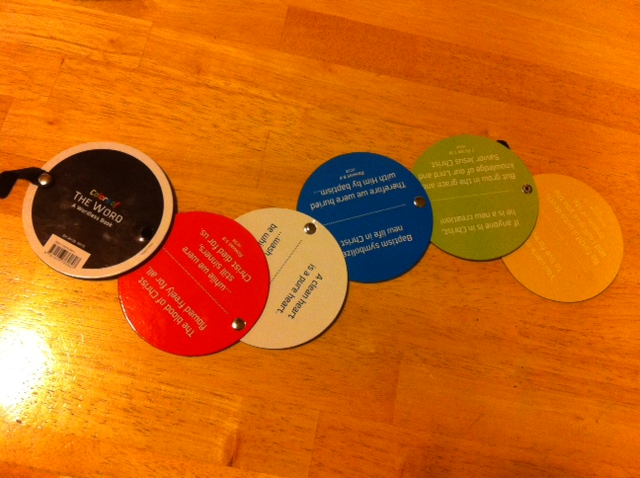 I searched high and low (for five whole minutes) but didn't find any caterpillar wordless Bible printouts. So I drew and colored my own and made copies for the kids. There really is something therapeutic about using crayons.

You know you're a real (wound up) homeschool mom when you stay up until midnight making your own printables because nothing is "just right". It is available below to download if you'd like to use it, too!

Each section of the caterpillar represents a different part of the gospel story, which, after all, IS the Easter story.
Your kids can color them in and/or put a short description of the meaning. Below, I added the hill of calvary and the empty tomb.
Sin – black/gray
Jesus – red
Clean heart – white/silver
Baptism – blue
Grow – green
Heaven – yellow
I also decided to teach the kids to respond to "He is risen!" with "He is risen indeed!" and added that in the poster as well.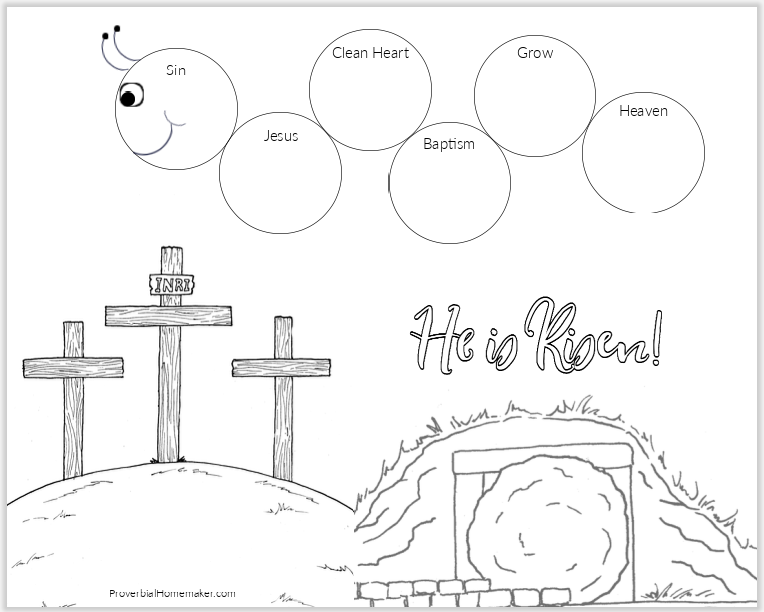 Click here to download the caterpillar Easter page.
(2/7/20 update: I wrote this post in 2012! Whew! Lol! I just updated the printable so it's not just a scanned hand-drawn picture. Hope it's a blessing to you!)

First I explained the concept of the wordless Bible and told the story using the ones I'd purchased.
Sin – We all have sinned and have fallen short of the glory of God. Our sin separates us from God and brings spiritual and physical death. We can't get rid of sin on our own. We need a Savior!
Jesus – God loved us so much He came to earth in the Person of Jesus as a little baby. Jesus grew up and led the perfect life we cannot live. He died on the cross to pay the price for our sin. Then He rose again and conquered sin and death forever!
Clean Heart – All who turn away from their sin, put their faith in Jesus as their Savior, and confess with their mouths that He is the Christ are saved! We are given clean hearts and the Holy Spirit to help us live for Jesus.
Baptism – Those who have put their faith in Christ follow His example and are baptized, publicly declaring that they are disciples of Christ. The old self is gone and the new has come – God has made us a new creation in Christ!
Grow – The Holy Spirit works in our hearts, changing us from the inside out to be more and more like Jesus until the day we see Him face to face!
Heaven – Those who are in Christ will live forever with Him in heaven! One day, Jesus will return to earth and restore all creation. Jesus is King, and His kingdom reigns forever! Amen.
Then I gave them each a bowl of pompoms from the dollar store, making sure that all of the needed colors were in each bowl. We worked through the story all together, choosing and glueing the correct color pompom to each section.

Then we did a caterpillar/butterfly craft.



Cocoon. Each kid got a toilet paper tube. I had selected some papers beforehand and drew dashed lines where they'd need to cut. They chose their color and cut along the dotted line, and then I helped them tape it around the tube.

Caterpillar and Butterfly. The kids glued pompoms onto a clothespin to create a caterpillar. They did a second one and then we decorated and glued wings to the bottom to make a butterfly. When all was dry, they rolled up the butterfly and stuck it into the cocoon.
They push the caterpillar into the tube to release the butterfly. They loved this craft and we had a talk about how Jesus transforms us too when we ask Him into our hearts.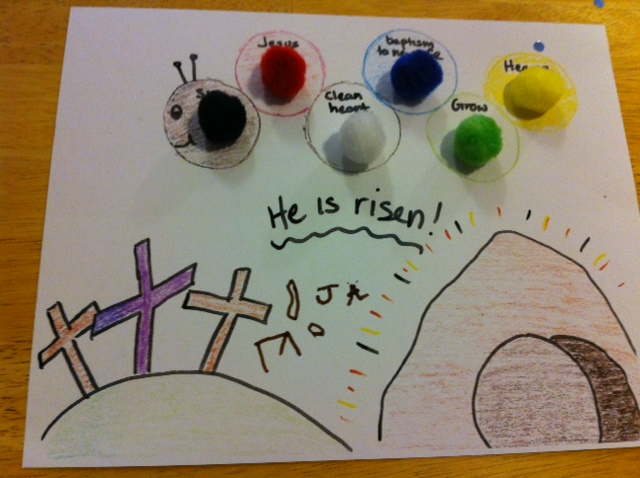 I hope you have fun with it too! These are great activities for not only caterpillar and butterfly units but also along with other Easter resources to celebrate the risen Christ!
You Might Also Like: