Welcome to the Heroes of the Bible Lego Build Examples page! We'll keep a running list here of all the photos of completed challenge builds. Remember that there are main build challenges and bonuses that are not all represented here. Refer back to your Heroes document!
It's important to remember that build challenges are not the same as build instructions. There's a place for instructions, but build challenges really inspire imagination and creativity. Use these examples only to inspire – not to replicate! Encourage your children to find new ways to build the challenge using their own ideas and the bricks they have on hand.
Have fun!
NOAH
Noah's ark can be as simple or complex as your child desires! Bonus if they can get it to float. 🙂
RUTH
JOSEPH
Here's Pharaoh's headdress (with a snake coming out the top) and a couple of pyramids. One is on skis. Not sure why!
MOSES AND 10 COMMANDMENTS
He means business!
DEBORAH
Deborah sitting under a tree.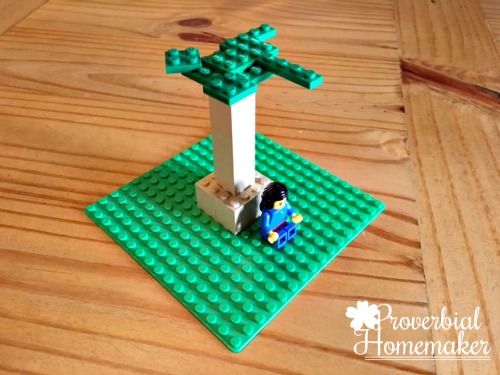 JOSHUA
Walls of Jericho coming down! That's Joshua with the eye patch. Lol!
HANNAH
My 6 year old daughter really wanted to make a crib for the baby!
GIDEON
A mighty sword to do battle!
SAMPSON
Chains/rope binding his hands.
SHUNAMMITE WOMAN
House of the Shunammite woman with an upper room where Elisha stayed.
DAVID
Mighty Goliath couldn't stand with God on David's side!
ESTHER
A royal crown.
ELIJAH
Elijah fed by the ravens. (Raven with bread in its mouth)