Do your kids love Legos? Mine do! Over the past few years I have enjoyed taking this passion for Legos and building to create Bible Brick Challenge plans for kids that help teach the most important thing – God's Word – with such a fun and educational tool!
Well, we have a fantastic resource for you! The One-year Bible Brick Challenge and Reading Plan includes 365 days of Scripture readings and Lego build prompts that will take your kids on a survey from Genesis to Revelation! There are 12 easy-reference calendars that cover the entire year, but you can start anytime! Each day, read all or a portion of the passage indicated as your kids do the build challenge. That's it! Easy peasy.
If you'd like to include some engaging questions and devotions with the One Year Bible Brick Challenge & Reading Plan, I recommend pairing this challenge with Bible Road Trip (the Bible curriculum we use) or 365 Great Bible Stories: The Good News from Genesis to Revelation, which is a great simple devotional for younger kids.
Here are a few tips to keep in mind:
You can use this challenge as a year-long survey of the Bible. While not every verse and story will be covered, we'll hit the major stories!
If you can't do every day, don't worry about it! Decide ahead of time which builds to do or pick one or two days of the week to do a build challenge.
Tell your child what the build challenge is and help them come up with any additional ideas if they want to get creative. Consider ideas, objects, scenes, characters, etc.
Be sure to take pictures of your child's creations. At the end of the week break them down together for a fresh start. Every two months or so, put together a digital photo album or order them printed in a Chatbooks photo book.
This is meant to be fun and help your child engage in the story. Don't worry about catching up – there is no "behind" on this plan!
Read the passage or the relevant portion of it to your child as they build. You'll be amazed at what they retain when little hands keep busy!
Frequently Asked Questions
"The challenges are too hard/easy." Some parents aren't sure that their kids would be able to build something like Noah's ark and felt like that was overwhelming. Remember that we aren't giving our kids instructions or expectations for what they'll produce. The idea is to use their imaginations and be creative!
This means the Challenge is appropriate for any age. My 10 year old can make a large version of Noah's Ark with many more details than my 5 year old, who makes a simple small boat with a lion figurine in it. Both are wonderful and it's a great opportunity to help them learn to encourage each other! If some of your children prefer to draw or decide to incorporate other materials because their Lego stash is too small, that's totally fine too!
"How long should this take each day?" This can vary depending on your children's age and interest, as well as on what you want to do with the challenge. I typically get them started and tell them what the prompt is with a short description. Then as they start building I read the scripture and follow it up with my own comments or perhaps some discussion questions that come to mind. I usually let them continue building until they're done or have them stop about 15-20 minutes into it so we can continue our day. We set aside unfinished builds and they complete them during their free time at the end of the day if desired.
Don't forget to share your photos on Instagram and tag me at @tauna_phomemaker! Or you can email them to me at tauna (at) proverbialhomemaker (dot) com and I'd love to feature them on the Proverbial Homemaker Facebook page.
Have fun together as you dig into God's Word in a fun and unique way!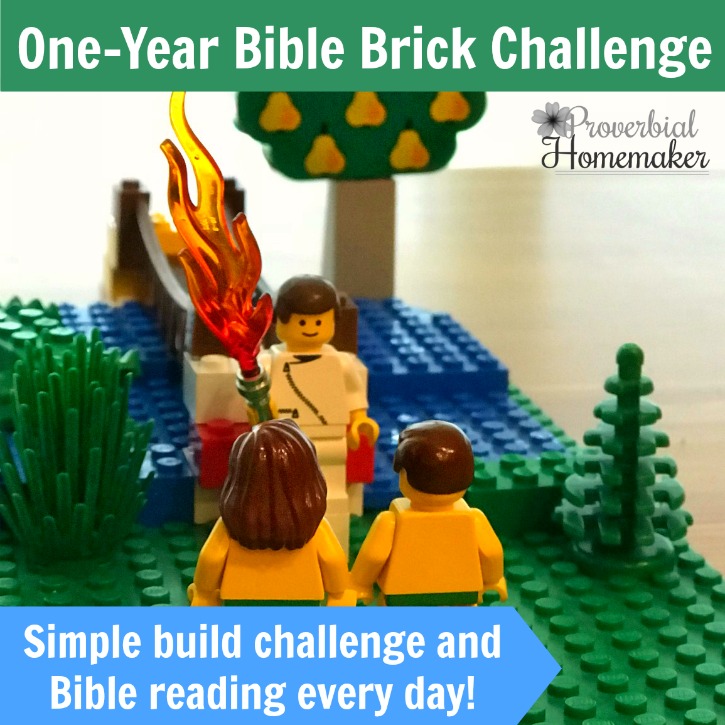 One-Year Bible Brick Challenge & Reading Plan
Click here to get the One-Year Bible Brick Challenge & Reading Plan!
Here are the chapters covered each month:
January – Genesis 1 – 39
February – Genesis 41 – Exodus 25
March – Exodus 32 – 1 Samuel 15
April – 1 Samuel 16 – 2 Kings 20
May – 2 Chronicles – Psalm 119
June – Psalm 119 – Ezekiel
July – Daniel – Matthew 7
August – Matthew 8 – 18
September – Matthew 18 – Luke 24
October – Acts – Romans 12
November – Romans 13 – Titus
December – Hebrews to Revelation

You Might Also Like…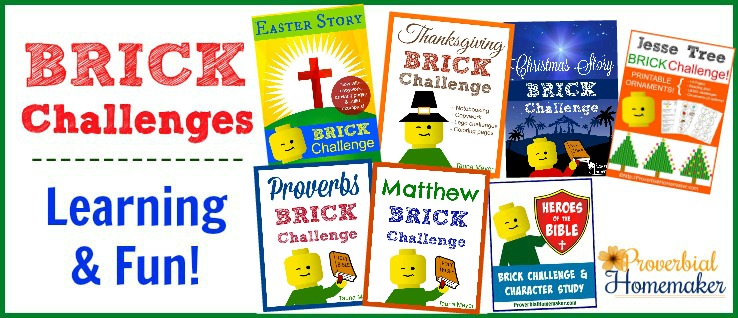 SaveSaveSaveSave