Disclosure: *This post may include affiliate links. As an affiliate, I earn from qualifying purchases. Read the disclosures and terms for more information.
Did you know you could make zucchini bread in a crock pot? We still have some too-warm days here and as the end of Summer draws near, we'd prefer not heating up the house too much yet.

Mix up your recipe and put it in a glass or metal pan that can fit in your crock pot. As you can see, mine was a bit crooked, but it was totally fine! I did fill mine a bit too much so that it overflowed, so be aware of that when filling the bread pan.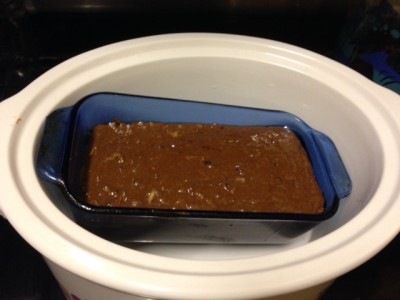 Crooked. No biggie.
Very moist and delicious


But no worries! Because I put the excess batter overflow in a ramekin, popped it in the microwave for about a minute and a half, and BAM! Instant mini zucchini bread I could enjoy while the big loaf cooked. 🙂


Ramekin of goodness

Chocolate Crock Pot Zucchini Bread

You can use any zucchini bread recipe for this. My recipe is adapted from this one at King Arthur flour, this one at All Recipes, and with some extra adaptations suggested by a friend. The result was SO good!


2 Eggs (or 1 egg and one "chia egg" of 1 Tbsp chia seeds soaked briefly with 3 Tbsp water)

1/3 Cup molasses (you can half or all honey too)

1/4 Cup vegetable oil

1/4 Cup applesauce (or use all vegetable oil)

1/4 -1/3 Cup brown sugar (might work to eliminate it – haven't tried yet)

1 Tsp vanilla extract

2 Cups whole wheat flour

1/4 Cup unsweetened cocoa powder

1 Tsp salt

1/2 Tsp baking soda

1/2 Tsp baking powder

1 Tsp ground cinnamon

2 Cups grated, unpeeled zucchini (I used half zucchini half yellow crookneck squash)

1/2 Cup mini chocolate chips (optional)

1/2 Cup chopped walnuts (optional)
1. Mix the eggs, molasses, oil/applesauce, sugar, and vanilla extract until well combined.

2. Add the flour, cocoa powder, salt, baking soda, baking powder, and cinnamon and mix.
3. Add the zucchini and optional ingredients until just combined.

4. Pour into 1-2 bread loaf pans and place in crock pot. No water needed in crock.

5. Cook on high for 2-4 hours. Yes I know that's quite a range, but it depends on your crock pot and how much you filled the pan. Mine took about 3.5 hrs. Cook until toothpick inserted in center comes out clean.

If you can't wait for it to cook, nuke a ramekin of it for a quick sweet treat!