I'm always struggling with gift ideas for my kiddos between fun and engaging. I've learned quickly that with STEM/STEAM associated gifts, I can give them toys & activities that will stimulate thinking, cultivate creativity and encourage learning all while having fun and they're none the wiser! I've gathered some of the best STEM gift ideas (STEAM, too!) and I'm sharing with YOU! If you home educate, this list could also serve as homeschool resources, which is a BONUS!
Disclosure: *This post may include affiliate links. As an affiliate, I earn from qualifying purchases. Read the disclosures and terms for more information.
25+ Great STEM Gift Ideas for Christmas
Tinkering Labs Electric Motor Catalyst Kit is the latest BIG hit in our home! With challenge cards, wooden parts, motors, wires, and all the things that make little engineers happy, kids can build a variety of creations for hours of fun!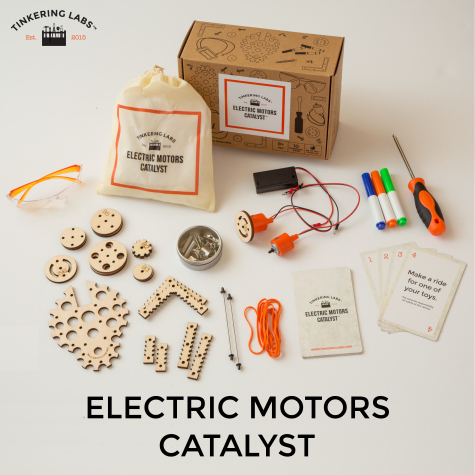 Magformers are a fantastic toy for your builders! Use any of the sets for hours construction and of open-ended play.
My Stem Reads is a monthly subscription book club for children 4-8. They will be able to explore the wonders of Science, Technology, Engineering & Math (STEM). Each monthly box will be filled with 2 or more hand picked kid-friendly books, engaging learning activities and a fun surprise. Use code STEM4LIFE for a limited lifetime discount. Here is a sample of what is in a box:
The GoldieBlox Ruby Rails Skydive Action Figure is an adventurous, code-cracking software engineer. She is out to teach and demonstrate the core concept of aerodynamics. GoldieBlox toys are designed to get girls building by tapping into their strong verbal skills, spacial reasoning & problem-solving.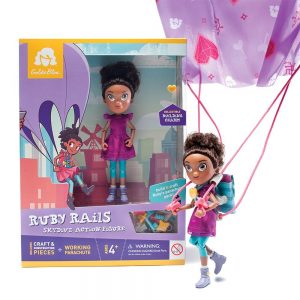 Magna-Tiles are easy to use and are sized just right. You can use them on a flat surface or build in 3D. Magna-Tiles develop shape recognition, patterning, building & motor skills. These will give you hours of open ended play for a single child or mulit-child play.
Project Mc2 We Heart Chemistry Kit gives you everything you need to conduct 10 exciting experiments. Turn ordinary powders into fizzy foam, make a rolling wave and even a color changing eruption. Includes an easy activity guide & is recommended for children 6 years of age and older.
Code-a-pillar will encourage your preschooler to think big with arranging and rearranging the easy-to-connect segments with endless combinations, sending Code-a-pillar on its path. Code-a-pillar helps teach letter identification & categorization. By connecting the segments, your child will make the Code-a-pillar to go forward, left, right or wherever they choose with each segment lighting up as the action happens. This learning toy encourages experimentation while developing important skills like problem solving, planning & sequencing and critical thinking. Your child will be engaged in hands on, open ended play with the variety of actions this activity entails.
Camelot Jr by Smart Games helps develop logic and spacial reasoning skills. Four levels of challenges are available, and the early challenges are great for beginners. This wooden game is a fun twist on puzzle games. It is made from high quality materials and the puzzles progressively get more difficult. This will challenge and encourage young minds to use multiple pieces to solve each challenge.
The Snap Circuits Jr. SC-100 Electronics Discovery Kit is an award winning component to STEM curriculum. Build working models with over 100 projects. This in detail kit contains over 30 color-coded, real circuit components that snap together to create working electronic circuits and devices. Recommended for children 8 and older, this set offers your child an entertaining, concrete education on how electronics work.
The Klutz LEGO Chain Reactions Craft Kit allows you to design & build 10 amazing moving machines. The pieces can be combined to make dozens of different chain reactions that use many steps to do a variety of actions. Includes instruction book and contains more than 30 essential LEGO elements. Recommended for children 8 and older.
The ZOOB Builders STEM Challenge will have your children designing and building cool & crazy creations. They will be able to construct a catapult, zip line, trampoline & more. They will solve challenges by hitting targets and making balls bounce. They will learn and apply each of the STEM principles. Recommended for children 8 and older.
The Gravity Maze by Think Fun is a falling marble game that uses logic and contains 60 challenges, that range from beginner to expert. This game will allow your children to build spacial reasoning and planning skills. The maze will put your reasoning skills to the test.
The Scientific Explorer My First Mind Blowing Science Kit allows your budding chemist's learn the basics of science from chemical reactions to the use of the actual science tools. Children love learning fascinating facts about their world and this kit will encourage them with the interactive experiments. This will afford your children to create their very own science lab at home. Recommended for children 4 and older; adult supervision is needed.
Floating Ball Run & Waterfall Set is an Oppenheim Gold Award winner. These blocks develop basic STEM skills and will give children an enhanced bath time allowing them to build water runds. ball runs and water falls. This is a great twist on classic, educational block play with a water element. Blocks are made from mildew and bacteria resistant EVA foam and are Phthalate free.
The Kids First Automobile Engineer Kit is perfect for introducing engineering for preschoolers. The well written storybook manuals guide children on their educational adventure. As you follow the story, you can build models of the 10 vehicles in the story. Large, colorful plastic building pieces make it easy for small hands to put the models together. Recommended for ages 3 and older.
Awesome Flakes will be one of your child's most played with toys. Your child will use their imagination and think outside the box while being creative and problem solving. They are the perfect engineering to that will allow your child to build, learn and explore new concepts. Included are 400 flexible pieces, that are brightly colored and can be enjoyed in a group setting or solo plate. Awesome Flakes are soft & flexible allowing tiny hands to have easier control. They are crafted using BPA FREE, non-toxic materials.
This Melissa & Doug Suspend Family Game will literally give you hours of challenging fun. It can be played in a group or alone. Suspend develops hand-eye coordination & cognitive skills and it is as easy to understand as it is difficult to master. Recommended for ages 8 & older.
The LeapStart PreK Activity Book is a typical five star offering by Leap Frog. This activity book allows your child to explore the way things work with the Letter Factory friends using teamwork and the STEM concept. It teaches 16 Pre-K skills including reading simple graphs, trial and error experimenting and using tools to problem solve. Great for ages 3-5 and it works with all LeapStart systems that are sold separately.
Gears! Gears! Gears! by Learning Resources has endless opportunities to experiment and build interconnecting gears that will be different every time. This set is versatile and supports the STEM guidelines by introducing children to sorting & grouping, counting, constructing and even experimenting with physics. Your child will really hone their fine motor skills while problem solving when they create colorful moving experiments.
The Original Stomp Rocket Jr. Glow in the Dark Rocket is kid powered! Your child stomps on the launch pad and send the stomp rocket up to 100 feet in the air. Your child will begin to learn concepts of gravity and velocity. Assembly is fast and there are no batteries required. Recommended for ages 3 and older.
The ROCK ON! Geology Game with Rock & Mineral Collection is the perfect gift for your budding geologist. This game offers STEM-based, hands on learning. The game includes 5 levels of play for up to 6 players and is challenging for pre-readers through elementary age and beyond. Your nature love will find it interesting as well. This game fosters a love of nature, is durable and made in the USA.
The Crystal Growing Experiment by 4M is another great activity for any child interested in geology. This kit contains enough materials to conduct 7 different crystal growth experiments. A special display case is included to show off the crystals once they are fulling grown. This is great for any young science enthusiast, but especially those with an interest in geology. Recommended for ages 10 and older.
This Tin Can Robot is sooo cute! It is also made by 4M. The kit contains everything you need once you rescue one of your own soda cans from the recycle bin and add an AA battery. Your science enthusiast will enjoy turning the can into a silly robot. This is the perfect opportunity to show children how toys are assembled from their own creativity and minds. Recommended for ages 8 and older.
The Primary Lab Science Set from Learning Resources is a colorful set that encourages children to experiment & explore right at the kitchen table. You can encourage your child with 10 double sided activity cards that will allow them to observe, test, explore & experiment. Children will learn basic science safety and use the five senses to explore & observe.
The LittleBits Electronics Premium Kit will give hours upon hours of brain powering programming. With over 600,000 possible circuit combinations, children will be able to play with light, sound, sensing and buttons without wiring or soldering. This premium kit contains a fan, pressure sensor and vibration motor that are not available in other kits. It will; however, work with all other LittleBits modules & kits. The instruction book includes 10 projects and you will have access to hundreds more online.
The Guidecraft Better Builders G8300 First Magnetic Construction set will be a joy for your preschooler to be inventive and discover the principles of science, construction & engineering (STEM), while developing their creativity. This coordinates with the older sets so you will get many years of use. Magnets are safely embedded in the over-sized rods and the meta balls ensure a strong connection. This is also an Oppenheim Platinum Best Toy Award Winner. Recommended for ages 2 and older.
This 14-in-1 Solar Robot by OWI will engage your child with two levels of building, so whether they are a beginner or experienced in robot building, they will be equally engaged. This robot is solar powered and can be transformed into 14 different robot modes; including running beetle, surfer and even a dog. Teach your children about renewable energy sources and green technologies with this toy, giving them a peek into their future. This would also make a great addition to your homeschool science curriculum.
A Grow & Glow Terrarium is the perfect gift for any nature lover. Bring the outside in during the winter months and explore the plant world. This kit includes wheat & chia seeds to plant in the mason style jar, a plant mister for keeping the plants moist and 2 resin figures to bring the terrarium to life. As a bonus, the kids will enjoy decorating the terrarium with the glow in the dark stickers (also included) to light up the terrarium at night!
Bedtime Math: A Fun Excuse to Stay Up Late is a wonderful math book in the Bedtime Math series. Kids love bedtime stories, but don't always love math; what a great way to get in the reading AND the math. This book has over 100 math riddles with silly topics and children will never realize they're learning the foundation to so many STEM related activities. There are 3 levels, so the littles all the way to the big kids will have fun with this book. Recommended for ages 3-6.
I hope you can find something intriguing and inspiring for your future engineer, astronaut, math teacher or bio-engineer. So many of these activities will provide multiple layers of learning while having fun exploring and using their own creativity.
You Might Also Like…