I love paper books. Love. They are a big part of our entertainment and our education in homeschooling! I wouldn't trade them in for anything.
So why would I bother with digital curriculum and ebooks? Although I was reluctant to begin using them, I have found them to be really valuable these past few years. The key is to effectively organize them for use in your homeschool.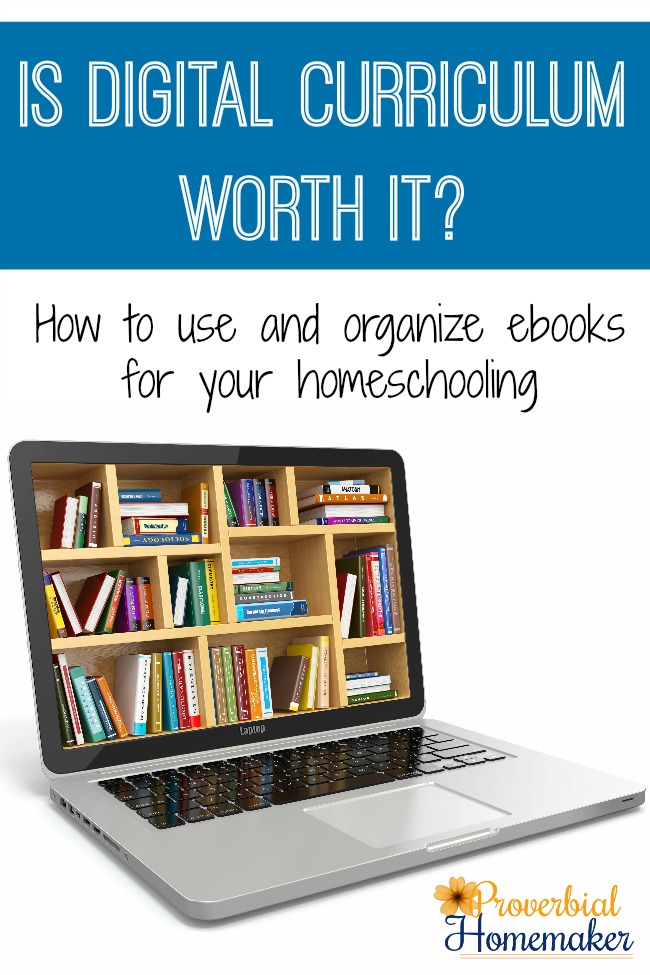 Pros and Cons of Using Digital Curriculum
Save money! Digital curriculum is more affordable than paperback books in many cases. Most eBooks, especially curriculum, are available in formats that can be used on any device, including your computer.
They often allow use for multiple children in the home without violating copyright (as opposed to buying separate consumables for each child)
You can choose to print only what you want/need (I do this ALL the time with several curricula)
Easily portable for learning experiences while traveling or for lesson planning at the coffee shop.
Take advantage of free curriculum and living books available almost daily
More space on your shelves for other books!
You loose the tactile experience unless you print it out
eBooks can create digital clutter without a digital organizational system
Can't share digital products with other families without potentially violating copyright.
Organizing eBooks and Digital Products
The main problem I've found with digital curriculum and ebooks is keeping track of them so that they actually get used. Then you face the potential of forgetting or losing what you already have.
Personally, I do two things to avoid this problem. First, I organize my ebooks and digital products into folders by subject on my computer (Reading, Writing, Math, Science, etc.). It's simple but keeps things easy to find.
I also keep a short list of ebooks and curriculum by subject written in my homeschool planner. That way I can easily reference it to find resources and supplements for my lesson plans.
Free and Frugal Homeschool eBooks
Here is a good list that will get you started finding great free and frugal ebooks. Feel free to leave a comment to this blog post with any additional sites people might be interested in. Have fun!
You Might Also Like…
How to Homeschool for Free