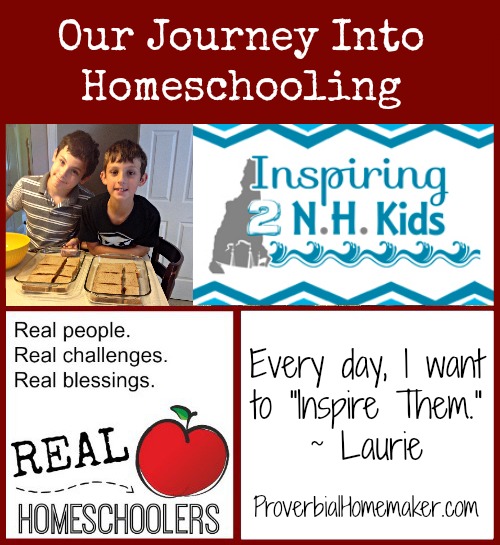 Welcome back to the Real Homeschoolers interview series! Join me in welcoming Laurie from Inspiring 2 N.H. Kids!
"Hi, I am Laurie from www.inspiringnhkids.com, I never thought I would be homeschooling, but I am. You can read all about my adventures with my two boys, Ethan and Jason. My goal is to keep each day entertaining and fun, while still learning."
---
Our Journey Into Homeschooling
I never intended to homeschool. It wasn't even a thought that ran through my mind. My husband and I both went to public schools growing up and we assumed that our kids would do the same.
Our oldest child, Ethan, was an active little boy who loved to learn. I remember him walking up to his new Kindergarten teacher all excited and saying to her "this year, I'm going to learn how to read." Until, she said in a sharp reply, not this year. It appreared that they were going to go over colors and shapes all year, leaving a 5 year old boy, bored beyond belief, and two parents, who scrambled to find somewhere for the child to learn.
We ended moving, yes moving, to our rental house "in a better section of the city." Ethan was matched with the greatest Kindergarten teacher, who had adopted the differential education model, so he was finally learning. He completed that year learning how to read and continued to first grade.
Unfortuntely, his new 1st grade teacher, was in her first year of teaching. She quickly diagnosed Ethan with ADHD and the entire year was dealt with controlling his ADHD. His second grade went without a beat, until his teacher went out for maternity leave and was replaced by a student teacher.
I would often go to the school to find Ethan walking around, visiting other classrooms and helping the lunch staff clean the tables. Meanwhile, his brother Jason was just starting his Kindergarten year. We were foruante to have the same Kindergarten teacher as Ethan, who we loved.
Jason was about 3, when he started reading. At 5 he could pull Harry Potter off the shelf and start reading it. I didn't teach him to read, he just knew how. His kindergarten year went off without a hitch, until at the end of his year, his teacher called me over and asked what we were gong to do with him. She really didn't think that we should continue on with the current school.
Our Vision: Covering the Basics and Pursuing Interests
This left us in a pickle because we had no other options. After mulling it over for a few months, we decided to try our hand at homeschooling. Ethan was beyond thrilled. Jason wanted to make sure that he would learn and was not quite convinced. However, I told him that it was a trial, so he climbed on board.
My vision was easy: that would learn all of the typical subjects, and they could each choose an extra subject that they were interested in. The first year, Ethan chose architecture and Jason chose birds. It has changed over the years, and it the theme is usually monthly. This summer we did Minecraft, and I had a great time learning about the game and making a matching lesson.
Our Biggest Challenge: Clutter!
Now, the most challenging part of homeschooling is the sheer mess that it makes. My husband would be the first one to tell you that he lost his living room. We purchased an entire school room of furniture, bookshelves, desks, and bins, but it did take the entire living room.
The stuff is strewn about the office, kitchen, and dining room and we have so many reading books that we ran out of bookshelves. I try not to clean while the kids are schooling except when they are doing computer work. I'm usually close by but not hovering over them.
Encouragement and Tips for Newbies
The best advice that I would give any homeschool mom who is feeling overwhelmed is that it's a journey. One bad day doesn't make it impossible. I would suggest that you do a field trip at least 2x a month, because you need a break, the kids need a break, and you need to know that there are others like you.
Find a homsechool convention and go to it, not only to find books but see who is out there. It's an amazing feeling to know that you are not alone. I was fortunate enough to go to the Great Homeschool Convention, and the sheer size of the group there overwhelmed me. We are all on the same journey! It's empowering and recharging.
Every day, my goal is to teach the kids something new. Sometimes I learn something new, too. Every day, I want to "Inspire Them."
---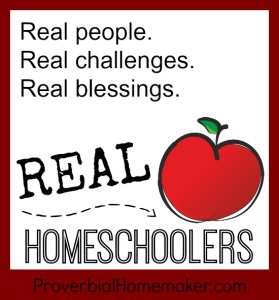 Check out all the interviews in the Real Homeschoolers series as well as a complete list of the questions that were asked. Not all the answers were included, but I have been careful not to change anything about their answers other than grammar and structure for the sake of presentation.