I am always looking for more ways to incorporate the Bible into our homeschooling experience. Saturating our days with scripture is so important to us that we've tailored much of our curriculum choices around that priority. We want the word of God to be a regular part of our daily rhythm, including our homeschooling efforts. Well, we can do that! We can even teach letters and handwriting using the Bible.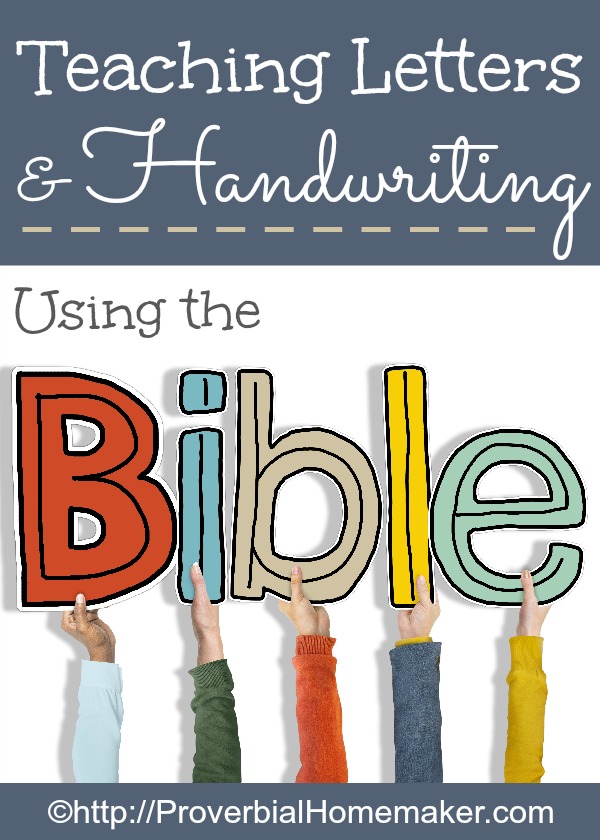 Disclosure: *This post may include affiliate links. As an affiliate, I earn from qualifying purchases. Read the disclosures and terms for more information.
When it comes to letters and writing, there are different ways to incorporate scripture. My oldest is 7 and quite able to read and write now. It is fairly easy to have him practice by reading his own Bible, to himself and out loud. We are also particularly fond of copywork, and copying scripture is my favorite way to cover many skills and goals in one shot.
My girls are 3 and 5 years old and are in the middle of learning letter recognition, formation, and basic handwriting exercises. Bringing the Bible into this area of learning for them will look a little different than it does for my older child.
Today I'm sharing several easy ideas I've collected for teaching letters and handwriting using the Bible. Then I'll tell you all about a fantastic new curriculum we have started using in our home, Write Through the Bible, Junior from the folks at Intoxicated on Life!
Simple Ways to Teach Handwriting Skills
There are so may ways to teach letter recognition, formation, and handwriting skills. Take a look at Pinterest and you'll find a wealth of ideas! Here are a few that I've found the most helpful (and super simple) in our home.
Strengthen Fine Motor Skills – use lacing cards, tweezer activities, puzzles, and other activities to strengthen fine motor skills which are critical for writing success.
Practice Cutting with Scissors – kids love working with scissors and it is our favorite fine motor skill activity.
Creative Writing Implements – make it fun by using creative ways to form the letters, such as writing in sand or foam, using playdoh, yarn, buttons, and more.
Write Big – form the letters in a big way, writing them in the air, on the floor, or large on a big piece of paper.
Do Mazes – following a path and staying between the lines is fun and great practice for the beginning writer.
Play with letters – make or buy simple alphabet collections for play, such as foam bath letters, tiles, felt cutouts, sandpaper cards, etc.
Seek and Find – play simple word searches, either pre-made or just finding letters in a book as you call them out. Your letter tiles and pieces can be good for this as well!
Sort to Spell – use play letters or tiles, or cut out written letters, and have your child arrange them to spell a word you've written.
Teach Letters and Handwriting Using the Bible
Grab a storybook Bible or a regular text Bible and try out these fun ways of practicing letter recognition and writing. If your child is easily distracted by all the text, you can type or write out a portion for them to use as a worksheet.
Find the ABCs – Work through a page with your child finding each letter of the alphabet as you go, or focus on finding as many of a certain letter as you can.
Write the ABCs – Read through a verse or passage and let your child find a letter they want to focus on, finding that letter in other places as well as writing it down. You could also have them write each letter of the alphabet as they find it in the text.
Word Study – Choose a word in a selected text, or have your child help you choose one. Do a word study on it with them using a tool like Blue Letter Bible. Go to other places in your Bible that have that word and help your child find it in those places. Talk about the definition and have them practice writing it down.
Copywork Piggyback – Use the completed copywork sheets of a sibling as a letter search worksheet, circling all instances of the week's letter.
Singing Letters – Learn songs that spell out different words (B-I-B-L-E, for example) and practice writing out the letters or use letter pieces to spell along with the song.
What We Use: Write Through the Bible, Junior
We have been trying out a new curriculum called Write Through the Bible, Junior that does many of the kids of activities I've listed above. Write Through the Bible Junior is a new interdisciplinary study you can use to teach your young child to write while focusing on God's word. This curriculum, geared towards 4-6 year olds, is a full-year curriculum.
Reasons I Love This Curriculum
This program was designed for busy moms, incorporating several subjects in one. Below are a few things you will find as your child works through this book:
Improve fine motor coordination
Learn letter sounds
Learn how to form letter
Memorize Philippians 2:1-18
Learn new vocabulary words
Study Philippians 2:1-18 and learn what it means to have a heart of humility.
Virtually NO preparation – everything you need is usually on hand
Incorporates a variety of teaching methods (many of which I list above)
In addition, this full-year program is very affordable costing just $17 for the digital download or $27 for the softcover book.
Options
Write Through the Bible, Junior is available in a number of options you can choose from.
Formats
Digital Download ($17)
Softcover from Amazon.com ($27)
Bible Translation
Fonts
Ball-and-Stick Manuscript
D'Nealian Manuscript
Cursive
Would you like to download a sample lesson before purchasing? Head over to Intoxicated on Life, where you can download the first lesson for free.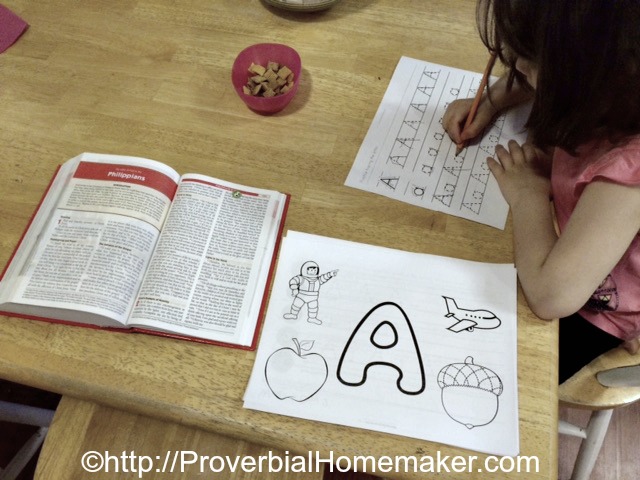 Details on How We Teach Handwriting Using the Bible
We are using the ESV ball-and-stick version of the curriculum, in paperback format. We start each new lesson by reviewing the letter and add on a little phonogram practice. I take a few minutes before each lesson to review the Parent Instructions.
The scripture reading is right in the book but we use my Bible to read it anyway, following the study prompts in the book. We talk about the vocabulary word for the week and I show her where it is in my Bible, discussing the meaning and finding the week's letter in it again. I often write the vocab word on top of her writing practice sheet and have her circle different letters as I call them out.
The writing practice page includes some tracing letters and space for writing her own. I usually have her trace a few times and then write two or three of her own with precision in mind. She circles the one that she thinks is best and sometimes we do some over until they are just right.
Then she works on the activity worksheets such as do-a-dot letter writing, coloring pages, cutting out letters and arranging them to spell a word, word puzzles, letter searches, and more. Sometimes the worksheets can be cumbersome in the book as it is bound because of it's thickness. We get around that by ripping out those pages as we get to them and then keeping them in a folder. If you are concerned about keeping the completed pages in order, you may want to have the binding removed at a copy shop and put it in a 3-ring binder.
We have so enjoyed Write Through the Bible Junior and we know you will as well!
You Might Also Like…
Sound Words for Kids for Family Discipleship or Homeschooling!