This time of year I love to do every little thing I can to make home feel like vacation. Because summer vacation, well, it was too long ago.
Disclosure: *This post may include affiliate links. As an affiliate, I earn from qualifying purchases. Read the disclosures and terms for more information.
The exciting momentum of new pencils and spiral notebooks has dulled and dwindled. The shiny promise of this school year's new classes has clouded over into a reality of hard work and whining. (Even the kids whine sometimes.)
So this week I've decided to enjoy dwindling evening hours and slow weekend moments… I've decided to bring a vacation feel right to our backyard.
3 Things You Can Do Today to Make Home Feel Like Vacation
1. Hang a hammock
I was ecstatic to find an amazing double-wide rope hammock at an outlet store at 90% off (or you can find some here). I was even more overjoyed when a teen daughter and her friends took on the engineering challenge of hanging the hammock. They chose a perfect spot. It's nice (aka "quiet") distance from the house, tucked behind the chicken coop and under a canopy of tall-reaching apple branches.
But you don't need a hammock, and you certainly don't need a coop or an apple orchard. Fact is, it doesn't matter what kind of comfy chair you use to make home feel like a vacation for a while… A wooden adirondack chair… A plastic chaise lounge… It can even be an tattered quilt and some old pillows that you stuff away in a box right at the top of the attic steps, by the back door, or under a bed. Stash them anywhere you can grab them when you and/or the kids need down time.
But find a secluded spot. A quiet spot. A special spot. Plop a basket of books nearby, sit back, and relax. Well, at least for a few minutes. We all know anytime we "play" vacation at home there are countless daily demands that will interrupt us. Be sure to cherish every quiet moment you can create.
2. String some lights
The thought of dragging out Christmas lights from the barn attic and figuring out a way to actually hang them in my backyard did seem a little daunting to me. But it turned out to be much easier than I envisioned. It turned out once I did the undigging the kids were willing to do the untangling and decorating. They found natural areas–flower hangers and tree branches–to use as resting spots for the twinkling magic.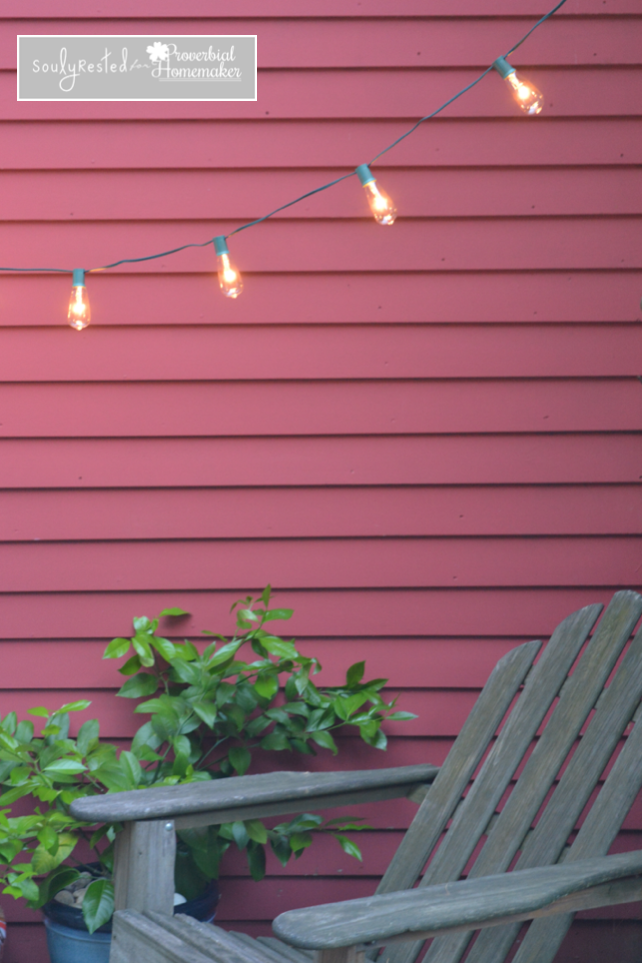 3. Build a bonfire
Gathering sticks for the bonfire was a task the kids took on even more eagerly than hanging lights. Granted, this was the easiest step of my plan to make home feel like vacation this week, because we already had a bonfire pit ready and waiting in our backyard.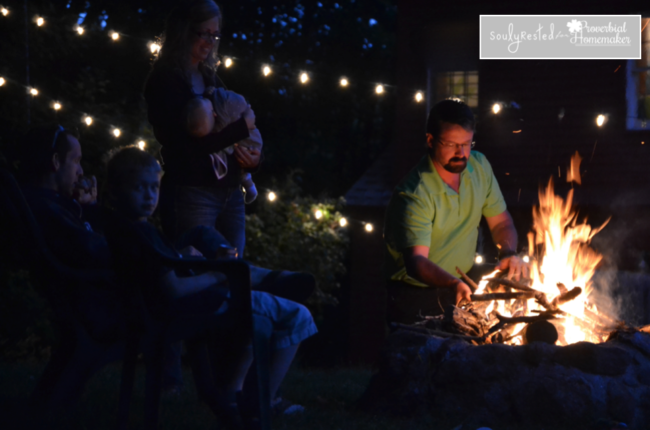 We are smore-a-holics, spring, summer, and fall, so a pit is a necessity for our very sustenance. But I digress.
We also have a few of those stand-alone metal bonfire dishes, which work fine as well.
If you wanna involve the family in an engineering project, google "how to make a bonfire pit." You'll find lots of options like some on this post, or simple but pretty ones like this, built from concrete landscaping stones and metal fire pit ring. You're sure to find a perfect plan, from fancy terraced pits to simple sandy holes in the ground lined with stones or bricks. In fact, a neighbor's son built a rustic one like that in one afternoon by himself with a shovel, a bag of sand, and rocks he gathered from the field behind their house.
Not wanting to stifle our s'more cravings in the dead of a snowy winter evening, we also have been known to use our inside fireplace as a family "bonfire" spot.
But if a bonfire isn't practical for you this week, no worries. You can enjoy some relaxing time in the kitchen together whipping up these amazing, you-really-gotta-try-these, smores cookies.
Whether you try one or all of these simple ideas, or come up with your own ways to make home feel like a vacation, take time to relax. If the excitement in your home over new pencils and spiral notebooks has dulled and dwindled… If the shiny promise of this school year's new classes has clouded over into a reality of hard work and whining (yours or the kids')… make home a vacation one day soon.
—————————
"You will keep in perfect peace those whose minds are steadfast, because they trust in you." Isaiah 26:3
You Might Also Like…
Scriptures for the Homemaker's Heart