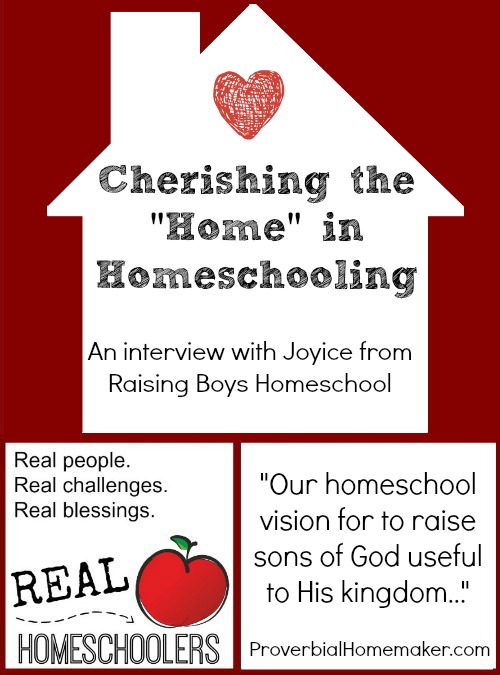 Disclosure: *This post may include affiliate links. As an affiliate, I earn from qualifying purchases. Read the disclosures and terms for more information.
Welcome back to the Real Homeschoolers interview series! Join me in welcoming Joyice from Raising Boys Homeschool.
---
Joyice is a born n' raised Southern Belle; married to her college sweetheart and together they're raising two handsome, rough and tough young men. She and her husband have a fierce, but loving, plan to raise up men God can use. In her "free" time, she enjoys all to do with Jesus, family, reading, writing, teaching, cooking, and shopping!
---
Our Homeschool
My husband and I have 2 boys that we homeschool together. Our homeschool is an eclectic Charlotte Mason setting where we esteem Bible, character, reading, math, and personal interests/gifts. Our oldest son attending a charter school for his Kindergarten year and our youngest son has always been homeschooled.
We ascribe to an eclectic Charlotte Mason homeschool method. I'm not a "diehard" follower. I like her approaches. I find myself liking other method's WHAT but liking Charlotte Mason's HOW. I can take almost any curriculum and apply her methods to it.
Our Vision and Priorities
Honestly, our homeschool priority is home. As a homeschool mom, I value being home with my children so I can raise and train them under the direction the Lord and to the bend of their individual personalities and learning styles. While we do participate in activities and field trips, we are home more than not.
Our homeschool vision for to raise sons of God useful to His kingdom; while preparing them spiritually, morally, academically, and socially for life, family, business, and changing the world through their relationship with Jesus Christ.
Our Routine
We school Monday-Thursday each week on a Sabbath School schedule. My sons wake up naturally each morning and we begin school after Bible, breakfast, and chores are complete. Schooling takes about 4-4.5 hours each day for my oldest and 2-2.5 for my youngest.
Favorite Resources
I really do not have any "favorties." I read a "Well-Trained Mind" in my first year and I really liked how it began to give me some ideas on how I wanted to home educate. Which was good for me because I needed to cleanse the public setting from my mind.
I have to many websites and resources to name, but some sites that stick out would be XtraMath, EasyPeasy, and Clever Dragons. For resources, I like math manipulatives and CD's that have poetry played to song and audiobooks. My favorite math manipulatives from from BJU and Queens Homeschool.
Best Curriculum Finds
Depends on the subject, for me. Heart of Dakota is my favorite "core" hands down right now. My absolutely favorite for writing is Writing & Rhetoric by Classical Academic Press. As a former English teacher, this has been the best I have seen ever in the homeschool world. My sons like the nature series by Queens Homeschool as well. This is a real treat for us.
What We Do for Pre-K and Kindergarten
Kindergarten is a "getting ready" year. All of the foundations are taught in Kinder and the child simply builds from there. I did not use a mainstream curriculum, but I used a few things package by a two mommy bloggers.
My main focus that year was Bible, reading and math. I wrote down a list of skills I wanted to hom exposed to and another list I wanted "mastered." That's what we worked on. I combined Carissa's (1+1+1=1) Rock Star Kindergarten with Erica's (Confession of a Homeschooler) K4 and took it from there.
Advice for the High School Years
My children are not in high school, but I used to teach high school and I offer graduation coaching for both public and homeschool students. For a mom/dad homeschooling a high schooler with plans of graduation I would say, spend the summer of 8th grade choosing courses, writing course descriptions, figuring out course weight and grading schedule, and creating or finding a transcript template. You're going to get prepared to be your student's portfolio maker for the next 4 years.
Keeping Up With It All
I just keep a simple schedule. Most days it all gets done, a few days I chose which one will get my energy so not all of it gets done, and a couple of days none of it gets done. It's life. I get up early. There's no way I could manage it all any other way.
I spend time with God and have my personal quiet in the morning. I like to spend at least 10-1 minutes talking to my husband in the morning while he's preparing for work so I feel like we've started the day with some level of connection. I sit out anything my boys may need for breakfast because they can prepare their own food once it's all sitting in front of them. Sometime I cook breakfast, but not daily.
While they are eating and doing chores, I'll complete at least one chore and head upstairs to the school room for prep. Most of it is done from the night before but I still like to go in and check. We school, have break, eat lunch, and I dismiss at 2:30p. If we had a late state, 3:30p. But that's the end of the day regardless for the most part.
I need an hour after school to myself. Then, I begin cooking dinner and the boys go outside. Baths. Dinner. Family time or Daddy time (depending on how wiped out I am). Bed.
Homeschooling With Littles
I do not think this was ever an issue for me considering my family dynamic. I've always kept my youngest in the room with me and it wasn't an issues. I can hold him while I teach or just lay him play on the floor. I did save my oldest son's math and writing lessons for nap time because they just required too much of his focus to work with a baby/toddler in the room.
The Best Advice I've Heard
Pray. Let go of perfection and seek simplicity. One of my favorite "sayings" about homeschool is, "The best and most important thing about homeschool is home."
The Advice I Give
Pray. Homeschooling is like anything else, scary and overwhelming at first but you will find a groove and it may not become "easier" but it will become more manageable and rewarding.
My Biggest Challenge
Each year I write a set of goals, a set of skills I'd like see to mastered, along with a list of what they "should know" by the year. The biggest challenge I face is see how close the time feels and how far away I feel we are from those same goals/skills being mastered.
Why I Love Homeschooling
Family, freedom, and flexibility.
How I Find Encouragement
When I feel burned out I take a break for refresh, renewal , and prayer. For encouragement, I enjoy relating to other homeschooling moms, specifically boys moms, conversing with my husband, reading books, and prayer.
---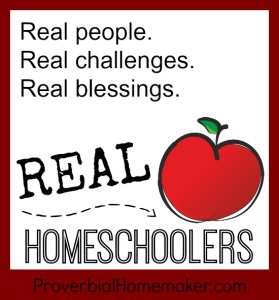 Check out all the interviews in the Real Homeschoolers series as well as a complete list of the questions that were asked. Not all the answers were included, but I have been careful not to change anything about their answers other than grammar and structure for the sake of presentation.