As a Christian parent or homeschooler, most likely you are careful about movies and other media that include references to evolution. Perhaps, like us, you keep your eye out for great materials that highlight God as our creator, and intelligent design rather than random chance.
If so, you definitely want to know about FishFlix.com! They provide fantastic Christian movies for entertainment and education. Our family has been reviewing the DVD Living Waters: Intelligent Design in the Oceans of the Earth in our homeschool.
Disclosure: *This post may include affiliate links. As an affiliate, I earn from qualifying purchases. Read the disclosures and terms for more information.
When I was growing up, some of my favorite classes in school were the ones that studied nature and the world inside our oceans. I LOVED ocean documentaries and wanted to be a marine biologist when I grew up!
Although a lot has changed, I still love the ocean. I could sit and watch videos about all the amazing creatures God has made and ooh and ahh at the beautiful images and music. I would love to share them with our kids as well and make them a regular part of our homeschool, except for one sticking point: they don't give honor to God.
Why Use Intelligent Design DVDs and Documentaries
Most science and nature documentaries are not made with a Christian worldview and so they typically include at least a few references to evolution and old earth theories. Some of them just have a passing comment and some of them hit the issue heavily throughout.
Now, there's something to be said for using these videos and their evolution references as teaching points with our kids, pointing out how they are contrary to God's word and helping them be critical thinkers in our current culture. However, our kids are still fairly young – ages 8 and under – so we are still frugal with how much ungodly worldview we want them exposed to through media. In addition, we want to simply be able to watch a movie for family night or in our homeschool and enjoy it thoroughly without needing to correct it as we go.
Living Waters: Intelligent Design in the Oceans of the Earth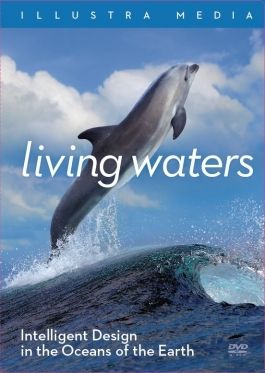 I was so excited to get a chance to review
Living Waters: Intelligent Design in the Oceans of the Earth
with my kids. What a great opportunity to begin building a library of God-honoring nature and science documentaries!
Just a few months ago we finished up a series of animal studies in our homeschooling, My oldest in particular took his mamma's interest in ocean animals, so this was a fun way to revisit those lessons. Before, I didn't have any great video resources like this to include in our studies!
The kids were transfixed by the video and so was I. The photography is nothing short of stunning, and the quality of the narration and information being presented is very good. This easily rivals any of the (many) ocean documentaries I have watched! We were able to swim with the dolphins, learn about echolocation, and get insight into the latest discoveries in this field of science. We've watched the video twice already and I'm sure it will get plenty more use!
The DVD is not only great for passive learning as we enjoy the video for entertainment, but can easily be incorporated into homeschool units. There are many clips that use computer animation to show a detailed look at how things work. The animals featured include whales, salmon, sea turtles and more. The excellent information and research presented would be fantastic for unit studies, and you can even craft a lesson on how these animals point to the Intelligent Designer!
More Movies to Discover at FishFlix.com
FishFlix.com provides many more great DVDs for your family. Living Waters is a third installment in a series that includes Metamorphosis and Flight: The Genius of Birds.
Check out all their Intelligent Design movies to get more great ideas for your family and homeschool.
In addition, you can find movies for you family such as the latest feature films, biographies, Christian TV shows, kid's movies, history, comedy, and more. Of course, even within the Christian film industry you still need to do your research and make sure that a film is, in fact, biblical before you purchase, but I enjoy the vast selection offered at FishFlix. com and reading the customer reviews.
The only criticism I have of the site is the search feature. If you are looking for a certain type, topic, or category of movie, it's best to stick with the navigation provided instead of searching. From what I can tell, the search capability (even the "advanced search" feature) is limited to the actual movie title.
Connect with FishFlix.com
Facebook: https://www.facebook.com/fishflix
Twitter: https://twitter.com/christiandvd
Pinterest: https://www.pinterest.com/fishflix/
Google+: https://plus.google.com/+Fishflix/
YouTube: https://www.youtube.com/user/familychristianmovie