I wake up early and make my husband a delicious breakfast so he can read the news in peace. I study my Bible and wait for the kids to wake up. Soon they come skipping down the stairs with a "good morning, Mom!" We spend the rest of our day learning and playing and I even get in a little nap!
When my husband comes home I greet him at the door with a cool drink and a kiss and he even surprises me with flowers. Sigh. After tucking the kids in for bed we spend the evening together, and because I am so well rested, I am able to be fully present and attentive.

Then I wake up.
It is too early and the baby is fussing. I stumble out of bed to nurse him so my husband can sleep a bit longer. Soon, the toddler starts screaming upstairs and chanting a combo of "We Will Rock You" and "M-O-M I'm Awake!" I desperately grab the coffee as the kids come tromping down the stairs like a herd of elephants. Good thing the 7 year old knows how to get everyone cereal.
Disclosure: *This post may include affiliate links. As an affiliate, I earn from qualifying purchases. Read the disclosures and terms for more information.
My husband and I do a quick exchange of the day's plans and he kisses us all before hurrying out the door. Thus ensues the blessed work/battle of instruction, school, discipline, refereeing, cooking, and cleaning. Breathe. By the time my husband comes home I'm ready to collapse. I greet him at the door with food on my clothes and a wild look in my eye that does not mean "come hither."
Sound familiar?
Let's face it: family life doesn't naturally include the time and energy to spend quality time with each other. There are babies, lessons, and heart parenting. There is fatigue. It is far too easy to let all the things we need to do during the day rob our marriage of the time and attention it needs. It's a recipe for disaster!
Knowing all this, my husband and I intentionally seek out ways to invest in each other. We make it a priority! However, even though we've worked hard to block out time together on a weekly basis, date nights can be a challenge. With 5 kids and a budget it's not always easy to get a sitter and go out for dinner. And sometimes even that gets to be a bit routine!
Our New Favorite In-Home Date Night
Our favorite new in-home date night find is MELT: Couple's Massage Course. I had seen reviews about this course from other bloggers that I know and respect, so I jumped at the chance to give it a try. I've always wanted to learn how to give a good massage but just felt awkward about it. Even when I made an attempt, my hands got tired or I just fizzled out. Not awesome.
Melt went beyond my expectations. After watching the videos first on my own and then with my husband, I can now confidently give him a massage that I know will relax him with techniques that ease his neck and back tension without being too hard on my hands or arms. Of course, it will mean I'm getting a massage too! 😉
Here are some of the things I love about Melt:
Tactful and PG videos (no nudity or weirdness)
Really helpful and practical tips with simple instruction
Beautiful, high-quality videos that are short and easy to use
We can play them on our laptop, iPads, and iPhones
We can go back and use the videos any time we want!
I LOVE the confidence Melt gives me.
I LOVE the fact that it provides another wonderful way to bless our marriage.
I LOVE the way it helps us connect with each other in the midst of our crazy and blessed life.
I even love the price. It's affordable (about the cost of 2-3 frugal date night meals), easy to use, and would make a fantastic gift for a wedding, anniversary, Mother's/Father's Day, or birthday. I'm already thinking about who I can gift this to and eyeing the other videos available for purchase. (Hellloooooo foot massage!!!) They're really that good.
Learn Massage to Bless Your Marriage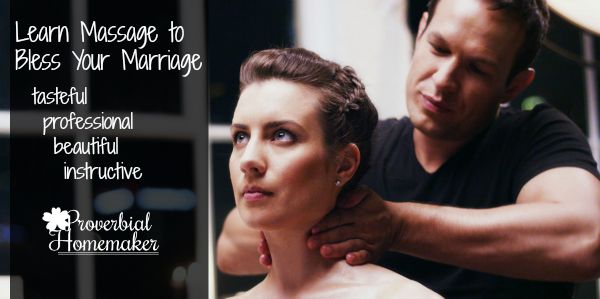 Denis is an Australian professional massage therapist with 15 years' experience. He and his wife Emma demonstrate the massage techniques in a beautiful and tasteful way, having perfected them over the years and taught them to over 10,000 couples.
What's included in the Melt course? There are 17 techniques and 3 back rub routines that you'll love. You will learn correct technique that will feel great and help avoid sore hands, work the kinks out of the neck, shoulders, back, arms and head, and use fantastic deep-tissue techniques in your massage routines.
Could you use fun and frugal date nights with your spouse?
Do you want to invest the time and attention to your marriage that it needs?
Melt Video Series is on Sale until noon on Tuesday, September 1 (PST) . Get 20% off the bundled courses – only $79 (usually $99 in total)
20% off ends in 7 days!
This special promo is for the Proverbial Homemaker community, with 20% off the retail price for LIFETIME video access to these incredible massage techniques. Visit MELT: Massage for Couples.
Because, as Denis and Emma, the creators of MELT say, every relationship deserves a little massage.
This is a sponsored post. I was provided this product for my honest review. All opinions are my own. I love to share products that I use and love with my readers. I'm sure you'll you enjoy it as much as I do!