Thanksgiving is just a few weeks away!
Many of us moms spend time and thought during this season on how to encourage our children to be full of gratitude. It is just as important to focus our own hearts on thanksgiving! Here are three printables I made just for you! Of course, your whole family will benefit. 🙂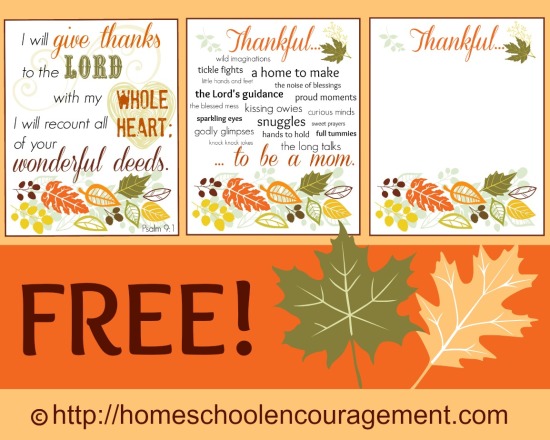 Disclosure: *This post may include affiliate links. As an affiliate, I earn from qualifying purchases. Read the disclosures and terms for more information.
Head over to Homeschool Encouragement and download the thankfulness printables:
Psalm 9:1 Poster – A song of thankfulness to meditate on.
Daily Thanksgiving Poster – Laminate or frame this page. Use a dry erase marker to write what you are thankful for that day.
Cloud of Thankfulness – Use this poster as a start in reminding yourself of all the blessings, both large and small, of being a mom.