For whatever reason, geography is one of those subjects that I struggled hard to decide on how to teach and what materials to use. There are so many different resources and approaches, I ended up researching myself into analysis paralysis. Have you ever done that?
This past year when we made the switch to U.S. history instead of world history, I decided it was a great time to work on teaching United States geography to the kids. But where to start? In all my looking, I've landed on a very simple and basic approach to geography. You're going to love how easy it is to implement!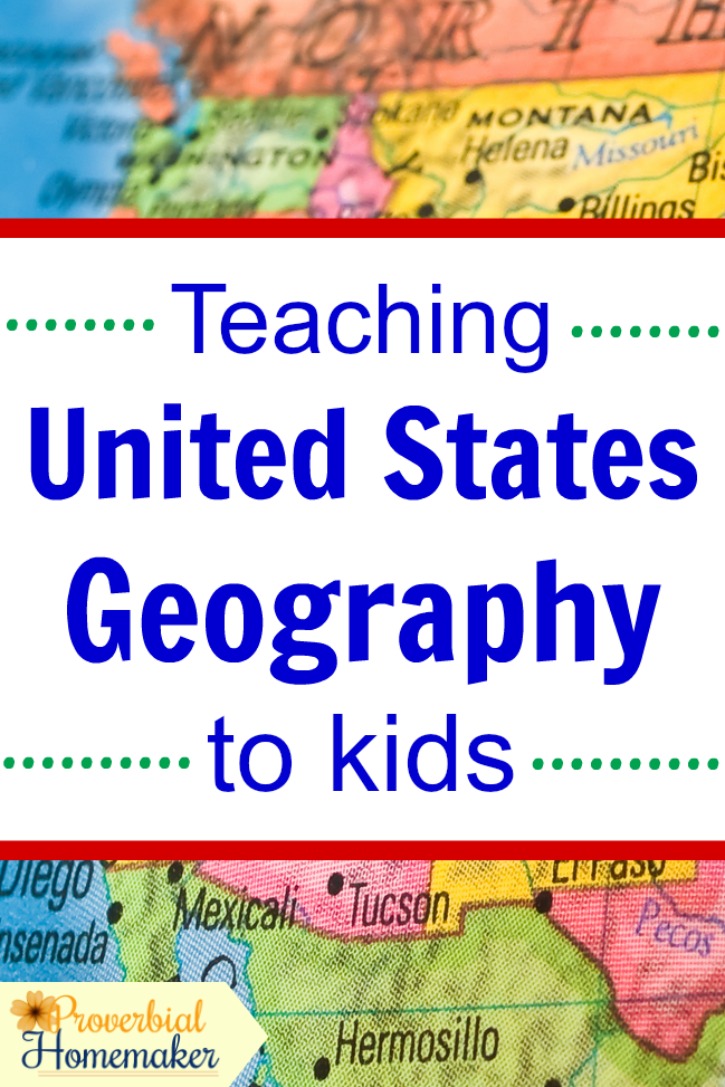 Disclosure: *This post may include affiliate links. As an affiliate, I earn from qualifying purchases. Read the disclosures and terms for more information.
How We're Teaching United States Geography to Kids
Our method for teaching United States geography to kids is super easy: they trace maps and label them. Part of my 9 year old's daily work each day is to do "map work." When he sees that on his task list, he goes and gets his tracing pad, United States map outline, and atlas.
We started with the NW since that's where we live. First he traced Washington and used the atlas to spell and label the state and capitol. The next day he tried to do as much of Washington as he could from memory, then used the atlas to correct his work and trace and label Oregon. The day after that he did as much of Washington and Oregon from memory as possible, then used the atlas to self-check and then label Idaho.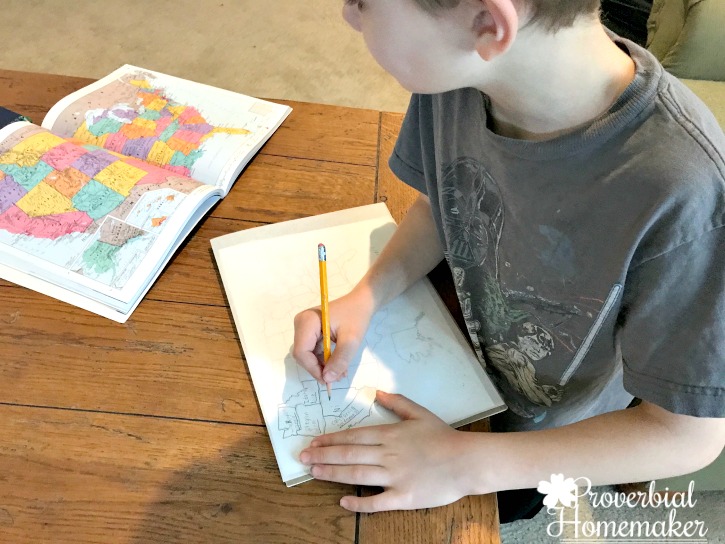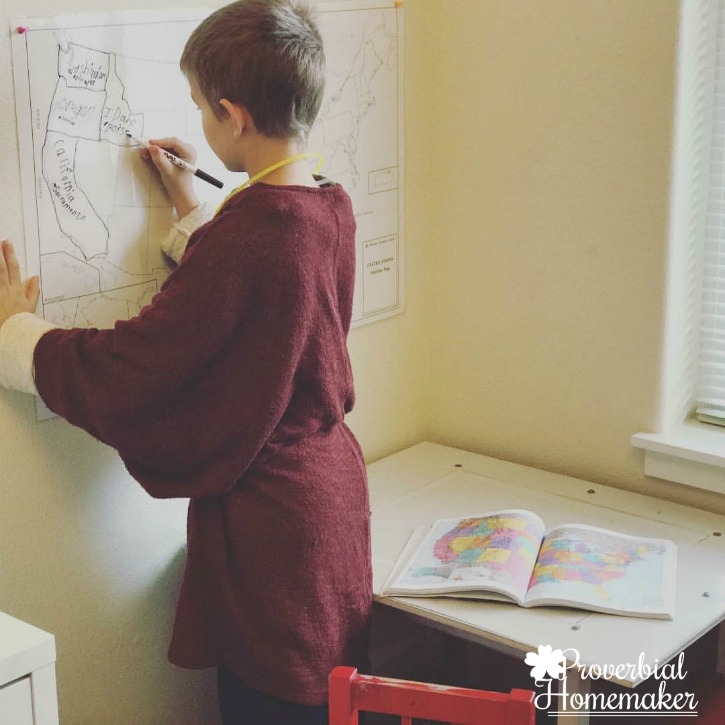 Although we use tracing paper now for our daily map work, we started out with a big wall map. This is a great option for younger kids! They can loosely trace it or trace it in detail if they are able, and there is more room to write in. We used a laminated blank wall map and an ultra fine tip dry erase marker. Each day after I'd check his work we'd erase it to prepare for the next day. Eventually a drum set took over this corner of the school room. 😉 So we had to find another solution.
That's pretty much it! Simple and very effective. When we got noticeably stuck we'd just sit a while with the states he'd already done and do them over and over. Sometimes I'd make spelling lists out of the states and capitols so we could practice with dictation. Once I felt like he had a good handle on it, we went back to one new state each school day.
I first heard about an approach like this through the book Teaching from Rest. It's simple, effective, and easy to remember. As we adapted it to our needs and got into our groove, I started adding a few other pieces and now I feel like we have a well rounded U.S. geography curriculum. When we finish with this, we'll decide whether to go back and do another round focusing on details like rivers, mountain ranges, or state facts, or move on to world geography.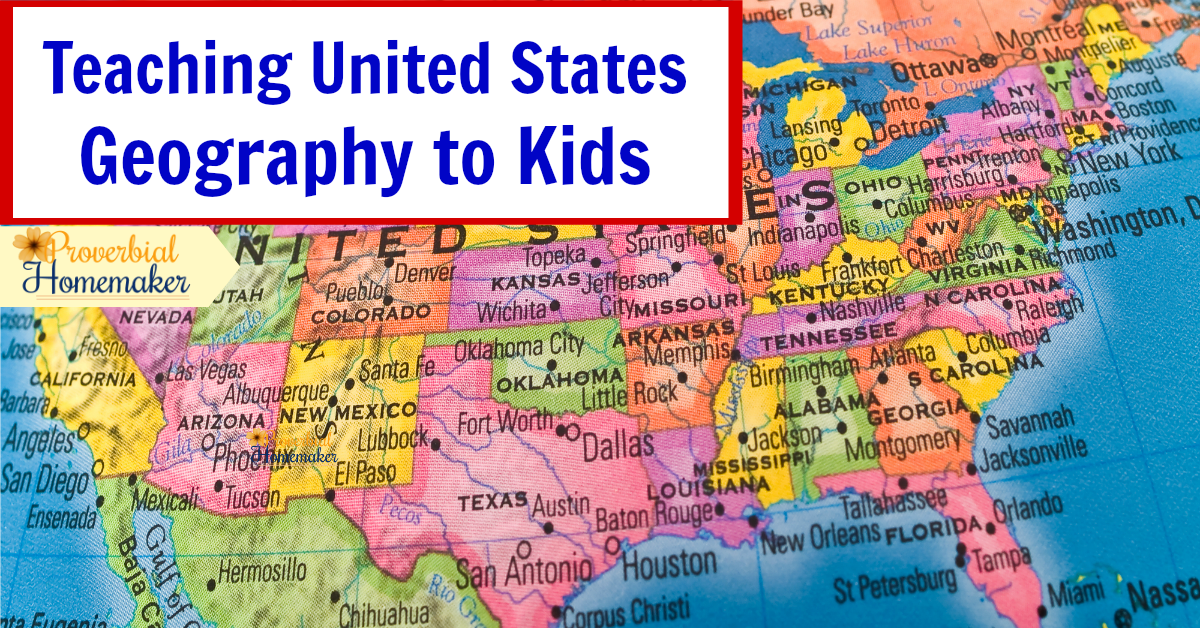 Additional Resources for Teaching United States Geography
As I said, we've picked up additional resources that really add to our U.S. geography studies. Here are some that are definitely worth considering! Pick a few and get started!
Across the USA: Geography Printables for All 50 States – This is a fun new curriculum that helps you teach mapping, state history, and fun state facts.
Large maps – we keep a large map in our dining room as a reference to discuss geography as we learn about missionaries, come across geography points in fiction read alouds, pray over nations, and so on. We splurged on a fancy MapShop mounted and laminated one since it's our main room decoration, but you can also find great map choices on Amazon.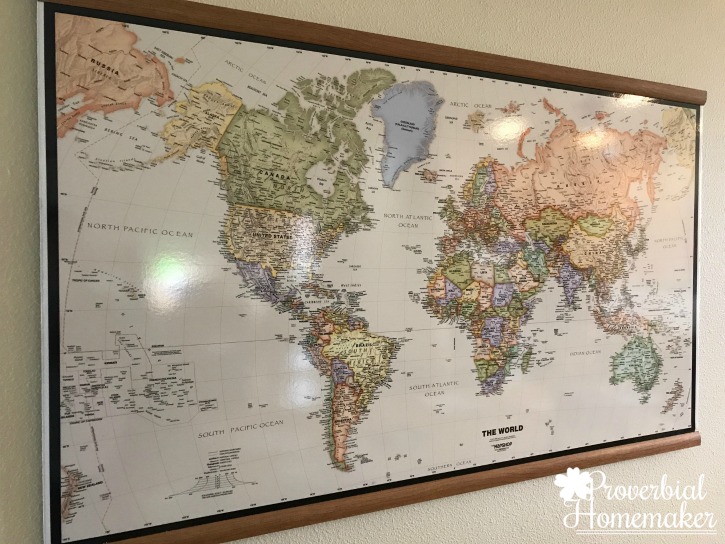 Scrambled States of America – this is a fantastic board game that we came across during a homeschool family get together. It is perfect for family game night and does a great job of teaching states and facts! There is also an accompanying book, and you can buy the DVD separately.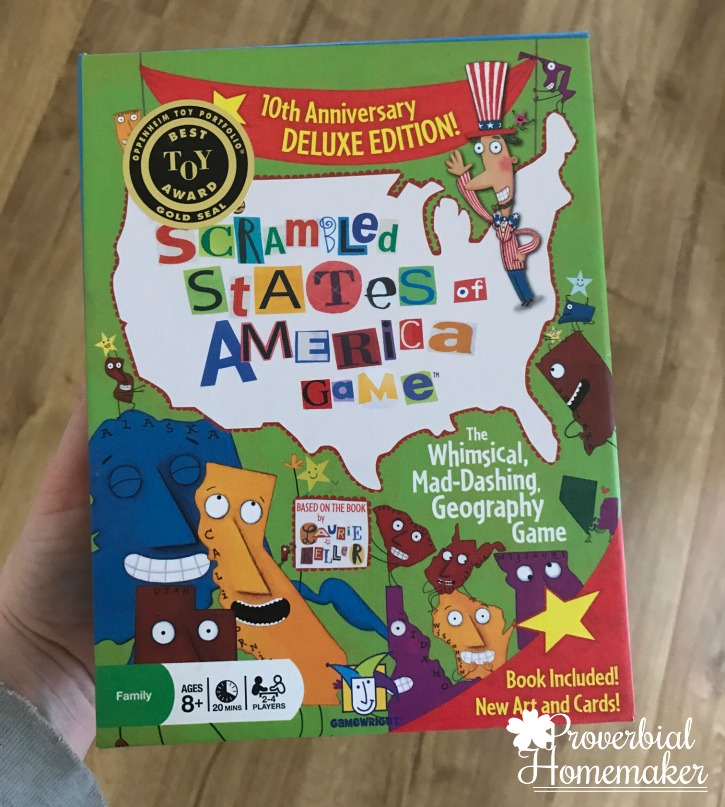 Dover United States Coloring Pages – As you go through map work, color one state at a time and read and discuss the brief description. It's an easy way to go a little deeper.
Our free U.S. State Cards printable pack – perfect for younger children in learning basic state shapes and facts fun learning activities.