Disclosure: *This post may include affiliate links. As an affiliate, I earn from qualifying purchases. Read the
disclosures
and
terms
for more information.
They say the first step to overcoming an addiction is to admit you have a problem. My name is Meaghan, and I am a grilled cheese addict. Seriously, last week I had grilled cheese for dinner twice. And I also keep dreaming about opening up a grilled cheese restaurant with my best friend. In our dream grilled cheese restaurant we serve all kinds of different grilled cheese concoctions. I think the only reason my bestie likes this plan is just because she'd have another reason to experiment with goat cheese.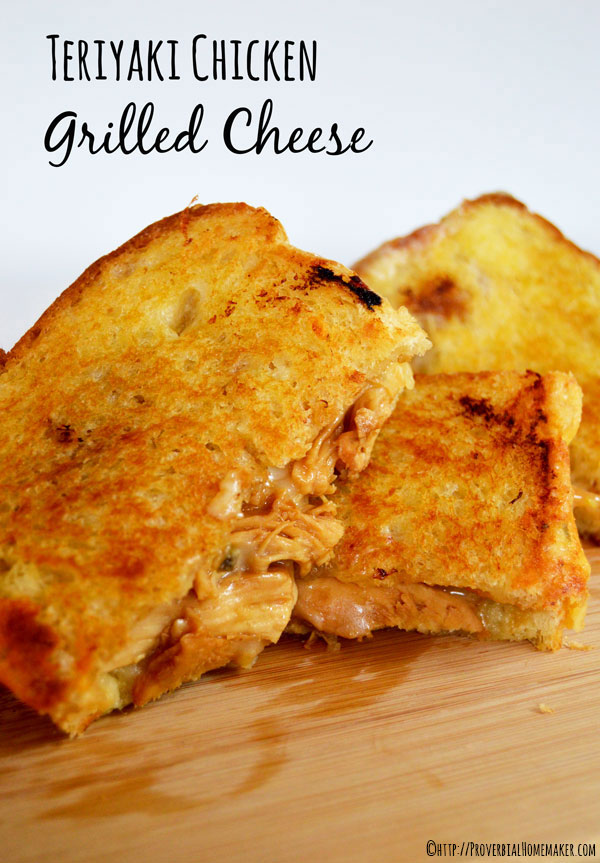 So when I tell you that I literally dreamed about this grilled cheese I'm not lying. I pushed it to the back of my mind for a few days because teriyaki + pepper jack cheese just sounds like something straight out of a pregnancy craving. But when I couldn't stop thinking about it I casually mentioned the idea to my roommates. When one said "that sounds really good" I started to think I might not be crazy.
So I tried it and I ate it alone in my room in case it was an epic failure. And it was good but I thought it might just be a fluke. So I tried it again. With people around. And it was so good that even my picky roommate who doesn't like pepper jack cheese or strong Asian flavors was devouring this right along with me. As payment for being my photo shoot assistant. And letting me live here.
I've never added shredded chicken to a grilled cheese before but I do not regret it. And I'm already making plans for lots of other grilled cheese sandwiches featuring shredded chicken. Like a Mexican version with queso fresco or a spicy buffalo chicken. I could do so many things with shredded beef or even ground beef. Sloppy Joe grilled cheese anyone??
Seriously what's better than buttered and grilled bread stuffed with melted cheese and shredded chicken packed with flavor? Nothing. Absolutely nothing. So if we're being totally honest my grilled cheese addiction doesn't seem to be drawing to a close any time soon. It's just too good! Obviously this grilled cheese restaurant thing was meant to be.
Do you have a favorite non-traditional grilled cheese sandwich?
Teriyaki Chicken Grilled Cheese
2015-07-06 15:56:07
Serves 4
Try this twist on a classic grilled cheese sandwich where spicy meets Asian in this Teriyaki Chicken Grilled Cheese!
For the chicken
2 large chicken breasts
2/3 cup teriyaki sauce
1/4 cup Worchestershire sauce
1/4 cup honey
1 clove garlic, minced
For the sandwich
8 slices bread
4 Tbs butter, softened
8 slices pepper jack cheese
Instructions
Lay chicken breasts in the bottom of a 9 x 9 glass baking dish. Mix teriyaki, worchestershire, and honey and pour over chicken breasts.
Bake at 350 degrees for 20-25 minutes, or until juices run clear. Shred chicken with two forks and allow to soak up the rest of the sauce.
Butter 4 slices of bread and lay on a griddle over medium heat. Top each slice with 2 slices of pepper jack cheese and then shredded chicken.
Butter the other four slices and lay on top.
Flip once cheese starts to melt and bread is golden brown, about 3-5 minutes. Cook for another 3-5 minutes on the other side and serve hot.
Proverbial Homemaker https://www.proverbialhomemaker.com/
For more dinner favorites check out these awesome Cook. Craft. Love. creations!