Disclosure: *This post may include affiliate links. As an affiliate, I earn from qualifying purchases. Read the
disclosures
and
terms
for more information.
We love beans all kinds white, pinto, kidney, black, and the list goes on. Our family loves having them as a side dish, mixed in with soups and to use for toppings on dishes. I have gathered a ton of Instant Pot bean recipes I think you all might enjoy. The instant pot allows you to cook dry beans so much faster, and not lose any of the quality. I have a ton of recipes below from baked beans, refried beans, to red beans and rice.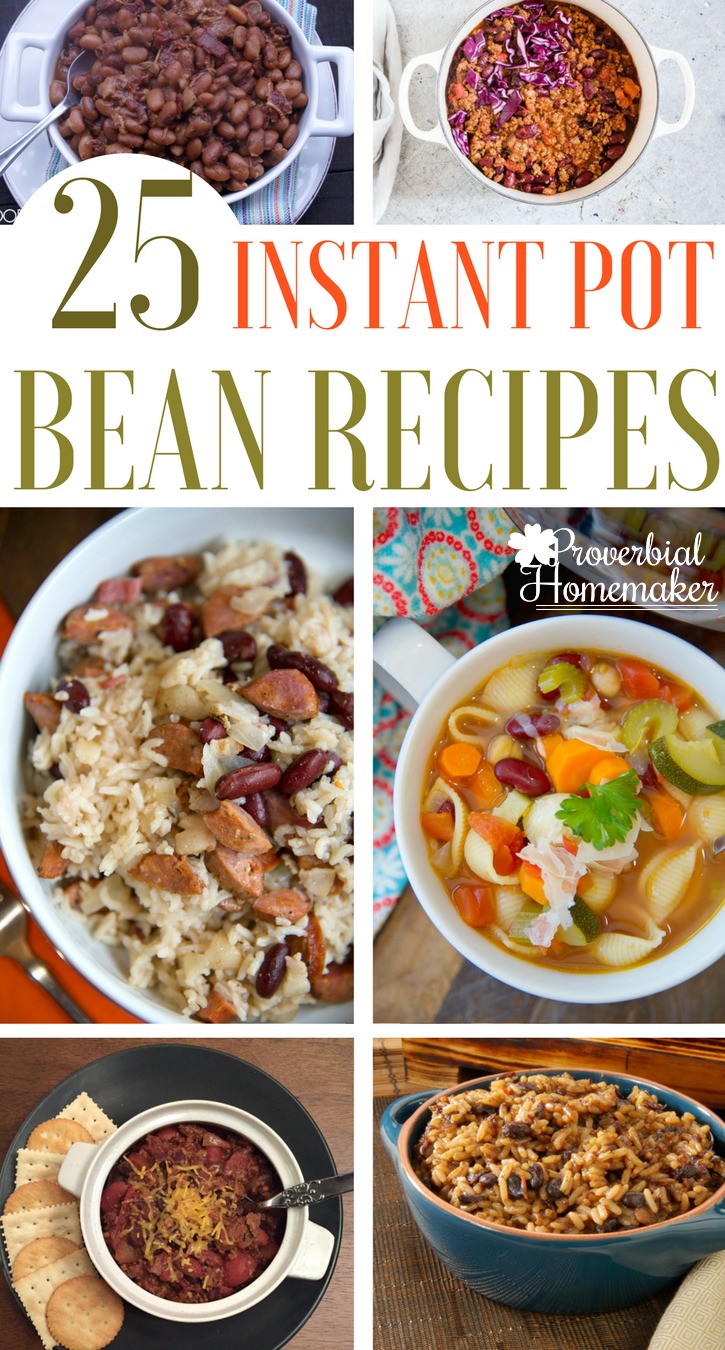 Must Try Instant Pot Bean Recipes
Refried Beans from Darcie's Dish| Refried beans go with any Mexican dish, and perfect for your Taco Tuesday dinner! Make homemade refried beans in under 30 minutes.
Instant Pot Charro Beans from Huckleberry Life| If you have never heard of charro beans, it is a Mexican bean dish. It is similar to a soup texture where you stew your beans with rich flavors like onion, tomatoes, and more to make one flavorful bean dish.
Red Beans and Rice with Andouille Sausage from Recipes for Instant Pot| One hearty dish that is perfect served over a bed of Jasmine or white rice. You won't lack flavor and this dish can be made in under an hour.
Instant Pot Chili With Dried Beans from Huckleberry Life| This chili will warm you up on a cold chilly day, and I love the rich flavors that are used in this recipe. Your whole family will be begging for seconds.
Broad Bean Puree from Akamatra| This is a dish made with fava beans and transforms it into a flavorful puree. They offer Instant Pot directions where it takes just 20 minutes. If you have never tried fava beans, I recommend it. This is a vegan recipe!
Pressure Cooker Hoppin' Johns from Gluten Free Pressure Cooker| A black-eyed pea dish that also has pork, pea,s and served over a bed of rice. This is a deep south recipe that is packed full of richness that will make your mouth water.
Instant Pot Baked Beans from Instant Pot Family Recipe| These baked beans are a perfect side for any weeknight dinner or take to your next potluck gathering. Everyone will be begging for the recipe.
Instant Pot Pork Tenderloin with Black Beans and Coconut Rice from Sidewalk Shoes| Rice and beans are meant for each other, and when you add meat it takes it to a whole new level. This dish is something unique and the flavor pairings really work well.
Mexican Black Beans and Rice from Recipe This| Mexican seasonings, black beans, and a mix of brown rice makes this dish become a perfect side for any item that is on the menu for dinner.
Instant Pot Red Beans and Rice from The Typical Mom| This dish takes only around 20 minutes to make, is flavorful and a whole dish in one. It has beans, rice, sausage, and lots of seasoning for a complete dinner.
Instant Pot Central American Red Beans from Cleverly Me| Love red beans but hate the traditional cook time? This recipe allows you to cook in a total of 35 minutes, and you don't lose any of that authentic flavoring your craving.
Easy Instant Pot Chili with Canned Beans from Mashup Mom| You can throw this meal together in no time flat, and you might have all the ingredients in your pantry. Serve with some crackers or side of crisp veggies for a quick dinner.
Loaded Baked Beans for Tailgating from Penny Pincher Jenny| Tailgating is so much fun and the food is always outstanding. If you are on the hunt for a perfect bean recipe, this is it. They use three different beans with a handful of other ingredients to make a stellar baked bean that is loaded!
Instant Pot White Chicken Chili from Wondermom Wannabe| One hearty bowl of chili made from all natural ingredients, with a lot of tex mex flavor. This might instantly become a new family favorite.
Chili Lime Black Beans from Oh Sweet Mercy| You can make these black beans from dry beans to cook in an hour, without having to soak them. Eat these as a side, put on top of your enchiladas, nachos or even burritos.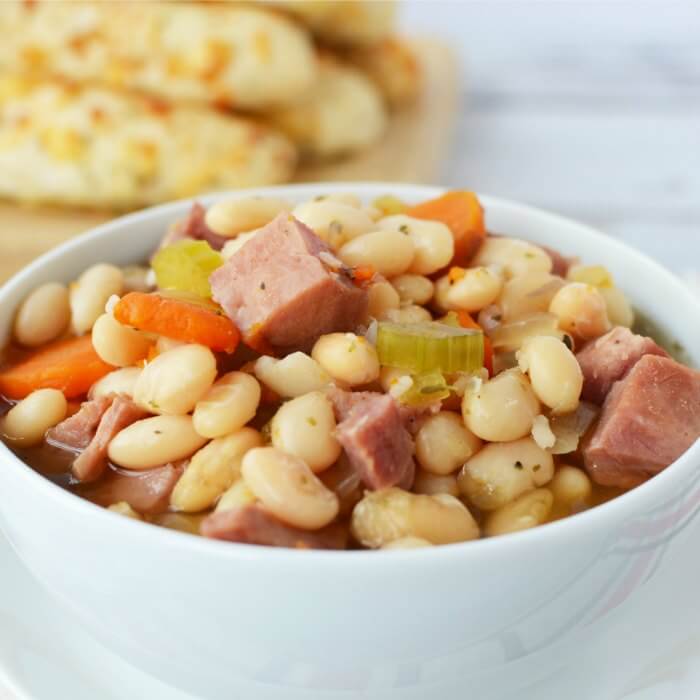 White Bean Sausage Soup from Awe Filled Homemaker| A variety of vegetables, sausage and beans with some spices is what makes this soup extra wholesome and hearty.
Ham and Beans from Eating on A Dime| Looking for that classic ham and bean soup, this is it. You have a mix of vegetables, white beans, and cubed ham with some seasonings.
Easy Instant Pot Minestrone Soup from The Typical Mom| A classic soup that is transformed into an Instant Pot recipe. You have hearty beans, pasta, with an assortment of vegetables in a broth.
Pinto Beans from Reuse Grow Enjoy| Transform dry pinto beans into a flavorful side dish. This recipe uses garlic and onions to help infuse flavors into the pinto beans.
Taco Soup from Mooshu Jenne| Serve up this scrumptious soup without heating up your home. Cheese, beans, meat, veggies, tex mex flavors for one perfect soup the whole family can devour.
<
Hummus from Slap Dash Mom| Make your own hummus at home in your instant pot! Dip your favorite veggies, pita chips, and other snacks for a perfect creamy hummus.
Chicken Tortilla Soup from My World Simplified| One of my favorite soups, it is always packed full of flavors and has a creamy base, and you can add your favorite toppings.
Instant Pot Chili from Recipes From A Pantry| Make this in under 30 minutes, and a unique topping of red cabbage adds a whole new dimension of flavor and texture to your chili.
Pinto Beans and Bacon from Food N Service| Everything tastes better with bacon, right? Enjoy this dish any night of the week.
15 Bean Chili from The Cent's Able Shoppin| This chili is packed full of a variety of beans, totaling 15 different beans!
Like These Instant Pot Bean Recipes? You Might Also Like…
25+ Instant Pot Frozen Chicken Recipes