I am so thankful to Phyllis for this guest post. I know it will encourage us as homeschoolers to persevere! I do want to encourage my non-homeschooling friends and readers as well. God will lead you to the decisions that are best for your family and equip you for the task. We all face challenges to truly connect with and disciple our children and I want to cheer you on in that effort! I'm praying that we all seek and follow God's plans for us as parents!
---
September can be a frightening word if you are a homeschool mom.
You've probably been enjoying a summer off with a more stress-free schedule, some vacation time, or just relaxing, but in the back of your mind the thoughts about September and homeschool are always there.
Perhaps you're teaching a grade level or class that you've never taught before or aren't very good at.
Perhaps you haven't worked on your lesson plans and you feel totally unprepared.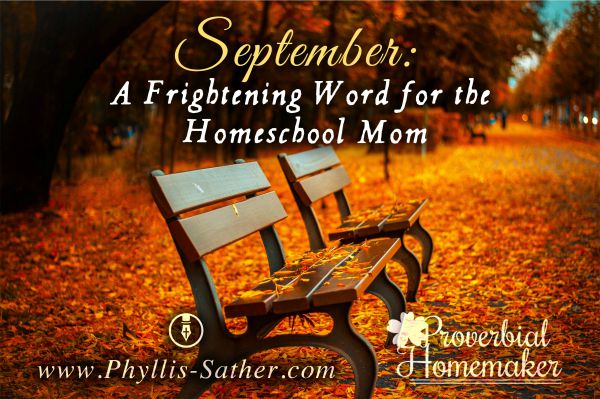 Disclosure: *This post may include affiliate links. As an affiliate, I earn from qualifying purchases. Read the disclosures and terms for more information.
Perhaps our enemy has even told you that you REALLY aren't qualified to teach your children and they should be with a "professional" who knows what she is doing.
[Tweet "Perhaps our enemy has even told you that you REALLY aren't qualified to teach your children and they should be with a "professional" who knows what she is doing."]
Let me share with you six reasons why I've spent over
20 years homeschooling our children.
1) God gave you these children.
He gave them to you because he knew you would be the best person to train them to be Godly men and women.
2) Sending your child/children to public school will take more time than homeschooling.
There is always homework in the evening. So, instead of being done with school at 3 PM, you will be giving your evenings up for homework that would have been done during the day if you had homeschooled.
There is also the need to spend time with each child to hear what they are being taught so you can determine if it's what you want them to believe. Many times you will need to discuss the difference between the truth and what they were taught. Every day they will be hearing opinions and ideas that directly conflict with your beliefs.
You will lose valuable time to be together as a family, which in turn will weaken the bond between family members.
3) They will spend all day in an ungodly environment.
Among other things, they will be taught that perverse lifestyles are normal. Think about it. How well do you do after spending hours or days in the company of ungodly people? People who deny the Lord and live by worldly ways?
If it's difficult for you, how can you expect your children to go there and be light and witnesses day in and day out?
Here is an article my daughter Rebekah wrote for my website about some comments that wounded her. She was always homeschooled, but she still felt the sting of unkind words during a shopping trip. How grateful I am that she didn't have to experience more of this on a daily basis.
Are You Enough? By Rebekah Sather
4) Common Core – need I say more?
There are articles in abundance written on this topic and they explain it far better than I can. If you aren't familiar with Common Core, read what some Godly people have said about it.
5) God calls us to train our children.
"Train up a child in the way he should go: and when he is old, he will not depart from it." Prov. 22:6 KJV
"You shall teach them diligently to your children, and shall talk of them when you sit in your house, when you walk by the way, when you lie down, and when you rise up." Deut. 6:7 NKJV
How will you do this if they are gone all day and doing homework every evening?
6) Someday we will each have to answer to God for how we raised/trained the children He gave to us.
"But I say to you that for every idle word men may speak, they will give account of it in the day of judgment." Matt. 12:36 NKJV
Yes, homeschooling is a lot of work, often very hard work. You will have to make many sacrifices that you would rather not make.
As a single woman I had been very involved in ministries that I enjoyed and loved; working with unwed mothers and visiting women in our local prison, to name a couple.
These were fruitful ministries, but they were also very time-consuming. I had to choose. This verse helped me see the truth.
"But what things were gain to me, these I have counted loss for Christ." Phil. 3:7 NKJV
Sometimes we have to let go of good things in order to get better or the best things. How would I feel today if I led dozens of unwed mothers or prisoners to the Lord but lost my children to the enemy?
Our season to train our children to be Godly men and women is very short. I think we need to give ourselves to it whole-heartedly. It is a season. Your life will be filled with seasons. Each will be different than the last and you will have time to do all that the Lord has planned for you.
[Tweet "Your life will be filled with seasons. Each will be different than the last and you will have time to do all that the Lord has planned for you."]
"Being confident of this very thing, that he which hath begun a good work in you will perform [it] until the day of Jesus Christ:" Phil. 1:6 KJV
Phyllis is an ordinary woman serving an extraordinary God. She has been the joyful wife of her best friend Daniel for 31 years and became a stay-at-home mom 30 years ago after retiring from a management position. She homeschooled their three children, Emily (28), Rebekah (26), and Eric (24), for the past 20+ years and they are now continuing their education and working. She wrote a column on mothers and daughters for five years and has published several books. Her favorite is Purposeful Planning. Visit her on her site at Write the Vision. Connect with me: Face Book, Twitter, Pinterest, and Google+ ©Write the Vision All rights reserved