If you are looking for a simple and versatile lunch idea that kids love, flatbread is your friend! Flatbread can be used to make mini pizzas, dessert treats, sandwiches, or for bread to dip or top with spreads. I've even used them in place of tortillas in a pinch, and they're fantastic with mediterranean foods! Let me share with you this easy flatbread recipe and a few topping ideas to get you started.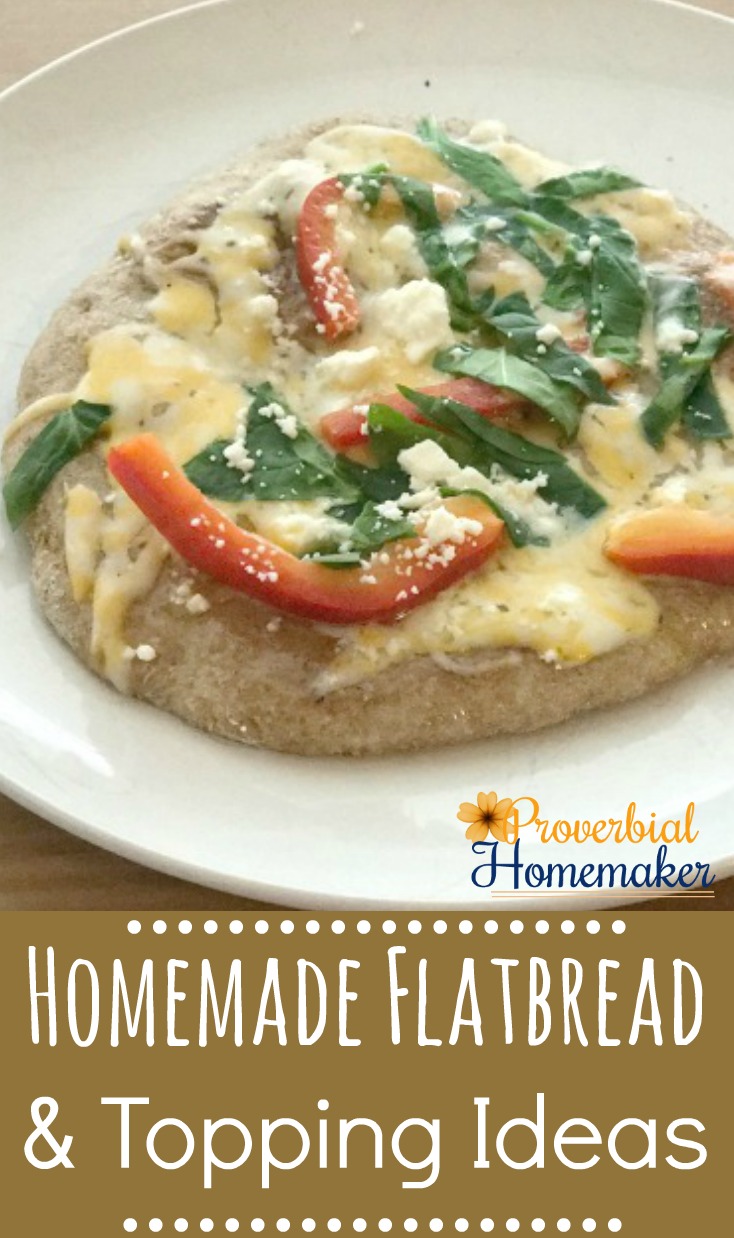 Disclosure: *This post may include affiliate links. As an affiliate, I earn from qualifying purchases. Read the disclosures and terms for more information.
The great thing about this recipe is that you can adjust the flour. 100% whole wheat still works, although it is pretty dense. You can add 2 tbsp of vital wheat gluten if you want to go that route. You could also use white whole wheat, half whole wheat and half all-purpose flour, or all all-purpose flour.
They freeze well, too! Just flash freeze or separate with parchment or wax paper before freezing in a gallon ziplock bag. To use them, you can cook them on low on the stovetop, pop them in the toaster or toaster oven, or microwave them with toppings. Or pre-top them with pizza toppings and freeze them, and bake them in the oven when you're ready to eat them!
Homemade Easy Flatbread Recipe
First, combine the sugar or honey, warm water, and yeast in a bowl and stir. Let set for about 10 minutes to proof. It will start to foam a bit. In a separate bowl, mix the flours and salt. Add the yeast mixture to the dry ingredients and mix well. I used a Kitchenmaid mixture with a dough paddle.
The resulting dough should be slightly sticky. If you need to add more flour you can do so a tbsp at a time up to 1/4 cup but only add enough to make it possible to manage. You'll be adding a bit of flour to roll it anyway.
Form dough balls to the desired size. I made them large enough to fit in the palm of my hand and that made 8 total. Roll them out on a slightly floured surface and set aside. Do not stack them because they may stick together! (Ask me how I know.)
Heat a griddle or pan on medium heat and spray lightly with olive oil. Cook on each side until slightly brown. They will bubble up a bit but that's ok! Just let the bubbles be and let them darken a bit. It will crisp up nicely.
You'll end up with easy crispy flatbread ready for any topping!
Easy Flatbread Recipe
Ingredients
1 tbsp honey or sugar
1¼ cups warm water
2½ tsp active dry yeast
1½ cups whole wheat flour
1½ cups all-purpose flour
1 tsp salt
Instructions
Comine honey/sugar, water, and yeast in a bowl and let set to proof for 5 minutes.
In a separate bowl, mix flours and salt.
Add proofed yeast mixture to dry ingredients and mix until slightly sticky dough formed
You can add up to ¼ c additional flour, 1 tbsp at a time, if necessary to achieve desired consistency.
Form balls of dough and roll out on a slightly floured surface.
Heat a griddle or skillet over medium heat and spray with olive oil.
Cook the flatbread on both sides until just browned and bubbly.
Variations on the Recipe
You can change things up on this recipe with decent results. Here are some ideas:
Use all whole wheat flour and 2 tbsp vital wheat gluten
Use all white flour
Add a tbsp or two of vegetable oil
Add garlic salt to the mixture or lightly salt the dough before cooking
Freeze the pre-rolled or rolled dough, or freeze the cooked bread
Toppings for Homemade Flatbread
To top your easy flatbread recipe creations you can simply add toppings and either heat them in the microwave for a minute or two or line them up on some cookie sheets and bake them for about 10 minutes. Here are some ideas.
Kid Pizza: Spaghetti or pizza sauce with cheese and kid-friendly pizza toppings
Greek Pizza: Olive oil and garlic salt with cheese, spinach, red bell peppers, and feta
Dessert Toast: Brush with melted butter and sprinkle with cinnamon and sugar
Barbecue chicken and shredded cheese
Cream cheese and sliced salted cucumbers
Refried beans, diced tomatoes, and cheese
Scrambled eggs, salsa, and cheese
Hummus and sliced veggies
Brie, arugula, and pine nuts drizzled with sweet balsamic vinaigrette
Top with any salad or sandwich fillings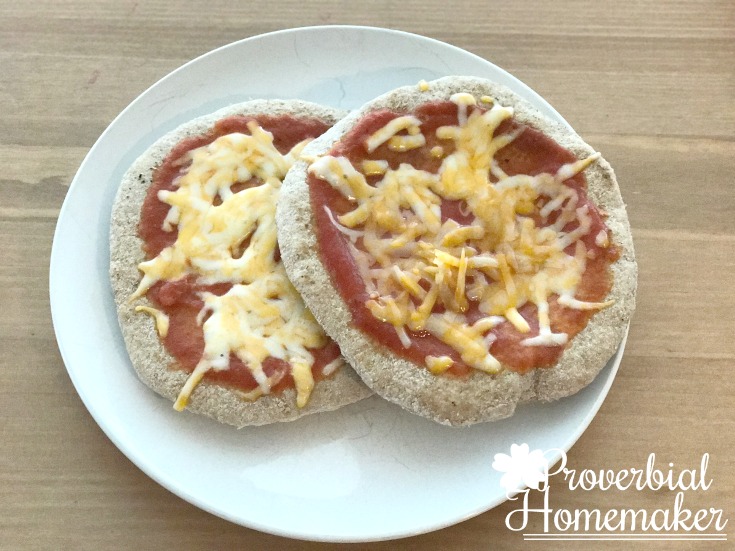 Don't those look good? They are so yummy and I love that I can use this easy flatbread recipe to make kid-friendly or fancy adult food! Flatbread is a great easy, frugal option to have on hand. Give it a try and let me know what topping combinations you enjoy!
You might Also Like…