New Year's Eve is a great time for families to reflect on the past year and look with hope and vision into the new one. It's also a fantastic opportunity for special family fun as you ring in the New Year and a chance for a fresh start. You'll love these great ideas for meaningful AND fun family friendly New Year's Eve traditions!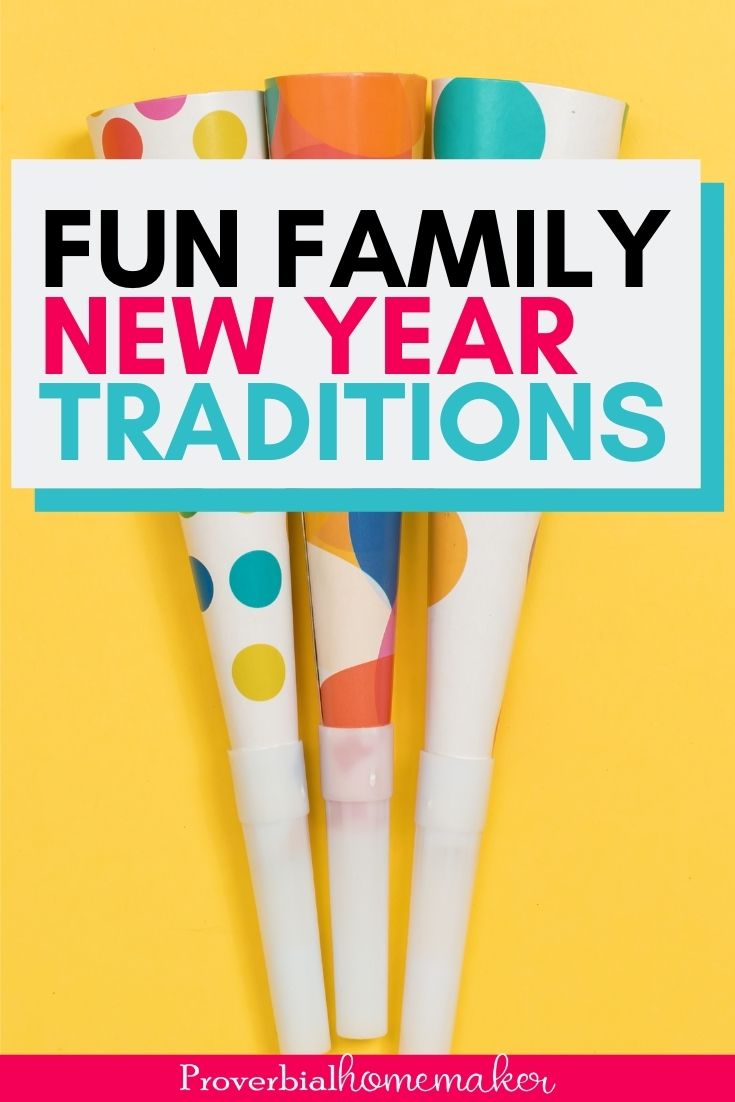 Disclosure: *This post may include affiliate links. As an affiliate, I earn from qualifying purchases. Read the disclosures and terms for more information.
Our Own Family's New Year's Eve Traditions
My husband and I got married on New Year's Eve! But most years we save our anniversary celebration for another day (to avoid the crowds) and enjoy some really meaningful and fun New Year's Eve traditions with our kids. Here's what we like to do:
Yahweh Jireh Box – Sometime around New Year's Eve (sometimes it's a few days before or after) we sit down as a family and list out all the ways that the Lord has provided for us during the year in both material and non-material ways. We praise God and thank Him, and tuck all those memories into our Yaweh Jireh box. We also like to look back at the things we recorded in past years.
Time Capsule Questions – Many years I have the kids fill out a few sheets all about their favorite things and some "time capsule" style questions. You can download the sheets below to do your own time capsule questions The kids enjoy them and it's fun to look back on past years!
Look Through Photos – We have all our photos on the computer and they can be easily assembled into a slideshow for each kid or the entire year. Those are a hoot to look through on New Year's Eve and watch how the kids have grown. You could also do old school photo albums (having physical photos to flip through is meaningful for kids) or try a quick and easy photo book service like Chatboooks.
Minute to Win It Games – This is by far our kids' favorite activity. We decide on some minute to win it games to play after dinner. It's a fantastic way to liven up any celebration with this family friendly New Year's Eve tradition. Here are some we've done or you can find more here and here.
Straw Race – Give each kid two plates, one empty and one with a handful of M&Ms or Skittles. Set the timer for a minute and have them use a straw to pick them up and transfer them to the other plate. The one who transfers the most wins.
Oreo Face – Have each kid look up and put an Oreo on their forehead. The one who can use their face muscles to work the Oreo into their mouth (without dropping it) before the timer goes off wins.
Basket Ball Bounce – Fill a medium to large box with empty cups so that the openings are facing up. Put it on a table or on the floor. Mark a spot for them to stand and have them bounce balls once on the floor/table and into the box. At the end of a minute see how many balls they got into the cups. The one who ends up with the most wins.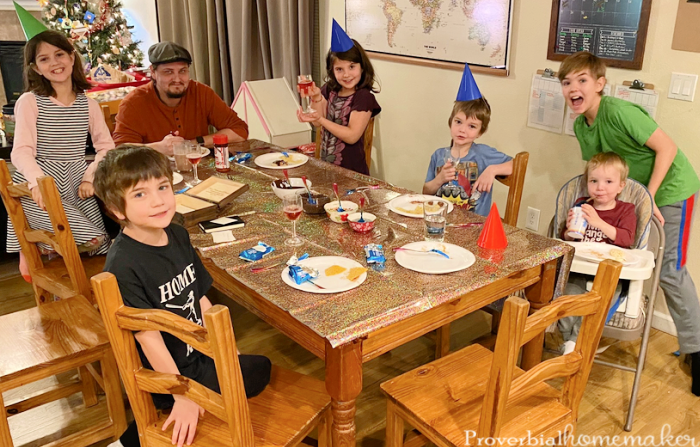 Fondue / Dippy Dinner – We bring out the fondue pot or put together a fun dinner with lots of dipping involved. It's always a good time to reinforce the no double dipping rule. 😉 Here are a few ideas to get you started:
Cheese fondue with cubed apples, celery, carrots, bread, pretzels, etc.

Chocolate fondue with apples, rice krispie treats, strawberries, etc.

Mini meatballs with various dips to try

Crackers and veggies (cucumbers, bell peppers, celery) with cheese dip, artichoke dip, spinach dip, etc.
Sparking Cider with Sprinkles – This is an accidental tradition that started when I spilled sprinkles into a glass of sparkling cider, and the kids have loved it ever since! We have some with dinner and to toast the new year.
Countdown to the New Year – So far we always do the faux countdown provided for kids (whoever thought of that is my favorite person). You can find them through Disney online, Netflix, and I'm sure other places. Another idea is to have your kids help you pre-record a countdown and sin Auld Lang Syne and/or Be Thou My Vision. They'll love counting down and singing along with themselves!
New Year Time Capsule Questions Printable
Here's a simple printable I put together for our kids. I hope your family enjoys it!
More Family Friendly New Year's Eve Ideas
I asked the Proverbial Homemaker community what their favorite family friendly New Year's Eve ideas are and they were happy to share! Here's a great list for inspiration as you build your own family New Year's Eve traditions.
We do a piñata in the living room!
We have communion at midnight.
We burn our Christmas tree in the bonfire at midnight.
After 6 pm we pop a balloon on each hour.
We always try to go out and watch the sunset together.
Toothpick dinner (everything you can pick up with a toothpick)
We splurge on dinner, and I make a seafood feast… shrimp, lobster, and crab legs. Lots of pasta and veggies.
I plan on going over a Bible verse with her (Jesus Christ is the same yesterday, today, and forever) to talk about how Jesus has always been there for us, and He holds our future too.
We put together sushi. We make candy sushi, cookies, and sushi bowls.
We have a memory jar that we fill throughout the year. Pictures, wristbands, notes, receipts, etc. We take turns reaching in. We talk, laugh, cry about the times we had.
When my kids were little, we did a Noon-Year Party. I share about it here.
We gather friends, have yummy snacks and hot chocolate and play Mexican Train
We have a "super fancy" dinner, we all dress in our very best and have a candlelight dinner.
Growing up, it was eating Black-eyed Peas and Cornbread. Not a tradition I kept.
We play a game of pictionary. First round everyone draws something they enjoyed doing in the current year. The 2nd round they draw one thing they are looking forward to in the new year.
Go to church and play games until midnight, then ask the Lord to bless the new year.
Travel to visit friends, eat junk food, and play card and board games until midnight.
It's usually just me and the kids, so we have party food for dinner, which for my kids means pigs in a blanket and Sprite in disposable champagne flutes.
We always order Chinese or Thai food and play games. We are in bed asleep by 10pm.
We cook and eat Mexican-ish themed food while we gather and visit. Tacos, quesadillas, fajitas, cheese dip, salsa, etc.
The past couple of years we have made a fire in the fire pit in the back yard, roasted hot dogs, and made smores while we watched and listened to the fireworks around us.
We put on Fiddler on the Roof about 9pm and that takes us to midnight (always accompanied by snacks and leftover Christmas cookies).
We're trying something this year a friend does – new year new food! They pick new fruits or veggies or a new recipe to try. Sounds like fun to me!
It was tradition to play hours of bingo with random crazy luck of the draw prizes.
Completing a puzzle, playing board games, building LEGO, dancing, staying awake until midnight.
We eat Pizza and ice cream sundaes. We watch movies til midnight.
Dinner is appetizers. The menu is centered around foods thought to bring good blessings in the new year. I am not superstitious, this started as a joke. 🙂
Last year we watched a couple countries in different time zones ring in the new year. That was inspired by our Italian exchange student. I think we'll do that again this year to help give our kids a global awareness.
Countdown clock, each hour from 1pm to midnight we move the hands on our posterboard clock and remove the circle for that hour.
We sometimes do fondue and a family movie. Puzzles are fun to work at throughout the day.
I decided this year, I want to start a tradition of scrapbooking on New Year's Eve.
Movie marathons.
Eating menudo.
12 grapes at midnight
Sleeping…
I hope this gave you some great ideas to add to your list of family friendly New Year's Eve traditions. Have a Happy New Year, friends. 🙂
You Might Also Like…
Read, Pray, Love Scripture & Prayer Challenge