It's back-to-homeschool time and many of us are working hard on our lesson plans and curriculum! Have you decided what to use for creative writing? I have been on the lookout for fun creative writing books for my kids but now the search is over!
We have used Usborne books for years, both in our homeschool and just for fun (same thing, maybe?). With September fast approaching I decided to run a special on one of the Usborne collections that is most popular among homeschoolers: the Write Your Own Story books!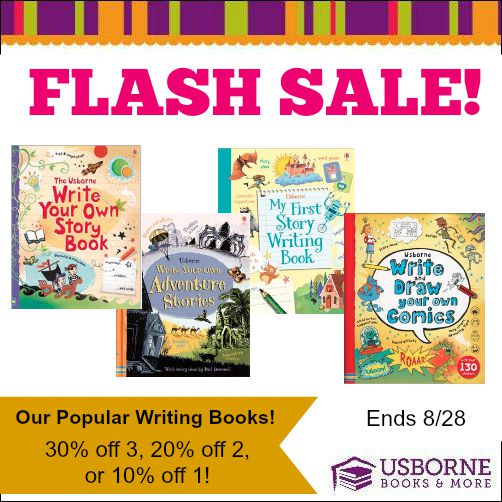 Disclosure: *This post may include affiliate links. As an affiliate, I earn from qualifying purchases. Read the disclosures and terms for more information.
This is an exclusive deal through Proverbial Homemaker! Through 8/28 you can get any 3 of the Write Your Own Story books for 30% off! Get any 2 for 20% off or any 1 for 10% off. In addition, I'm offering half the shipping cost on all flash sale orders!
So what can you get for this?
The My First Story Writing Book is for ages 6 and up and is perfect for our homeschool! It's coming in my next Usborne order and I can't wait! These have great story starters for kids who want to get into creative writing but just aren't sure where to start.
It builds up through the pages to writing complete stories, including doodling and character development. If your child is younger than 10, this is the book you want to get and right now you can get it for 10% off!
If your kids are ages 10 and up (or younger and a bit advanced), check out the other three titles! They provide exciting story ideas, writing tips, and space to write out the stories for a wonderful keepsake. These books are great for learning and special gifts!
These are some of the most popular books Usborne has, especially for homeschoolers, so don't miss out! Find out more about the books and how to order during the flash sale! Ends 8/28.