A while ago I was preparing a Sunday school lesson for our kids at church and was chatting with my husband about ideas. He chimed in that I should try a simple origami project with them as a part of the lesson. He ran off to get a piece of paper and quickly folded a cute little pocket heart. Of course, I'm all thumbs, so that wasn't going to happen. But I made a mental note to check out some origami projects because I knew my own kids would love them, especially my 8 year old princess, Samantha.
I love finding projects that are simple, enriching, and can be done together with my kids or on their own as a quiet time project. I was told about some fantastic kids origami sets and when we got our box in the mail I was really excited because the origami projects were based on classic children's literature! My Samantha is a big reader. She always has her nose in a book and I knew she'd love these and I could use them for read aloud time so we all could enjoy them..
We couldn't wait to get started!

This post and giveaway is sponsored by Dover Publications. I received compensation for reviewing the materials but I always give an honest opinion!
We've been working through two of these gorgeous books and have really been enjoying them. Beauty and the Beast Origami and Alice in Wonderland Origami are hardback books and include beautiful illustrations and a modern retelling of the classic stories, staying more true to the original storyline than the movies, which I was pleased with. There are step-by-step instructions for a variety of objects and characters in the books with special designed papers you can use to do the projects!
Of course we dove right in with just reading and admiring the illustrations! Long after the origami projects are done these will be well loved books in our home. We read them together and my independent readers picked them up several times on their own and were retelling the stories to their siblings all the time.
I wanted to show you a photo of a story page. I really appreciated the style of the illustrations and even the text formatting is artistic and adds to the story! These little touches always make books even more special to kids! I also like how this one has the picture of the origami project that goes with it and a note on where to find it in the book. The Beauty and the Beast Origami book had all the instructions at the back, while the Alice in Wonderland Origami book had them interspersed with the relevant parts of the story.
Each book has these collages of finished projects and illustrations from the book, to give you an idea of all the things the kids can make.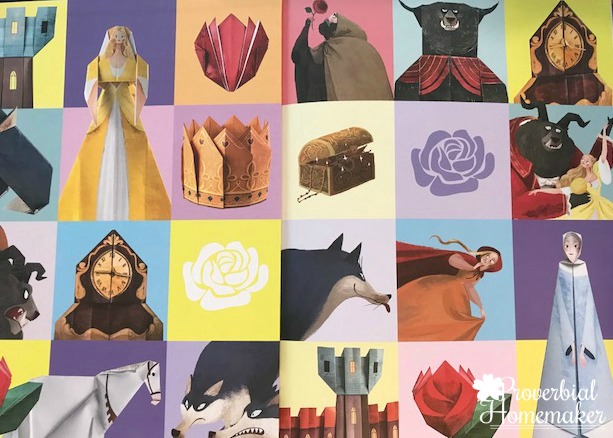 I decided to do some of the origami projects on my own before doing them with the kids. I wanted to make it as fun and successful as possible, and did I mention I'm all thumbs? So one night I pulled the books out and started making note of the easiest projects. In Beauty and the Beast Origami, the rose definitely is easiest so I started with that. For Alice in Wonderland, I think most of the non-people ones are a little easier.
As an aside, doing origami by yourself is oddly therapeutic for the busy mom. Maybe it's the satisfaction of folding paper instead of laundry. It might become the new fad to replace adult coloring books, right?
I'm glad I spent that time looking through it and practicing first. If you and your kids aren't familiar with origami already then I definitely recommend practicing first! Of course, Dover has beginner origami books too if you search their site. But we have zero experience and we still enjoyed it!
The books have really helpful getting started tips at the beginning with a key for what different folding symbols and actions mean in the project instructions. That is important to get familiar with before you start. Then each project has visual and written instructions for how to do the origami. I found it helpful to read through and look at all the pictures before starting, kind of like what you do for a recipe. Often if a step didn't make sense to me I could figure it out by looking ahead.
Samantha and I worked on several of the projects. She started out with the caterpillar one and really enjoyed it, telling me his part in the story. We messed up and put the wrong side of the paper inside on the first try, but she was adorable and just made her own caterpillar eyes and glued them on. No sweat!
Here is a snapshot of her with the first project she did!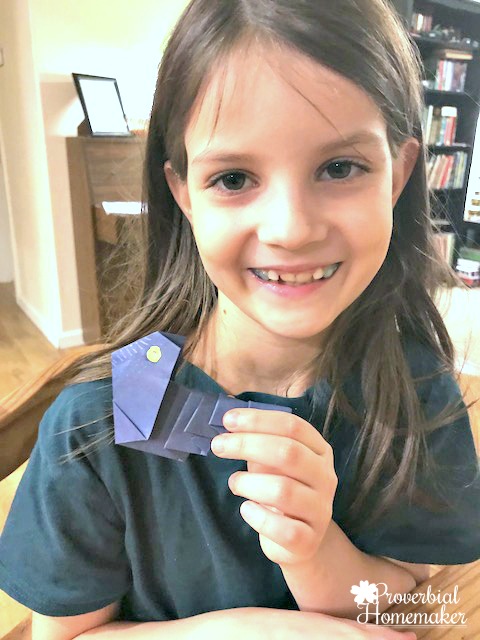 Bottom Line on the Dover Kids Origami Sets
Overall, I definitely recommend these Dover storybook origami books!! If they make more, we'll buy them. They make fantastic gifts for kids or grandkids (when they came out with one for Jane Austen's Emma you can send me a copy LOL!). With Christmas coming up I'd keep these in mind!
I don't see an age recommendation on the Dover site, but I would say 8 and up if your kids aren't familiar with origami. Maybe a year or two younger if they are. With my 8 year old I alternated steps with her or did one side and she'd do the other. Or I would do the project alongside of her with my own paper. That way she learned how to be more precise with folds but was still doing the work and learning. Even if you mess up there's usually a way to creatively correct it or go back a few steps and fix it.
Some things I would have liked to see: There are enough duplicate papers for a handful of tries or multiple kids. I do wish there was a way to buy extra sets of the papers because we definitely would! But you can still do the folding with your own papers when you run out, and just draw and color in the detail after you're done. Video tutorials of one or more of these projects would have made it a little easier for us, but we figured it out and had fun.
Ideas for Using the Dover Kids Origami Sets
Here are a few more tips and ideas for using the Dover kids origami sets:
Buy them for Christmas gifts for kids and grandkids
Use them as read-alouds for homeschool morning time or before bed reading
Do origami as a mini 1:1 date with your child (that's what we did!)
Have some friends over and do origami together as a fun activity or homeschool gathering
Finish all the projects for a book and the kids can use them to act out the story (maybe even do a little video of it for themselves!)
Put finished projects on craft sticks and play with them like puppets
Have a Beauty and the Beast or Alice in Wonderland party and give this as a gift to the birthday boy or girl
Tack a string horizontally to your nursery or child's bedroom and attach finished projects with clothes pins for decorations
Glue completed project pieces to a framed quote from one of the books and hang on the wall
Create a shadow box with a quote from the book and all the completed projects
Glue completed project pieces to a hand-made gift card
What other fun ideas can you think of for these fabulous books?
When you go to order these, you'll want to check out ALL the fantastic children's literature. Do a search for origami, too. If you're like me, you'll spend way too much time there but have loads of quality fun and educational gift ideas for your kids!
You Might Also Like…