Psalm 23 is one of the most comforting and moving passages, especially for children. The picture it paints of our dependance on the Lord and His loving, strong guidance and protection are powerful. It speaks to us of provision and care and of our need for God. Let's begin taking these words to heart by memorizing Psalm 23 as a family!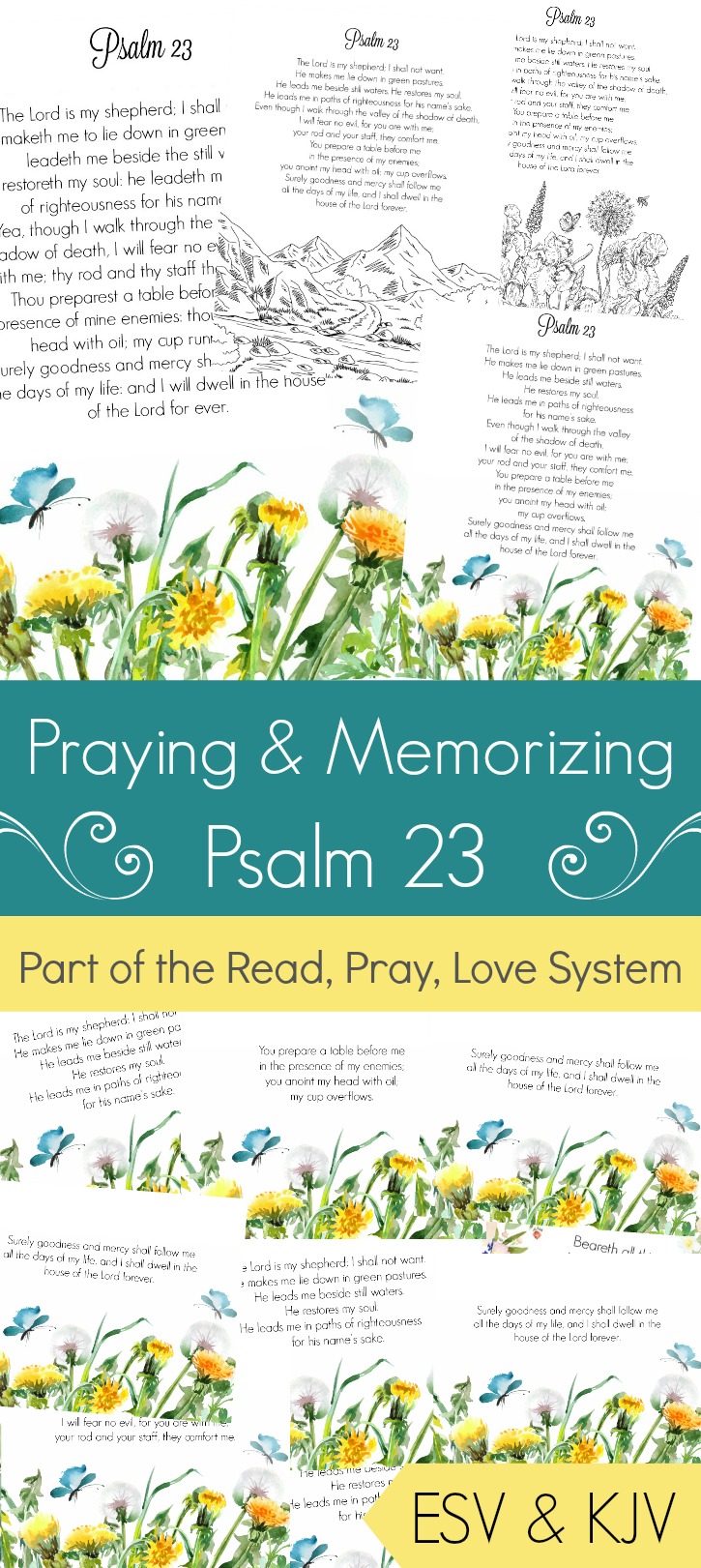 Disclosure: *This post may include affiliate links. As an affiliate, I earn from qualifying purchases. Read the disclosures and terms for more information.
This scripture memory printable and prayer focus is a part of the 2018 Read, Pray, Love system (with comes with monthly printables and prayer binder setup files), but you can use it alone or jump in on our year-long efforts anytime!
As always, the scripture printables are available in ESV and KJV, and by popular request, we have added coloring pages back! Download the printable below and get started memorizing it with your family and praying through it! Below are some prayer prompts to get you started.
Don't forget to check out this post for more information on how to memorize scripture with your kids and how we are using these monthly printables to pray diligently for our families!
Praying Through & Memorizing Psalm 23
(These notes and prayers are also available in the download file.)
Memorize this wonderful scripture as a family. The coloring pages allow them to engage with the passage even more. Choose one of the pages to post in your dining room and practice it daily together. Then pin one they colored in their room to remind them about it.
Teach your kids that they can recite this passage out loud or in their heads at night or when they are afraid or anxious. Teach them how to pray through the scripture by doing so as a family. Paint the picture for them, dear parents! It's an experience of God and a prayer tool that will last them a lifetime.
The Lord is my shepherd; I shall not want.
Lord, thank You for being our Good Shepherd. When we are anxious, lonely, scared, or frustrated, we pray that your Holy Spirit would remind us of this truth. We are dependent on Your care and provision, and You have our best interest at heart, always watching over us and giving us what we need for godly living.
He makes me lie down in green pastures. He leads me beside still waters. He restores my soul.
Lord, we are thankful for the calm and peace You bring our hearts when we go to You in our troubles. Help us to turn away from strive and worry, and to turn to You instead, the source of all comfort and wisdom. Restore our souls in Christ, and give us an unshakable faith in You.
He leads me in paths of righteousness for his name's sake.
Lord, guide us back to the path of righteousness when we've wandered from it. We praise You that You are a loving Lord who leads us on the right path, not only for our own good but for the glory of Your name. Help us to keep our eyes on You, always seeking Your will above our own, and trusting where You lead us.
Even though I walk through the valley of the shadow of death, I will fear no evil, for you are with me; your rod and your staff, they comfort me.
Lord we are so grateful that You lead us through the hard times and the broken times with a sure hand, instructing us and correcting us when we turn away from the path, and protecting us from the enemy who might harm us. We know that whatever happens, You will work it for good for those who love You, and that your comfort and care will sustain us.
You prepare a table before me in the presence of my enemies; you anoint my head with oil; my cup overflows.
Lord, even when things are hard we know the truth is that You provide for us in abundance. We are Yours in Christ, sons and daughters of the King, and we are under Your rule and protection. You are our portion and our cup. We pray that when we hit a bump in the path or are struggling with some problem, we would be reminded of our full our cup is indeed, and how blessed we are as Your children.
Surely goodness and mercy shall follow me all the days of my life, and I shall dwell in the house of the Lord forever.
Lord, thank you for all of these things. For your goodness, mercy, love, provision, discipline, guidance, and comfort.
In the name of Jesus we pray, Amen.
Download the Psalm 23 RPL Printables
Psalm 23 Scripture Printables
*Your download link will be emailed to you and you will be subscribed to Proverbial Homemaker if you aren't already. Be sure to check your spam/promotions folder.
If you have any issues, check out this
troubleshooting guide
or feel free to
email me
!