Self-control is something that we always want more of, right? Think of all the areas in your life, or in the lives of your children, that could benefit from more self-control? Our bad habits, creating new habits, our speech and thoughts, our attitudes, time management, and more. Learning to exercise self-control is a product of learning to live by the Spirit. Praying for self-control is a big part of that as well!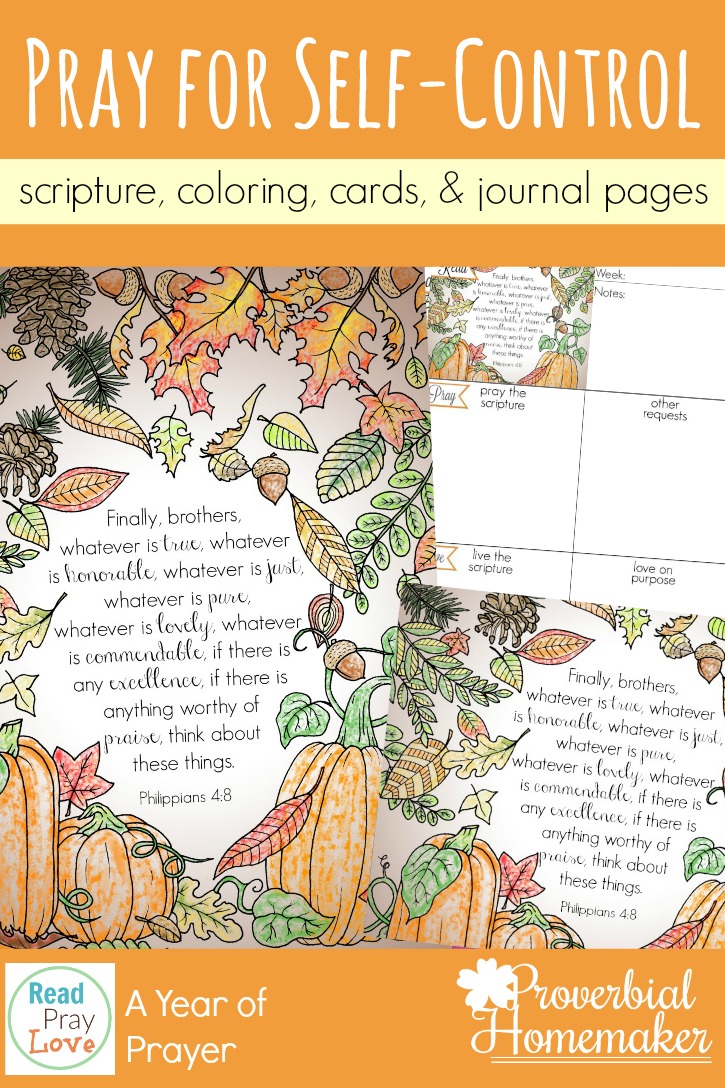 Disclosure: *This post may include affiliate links. As an affiliate, I earn from qualifying purchases. Read the disclosures and terms for more information.
Praying for Self-Control With Scriptures
There are SO many scriptures that we could explore for this. Will you join me in praying for self-control for ourselves and our family?
Here are some wonderful scriptures to pray through on practicing self-control! The first five are included in the printable provided here.
Finally, brothers, whatever is true, whatever is honorable, whatever is just, whatever is pure, whatever is lovely, whatever is commendable, if there is any excellence, if there is anything worthy of praise, think about these things.Philippians 4:8

I appeal to you therefore, brothers, by the mercies of God, to present your bodies as a living sacrifice, holy and acceptable to God, which is your spiritual worship. Do not be conformed to this world, but be transformed by the renewal of your mind, that by testing you may discern what is the will of God, what is good and acceptable and perfect. Romans 12:1-2

For the grace of God has appeared, bringing salvation for all people, training us to renounce ungodliness and worldly passions, and to live self-controlled, upright, and godly lives in the present age, waiting for our blessed hope, the appearing of the glory of our great God and Savior Jesus Christ, who gave himself for us to redeem us from all lawlessness and to purify for himself a people for his own possession who are zealous for good works. Titus 2:11-14

Whoever is slow to anger is better than the mighty, and he who rules his spirit than he who takes a city. Proverbs 16:32

For this very reason, make every effort to supplement your faith with virtue, and virtue with knowledge, and knowledge with self-control, and self-control with steadfastness, and steadfastness with godliness, and godliness with brotherly affection, and brotherly affection with love. 2 Peter 1:5-7

A man without self-control is like a city broken into and left without walls. Proverbs 25:28

For God gave us a spirit not of fear but of power and love and self-control. 2 Timothy 1:7

Know this, my beloved brothers: let every person be quick to hear, slow to speak, slow to anger. James 1:19

No temptation has overtaken you that is not common to man. God is faithful, and he will not let you be tempted beyond your ability, but with the temptation he will also provide the way of escape, that you may be able to endure it. 1 Corinthians 10:13

But the fruit of the Spirit is love, joy, peace, patience, kindness, goodness, faithfulness, gentleness, self-control; against such things there is no law. Galatians 5:22-23

Do you not know that in a race all the runners run, but only one receives the prize? So run that you may obtain it. Every athlete exercises self-control in all things. They do it to receive a perishable wreath, but we an imperishable. So I do not run aimlessly; I do not box as one beating the air. But I discipline my body and keep it under control, lest after preaching to others I myself should be disqualified. 1 Corinthians 9:24-27

The end of all things is at hand; therefore be self-controlled and sober-minded for the sake of your prayers. 1 Peter 4:7

Be sober-minded; be watchful. Your adversary the devil prowls around like a roaring lion, seeking someone to devour. 1 Peter 5:8
You or the kids struggling with self-control vs. anger? Check out our Bible study for families!
The Praying for Self-Control pack includes 5 scriptures and a journal that helps us to focus our prayers on this godly character trait. You'll get a scripture art print and coloring page, scripture memory verse cards, and journal pages for each of the memory verses. All are available in ESV and KJV!
You can find this and more prayer packs in the Proverbial Homemaker Store.
*The Read, Pray, Love scripture printable packs are available in the Proverbial Homemaker store as a "name your price" item! I don't want anybody to miss out on these prayer tools if they can't afford to pay. However, if you choose to support the site through a payment, it's appreciated as well!*
Read, Pray, Love 2017
The scripture printable pack above is the October set for Read, Pray, Love 2017, a year-long effort to pray the scripture for our family and godly character! Every year the Proverbial Homemaker community joins together in a commitment to pray diligently for our families and stay rooted in prayer. Every month covers a new godly character trait and includes new printables. You can join anytime, starting at the beginning or jumping in with the current month!
Click here to find out all about Read, Pray, Love 2017 and the accountability and resources available.
SPECIAL NOTE: If you're joining us in Read, Pray, Love and would like weekly accountability emails, CLICK HERE!
For the 2016 edition of Read, Pray, Love, click here.