Disclosure: *This post may include affiliate links. As an affiliate, I earn from qualifying purchases. Read the
disclosures
and
terms
for more information.
Buying or making gifts for my husband is no cake walk. He has everything he really needs, most of the things he wants, and doesn't ask for anything. The kids and I have to be creative during birthdays and holidays to find just the right gift. That's not a bad thing, though, right? We have done some of our coolest stuff when pressed! Last year it was these fun Star Wars hand prints for a great Father's Day gift idea. He loved it!

Yes, we're a Star Wars family. The Star Wars Lego sets, paraphernalia, and dinnertime jokes…
"Use the fork, Jaron." In my best Obi Wan voice.
So it was only natural that we'd look for some Star Wars inspired crafts and gift ideas for the head of this geeked out household. I looked around on Pinterest and found some fun ideas. I know my husband can be a bit nostalgic and he'd love the hand print crafts but with a Star Wars twist.
I found several examples of others who had done something similar (most of them are just the images pinned, but I did find this post and this one particularly helpful) so I grabbed their ideas and adapted them for a unique gift my husband would love.
Star Wars Hand Prints
Each child chose which character they wanted to be. I painted a generous amount of the appropriate color(s) of paint on their palm and fingers and they applied them to card stock.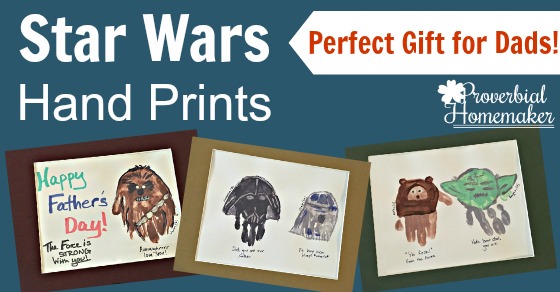 As it was drying, I did any filling, outlining, and detail necessary to make it actually look like the character. If you want to retain more of the hand prints without filling any of it, you can outline the shape around it instead and it will still look great.
We added some fun little quotes for each character as well as the name and age of each child. We'll have to add a little BB-8 droid when the new baby arrives in December! I also framed each card stock page with some photo matting I already had on hand for another project.
After Father's Day, I simply tacked them up in our room near my husband's side of the bed and he really enjoys them. These would also make great cards or even a t-shirt craft for birthdays, Christmas, or other fun holidays!
You Might Also Like…