We all have a lot to do and a limited amount of time to do it. Figuring out how to get more done — or at least, the most important things — is a challenge you probably face every day.
I get it! I am a busy homeschool mom of 6, a small business owner, and have lots of other projects and interests on the side. So there's no shortage of things to do. But for years I struggled with how to organize my time and my tasks most effectively. None of the typical systems seemed to work for me.
They were too complicated
When I fell behind the whole thing seemed to fall apart
They couldn't adjust well to my busy life and sometimes unpredictable (kids) life
So i just kept falling back into winging it and trying to scramble to keep up.
Then I discovered the loop schedule and my life was simplified.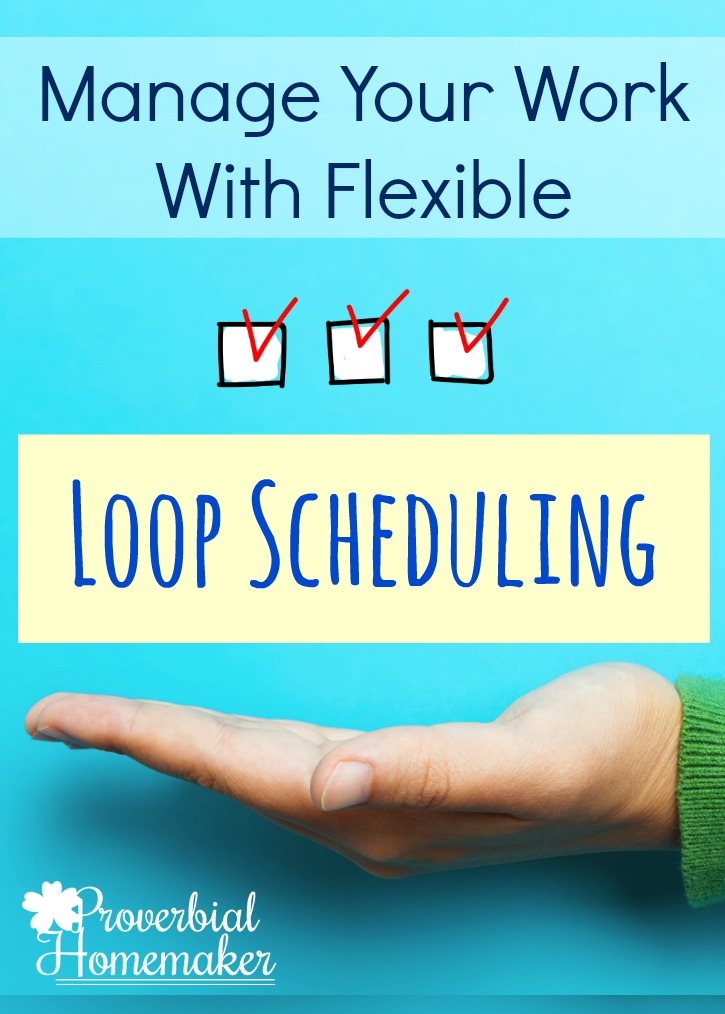 Disclosure: *This post may include affiliate links. As an affiliate, I earn from qualifying purchases. Read the disclosures and terms for more information.
What is a Loop Schedule?
A loop schedule is simply a way or organizing your work into a rotating list. Anything that doesn't NEED to be done today gets put on the list. You start at the top, do one (or more) things a day, and then when you get to the bottom of the list, you loop back up to the top.
It's so simple. But it's incredibly useful. Loop scheduling is an easy method that adjusts to your needs. Plus, it's flexible to fit any type of work you need to manage:
Homeschooling (try a looping list for your routine, or a loop schedule for electives)
Homemaking (make progress on deep cleaning, decluttering, and projects)
Business (be more consistent with training, special projects, etc.)
I even put my prayer life into a loop schedule at one point to be more intentional!
How I Mange My To-Do List & Use Loop Scheduling
Having a long and unrealistic to-do list was causing me stress and weighing down my productivity. Here are the three things I do to manage my tasks reasonably:
Do a "brain dump"

every night before bed. Keep it all in a master file. Even if you never look at it again, you'll sleep better. Trust me.

Keep a mercifully short to-do list of 3-5 things that HAVE to get done the next day. If it's a rough day, drinking coffee counts. 😉 I call this my "daily-do's" and even though I used to make it 7 things, 3-5 is really more realistic now.
Put everything else on a loop schedule. Anything that I want do regularly but not every day. Items I don't want falling through the cracks. I call them my loop-de-loos.
Each day, I do my best to get the 3-4 daily things done. Then I do the next 1-2 items on the loop schedule. If you need something to happen more frequently, add it more than once to the loop.
If you need something to happen less frequently, use a sub-loop. A sub-loop is basically when you make one of the items in your list point to another looping list. For example, an item in my loop schedule might be "deep cleaning." When I get to that item, I turn over the page and select something from a long "deep cleaning" list.
Here is an example of a loop schedule I had back when our youngest was a baby (4 years ago!) and I was just getting back into routines.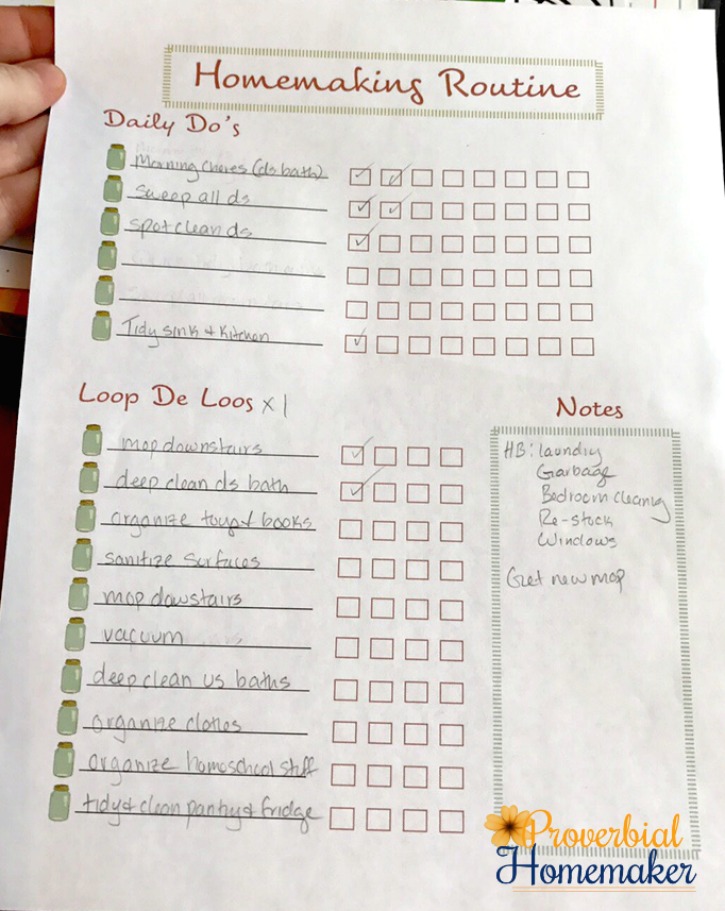 And here's an example of my 9 year old's homeschool / work routine. You can use something as simple as that or our more advanced Student Work & Habit Tracker. But you get the gist. Daily Do's, Loop-de-loos, adjust as needed, good to go.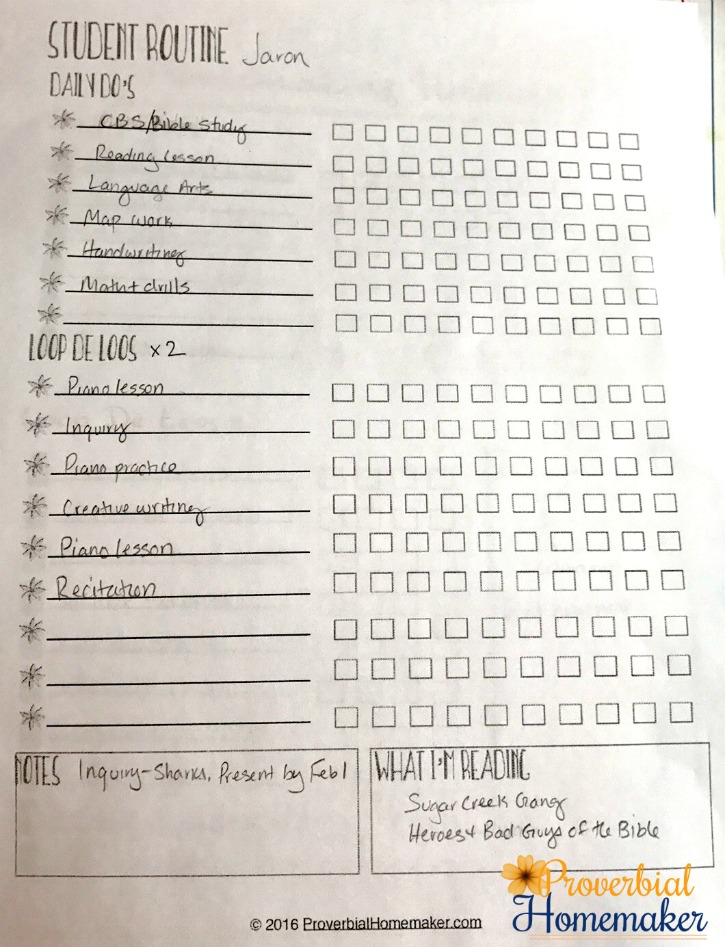 Get Started with Loop Scheduling
It's really easy for you to get started with loop scheduling.
Download the free loop schedule printables here.
Try creating a loop schedule for your homemaking or homeschooling.
Adjust things as you go. Tweak things to fit your needs, changing the frequency of items or creating sub-loops to make it fit your goals.
Want to make the most of this tool? Check out the Loop Scheduling Workshop!
That's it! I hope you enjoy trying out this tool and I would love to hear how it goes! Let me know in the comments.
~ Tauna
Loop Scheduling Workshop
The Loop Scheduling Workshop will provide you with several additional templates to get you started as well as a guide to begin implementing loop scheduling in your home right away!