Easter is my favorite holiday. There is nothing so important to our faith and my work as a Christian mom discipling her children than the work of Christ on the cross and His resurrection! I love making just as big of a deal out of Easter in our home as we do for Christmas because it's SO important. So we make sure to do some meaningful Easter traditions during this time of year.
Teaching our kids about Jesus, His sacrifice, and the meaning of what happened when He died and rose again is an ALL-YEAR activity for us. But we take Palm Sunday, Good Friday, and Easter Sunday as extra opportunities to focus on these important historical events and on Jesus Himself.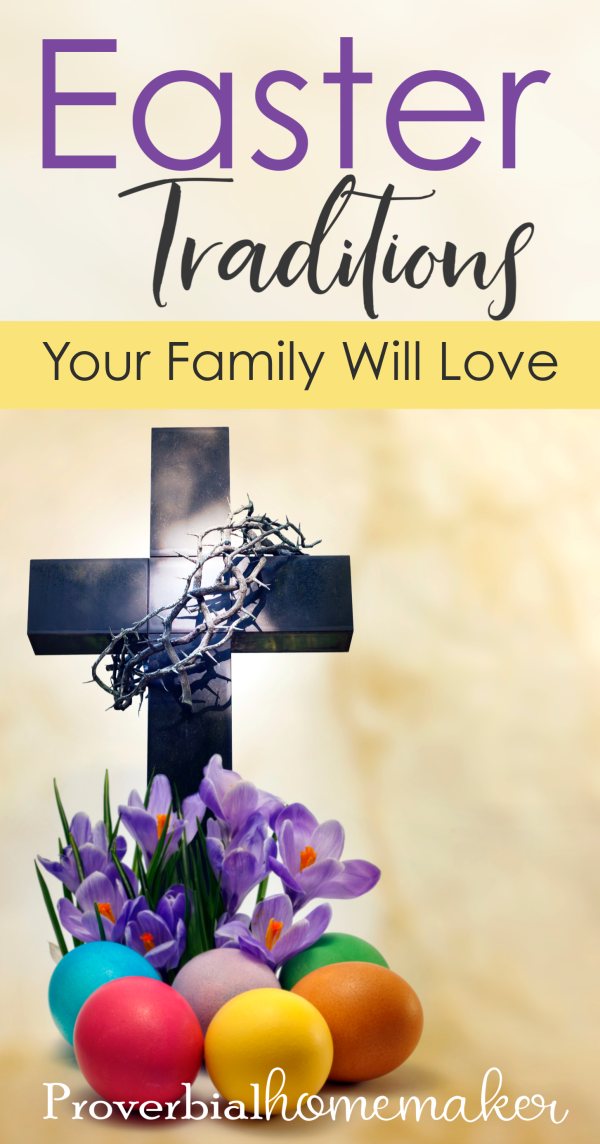 Disclosure: *This post may include affiliate links. As an affiliate, I earn from qualifying purchases. Read the disclosures and terms for more information.
Over time we've added some great meaningful Easter traditions that I've collected to share with you here. I've also asked the Proverbial Homemaker community what Easter traditions THEY love, and have included them below! There are great last-minute ideas, meaningful traditions, and even sweet treats to share.
I pray you have a blessed Easter season, friends, as we focus on Christ!
Favorite Meaningful Easter Traditions Your Family Will Love
Stories of the Resurrection – Stories of the Resurrection is a 4-7 week Easter family devotional and activity pack that focuses on the gospel of Jesus Christ! Your whole family can go deeper into the story of Easter, learning about 20 characters from the resurrection account, enjoying a Holy Week family worship guide, and coloring and activity pages for kids preschool through elementary!
Easter Story Lego Challenge – We go through our Easter Story Lego Challenge starting with the story of the triumphal entry. This is something you can do throughout the week or as a fun activity on Easter Sunday afternoon with the kids.
Or try some fun Easter Lego builds with this free download and step-by-step instructions!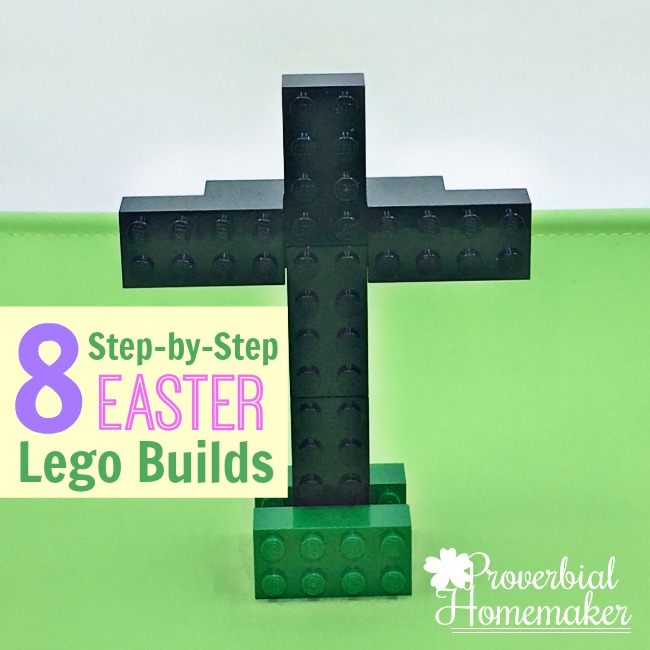 Easter Gardens – We've done a few different kinds of Easter gardens in the past. You'll want to start these a few weeks before Easter to give the grass time to grow. Our Mini Easter Gardens have been our favorite tradition because each kid gets to have their own.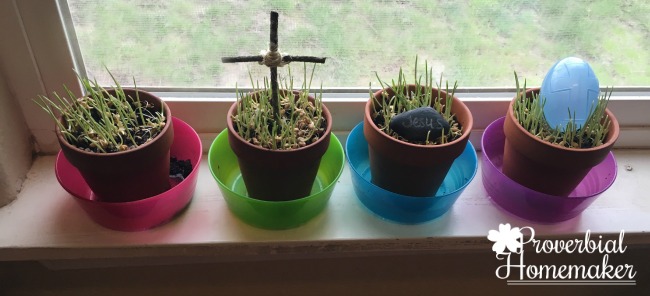 Good Friday Dots – On Good Friday, we read another book about the Easter story with a special focus on the death of Jesus on the cross. Our lessons from our kids' theology curriculum get a review, and we sometimes watch videos like this one from What's in the Bible. Each of us gets a red dot on our hand to remind us of the incredible sacrifice Jesus made, taking our place on the cross to pay for our transgressions, and taking all our sins upon Himself. Then we write on their hands a reminder that Jesus did it because He loves them.
Jesus Is Easter Banner – This Jesus Is Easter Banner is something we just downloaded this year to give a try. It is a fun Easter banner activity all about who Jesus is, including devotions!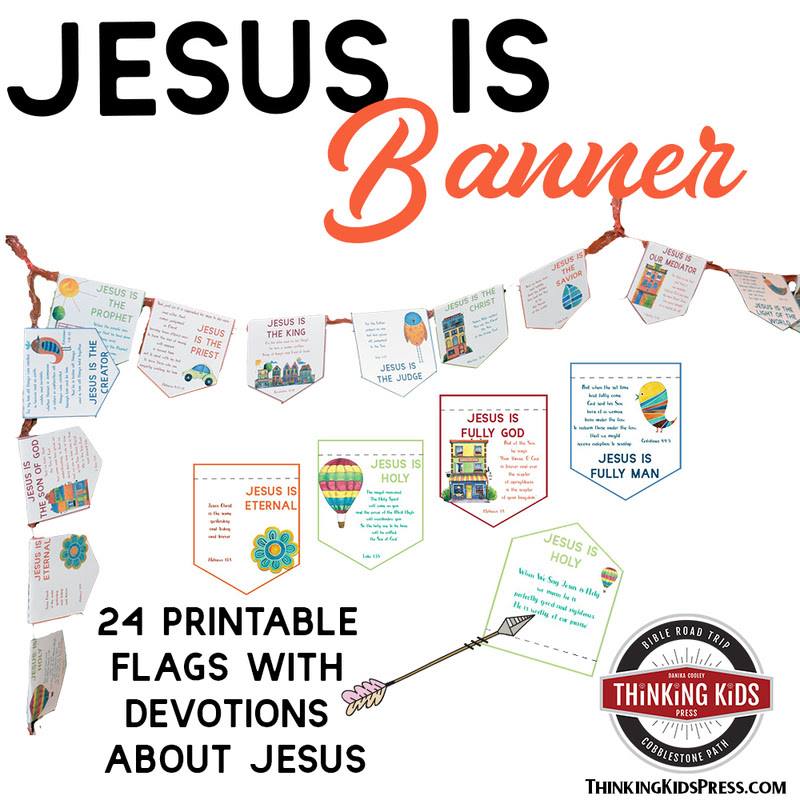 Resurrection Eggs – Make your own Resurrection Eggs with this activity from History of Holidays from Homeschool in the Woods! I love all the holidays they cover. This is just one activity. Here is a photo of the eggs we put together on Easter.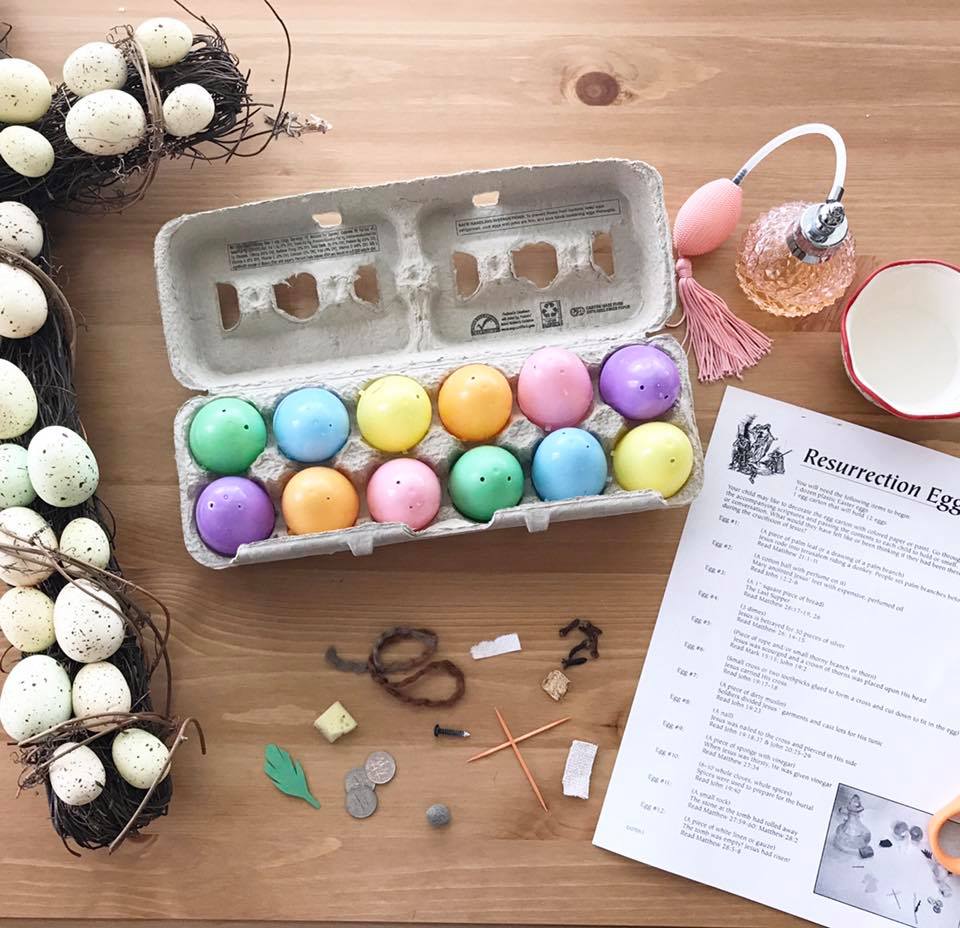 OR you can buy one from Amazon – Easter Egg Set – 12 Resurrection Eggs W
ith Religious Figurines Inside – Tells Full Story of Easter HINT: These go perfectly with the book Benjamin's Box.
Find great activities for Easter the Charlotte Mason way with this little roundup!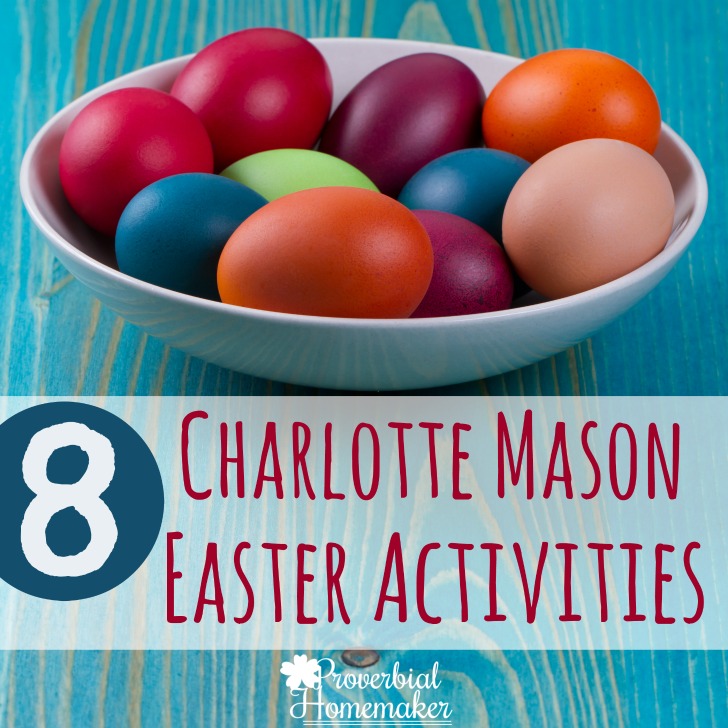 Simple Easter Art – My littles love these Easter art ideas using tape resist and a salad spinner!

Great Easter Books – We love to incorporate read alouds into our Easter season! Check out my favorite Easter book selections here.
More Easter Fun – There are so many possible Easter traditions. Over time I've learned that we can have a bunch in our toolbox and spend more time on just one or two each year, keeping things simple. It should be a time of meaningful reflecting, loving others, and praising God. Not stressing out about whether we're doing it right or packing our calendars full. But having great ideas, resources, and books on hand for traditions is really helpful when we keep that in mind! Here are more great Easter tradition and activity ideas for your toolbox.
Meaningful Easter Traditions Submitted by Readers
Here are some wonderful Easter traditions that were submitted by Proverbial Homemaker readers. Feel free to add to our list in the comments with your own favorite traditions and activities!
Palm Sunday Parade (from our family)
We get some dollar store palm branches and attach pretty ribbons. We read the whole Easter story, or just the triumphal entry portion, from a Bible story book or straight from the scriptures. Then we have our own parade, marching around the house and saying "Hosanna! Blessed is He that comes in the name of the Lord!" We close with a prayer, thanking God for King Jesus.
Movies, Music, and Easter Lilies
"One thing that I think my children of all ages enjoy most is that we cancel all other "watching" (except what we need for schoolwork) for the six weeks prior to
Easter
and on Sundays have a family movie night with the thread of redemption running right to the accounts of Christ. We start with Joseph King of Dreams, then the animated Ten Commandments, followed by a musical production of the Book of Esther which we found online on YouTube by Calvary Chapel Costa Mesa, then The Story of Jesus for Children (by Jesus Film project), Miracle Maker, He Knows My Name, and on
Easter
Sunday, we see Emmaus (Bruce M. From the visual Bible Matthew series). These are always so uplifting and good quality time together while being very child-friendly and in some cases child-focused but not childish.
"For music, we found A Very Veggie
Easter
at the library years ago and ended up buying it so we wouldn't have to risk someone else checking it out during
Easter
! We have played it in the car as well as sung a couple of the songs from it at church.
"We also always buy an
Easter
lily with as many blooms as people in our family. Our children get very excited about watching "their" lily open, and when one of their siblings' is about to. We aim to plant it outside after it fades. (My mom has done this with extra
Easter
lilies from her church for years and now has a beautiful
Easter
lily garden that comes up in the summer each year, so she gets to enjoy them twice!) We are hoping to do that in our new house, as we just moved out of renting for many years.
~ Julia
Tomb Rolls
"We have made our own bread each week for years, so it was no surprise that one of our favorite
Easter
traditions
became Tombs. Wrap a small (roll sized) piece of dough around a regular size marshmallow. Add a small flattened piece of dough on the side. (We made sure to have at least a couple for each family member.) Bake like regular rolls. In the morning you find it is hollow and the white inside the bottom resembles the linen that wrapped Jesus' body."
~ Laurie
Unique Yearly Easter Sunday Photos
"Forget about pictures with the
Easter
Bunny! My family would take photos on
Easter
Sunday every year of me and my three siblings decked out in our dresses, hats and suits and lined up on our various-sized bicycles in our own family
Easter
parade. It is so cool to see the progression of yearly photos on my parent's hallway wall. (Granted, once we got to our teen years, the girls were mostly standing next to our bikes so as not having to straddle them in dresses. But a memorable
tradition
nonetheless.) "
~ Brittany
Balloons Instead of Easter Eggs
"When my son was little he had a lot of trouble finding the hidden
easter
eggs, so the next year I put surprises in ballons, blew them up and left them scattered around the house. What was supposed to be a one tine thing persisted over the years and the kids, now teenagers, still look forward to gathering their ballons and sitting on them until they pop and reveal their prizes."
~ Julie
A Sense of the Resurrection
"Our family loves doing
A Sense of the Resurrection
by Oh Amanda. I think we have been doing it for four years now."
It is a simple and meaningful activity you can do with young children to help them engage and interact with the story.
~ Joanna
Passover Seder Meal
"We sometimes do a Passover Seder meal with our kids. It's another way to show how the Bible foreshadows the things that Christ would do for us. As a homeschooler, it adds to our history lessons as well."
You can find some great ideas for a Passover seder meal here and here.
~ Rebecca
Resurrection Eggs
"A few years ago we found a set of Resurrection Eggs at the local Christian store and we just love doing them together. It's more meaningful than just candy eggs. We go through them in the days leading up to Easter. Then we hide them along with other eggs during the Easter egg hunt. Then as the kids go through their stash, they put the Resurrection Eggs in order on the mantle based on the progression of the story."
You can make your own resurrection eggs or get them on Amazon.
~ Candace
Keep it Simple
"We mostly just read our Bible and Easter story books and have a special family dinner. We keep it simple up in here for the sake of my sanity. ;)"
~ Heather
How about you? What are your favorite meaningful Easter traditions? Tell us in the comments!
You Might Also Like…
He is Risen Resurrection Sunday Printable Pack