The other night I made black bean chicken soup for dinner and decided to make cornbread to go with it.

My husband has recently been avoiding dairy, so I adapted this recipe to make a whole wheat, dairy free cornbread. It turned out really well! Moist and just sweet enough.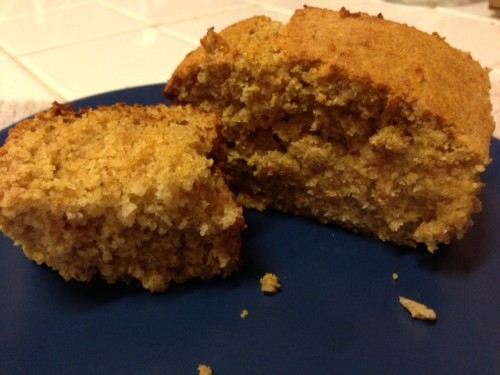 Whole Wheat Cornbread

– 2 cups whole wheat flour
– 2 cups cornmeal (I only had 1.5 cups and it still turned out well)
– 4 tsp baking powder
– 1.5 tsp salt
– 1/2 cup honey
– 1/4 cup oil or applesauce
– 2 cups almond milk (or cow milk)
– 2 eggs

Combine the flour, cornmeal, baking powder, and salt and mix well. Add the remaining ingredients and mix until just combined. Pour into an oiled baking dish. Bake on 350 for 35-45 minutes. Done when lightly browned and inserted toothpick comes out clean.

Enjoy!