Apologia has long been one of our favorite homeschool curriculum resources for science and worldview from a Christian perspective. My oldest particularly enjoys Apologia resources, so it wasn't a surprise when he chose them for his 9th grade science course! Here's a full review of the self-paced online Apologia Biology course and info on how to use Apologia high school science homeschool curriculum for YOUR family!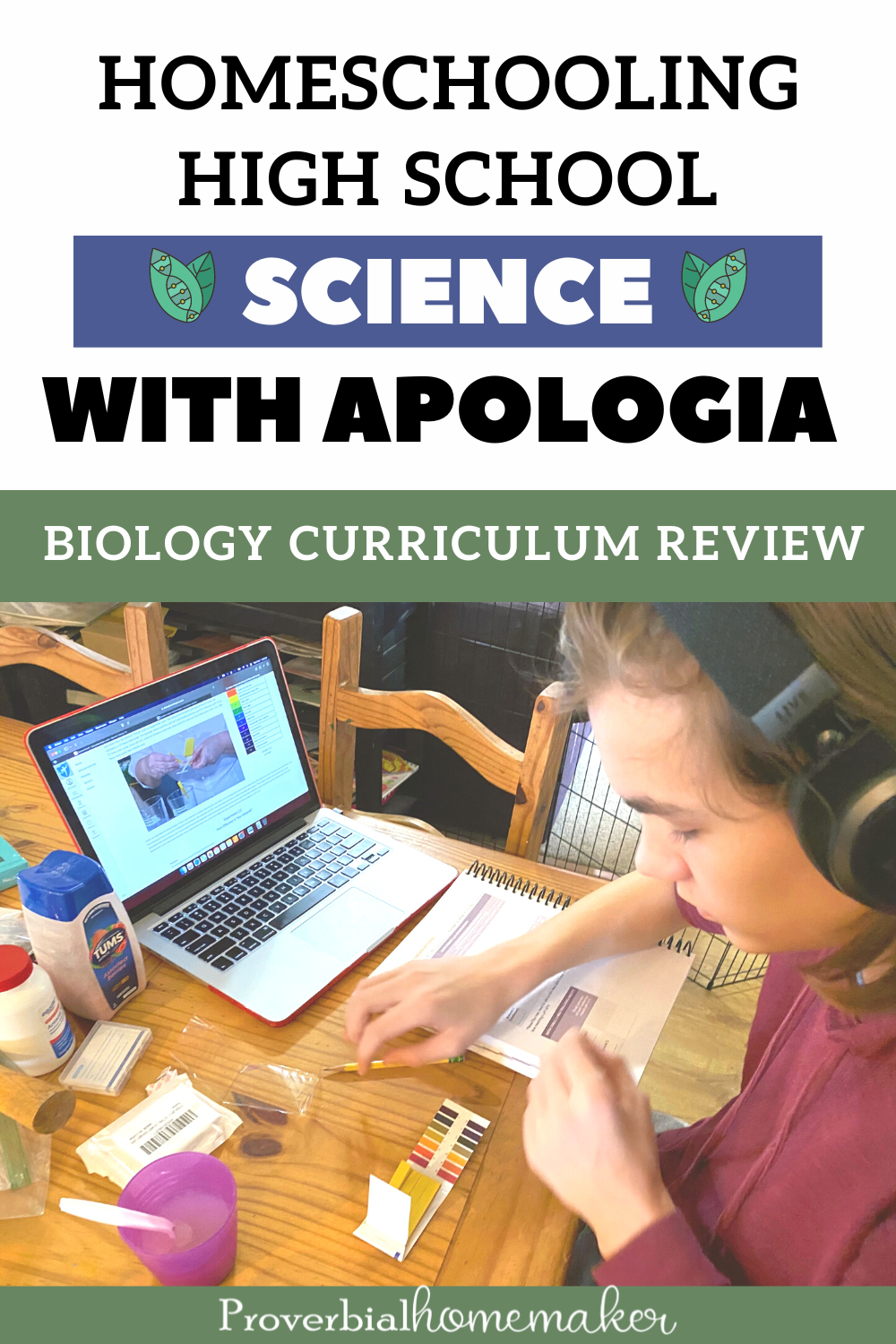 Disclosure: *This post may include affiliate links. As an affiliate, I earn from qualifying purchases. Read the disclosures and terms for more information.
(I requested this curriculum in exchange for an honest review. All opinions are my own.)
Apologia Biology High School Curriculum
Apologia has been a trusted part of the homeschool community for years. Their award-winning curriculum has been a staple in many homeschools, including ours! We have used nearly all of their elementary science books, whether for group lessons or independent work.
This year was our first foray into high school. 😬 For 9th grade, my oldest chose Apologia Biology for his science course. I had heard good things as far as how flexible and solid it is, and having enjoyed their elementary and middle school resources, we decided to go with it!
Here are some highlights of Apologia Biology:
Engaging experiments, generally of three types: household materials, microscope, and dissections

Prep for the ACT and college-level biology course (I have heard homeschoolers say it prepared them well for CLEP testing, too.)

Presented with a Christian worldview, highlighting an appreciation for God and His creation

Practice important skills such as using the scientific method, recording data and creating lab reports, and good studying and note-taking.
You'll find that biology courses can vary a bit in what they cover. Here's a table of contents for the textbook that will give you an idea of what's in Apologia Biology.
The curriculum is designed for a 5-day week. The student will read the textbook, complete assigned sections in the student notebook, and perform and record any assigned experiments. Every set comes with the textbook and notebooking journal, as well as test booklet with answers. Depending on what you want, you can also get audio and video resources to go with it.
Here are the options you can choose from:
There are also online versions available:
Biology Self-Paced Course – Includes a digital version of the textbook that can be read and/or played as audio, lesson and experiment videos, and automated online test grading. (1year access)

Biology Live Online – starts in August and is taught live by an Apologia instructor. all Tests, quizzes, papers, and other assignments are graded by the instructor.

Biology Recorded Class – access to recordings of a live class previously held.(1 year access)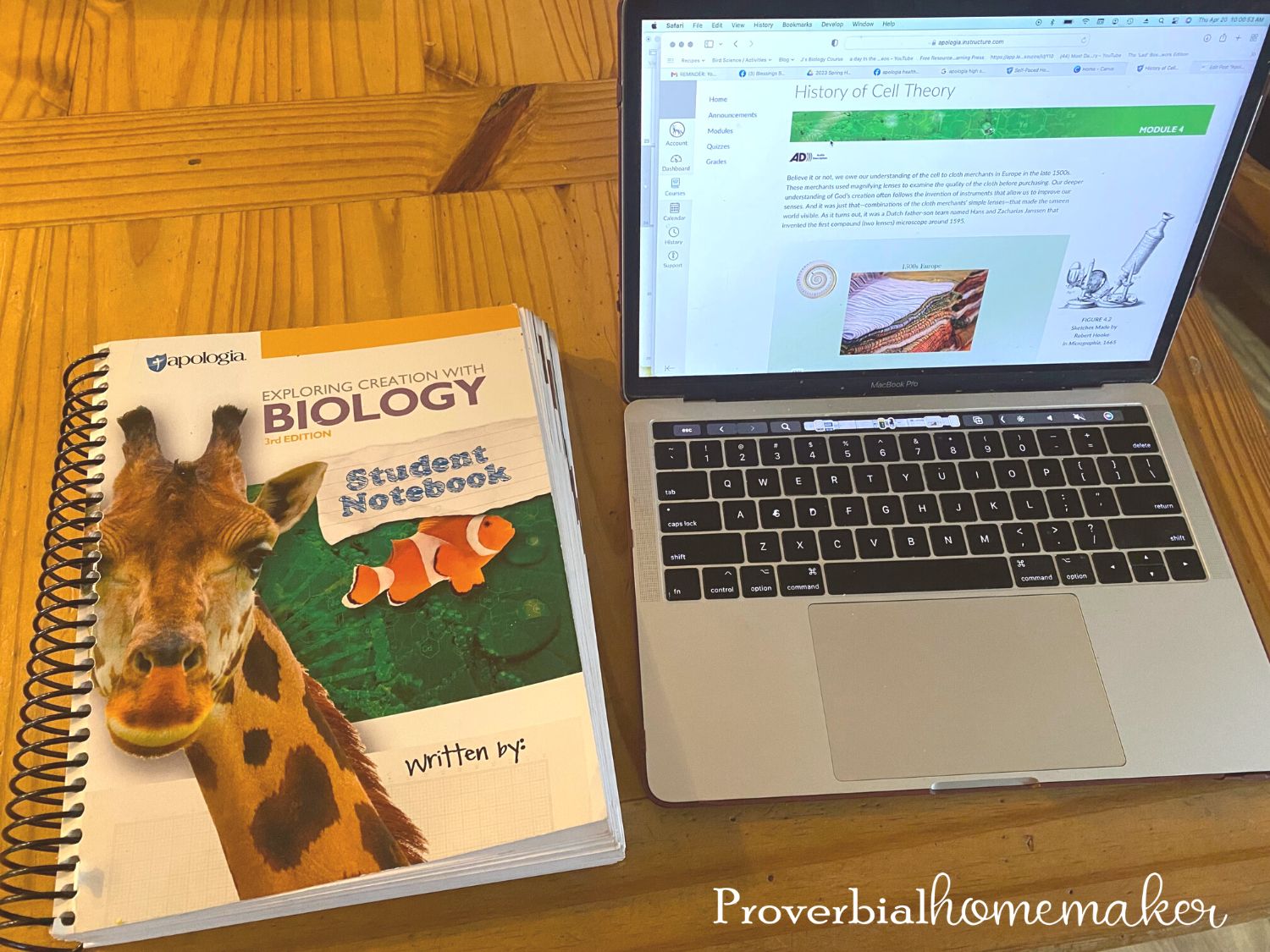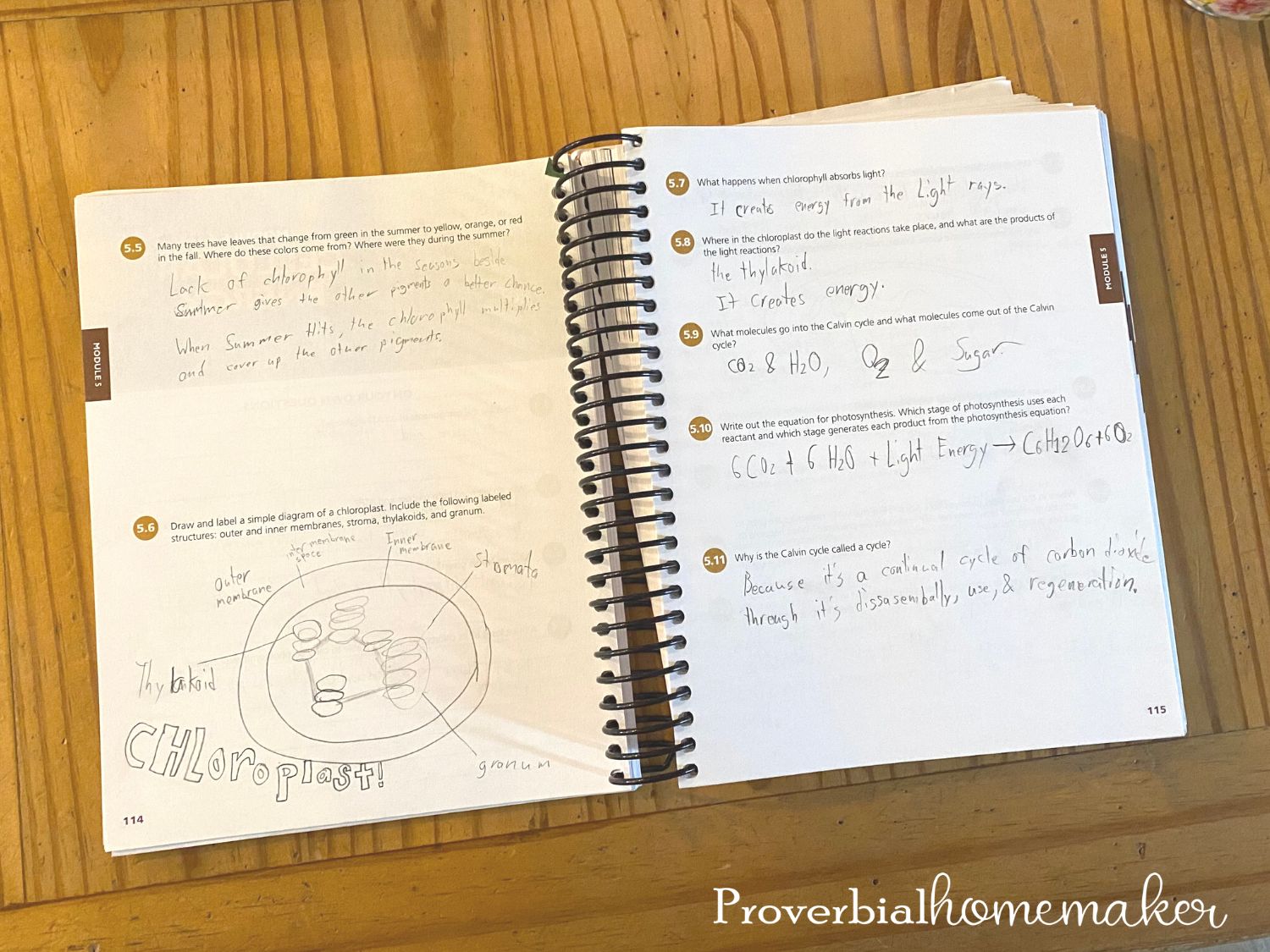 How We Used Apologia Biology Self-Paced Curriculum for 9th Grade
My son decided to use the Apologia Biology self-paced curriculum. Usually, he doesn't like online or live classes unless there isn't another option, so I was surprised. But after trying the free demo, he was most interested in having the videos and text all together. He also is a very auditory learner and loved the idea of having the audio version of the textbook built-in. Those features did, indeed, prove very helpful for him.
Each day, he'd do the reading with the online textbook that the self-paced course comes with, watch the videos, and fill out the questions or study guide in the student notebook. He likes to do the "on your own questions," but tends to be minimalist in his writing, so I also often asked him for an oral narration of the day's lesson. When it was time for a test/quiz, he would use his study guide and notes to study. The following day, he'd take the test. We'd discuss anything he got incorrect and find the right answers.
For experiments, he was able to do them all independently as long as the materials were available. He really enjoyed most of them and I would often hear "oh cool!" while he was working on them. 🙂 Always a good sign. The student notebook had a section for the labs for him to fill out as well, recording the data he collected. (I will say, we were thankful that he took Apologia's General Science in middle school, because it specifically taught this, as well as note-taking.)
As far as experiment materials, we already had a microscope and a pretty substantial set of slides on hand, and many of the other supplies were readily available around the house. For those that weren't, I tried to look ahead a week or two to get the supplies. I also (gasp!) did not require my son to actually do dissections. He's done them before, so he has the experience, but they turn him green. 😆 So we rely on youtube videos for that. You'll want to make sure that you do the same or at least have a microscope, a slide set, and the dissection materials available. Fortunately, Apologia provides experiment supply kits for those things.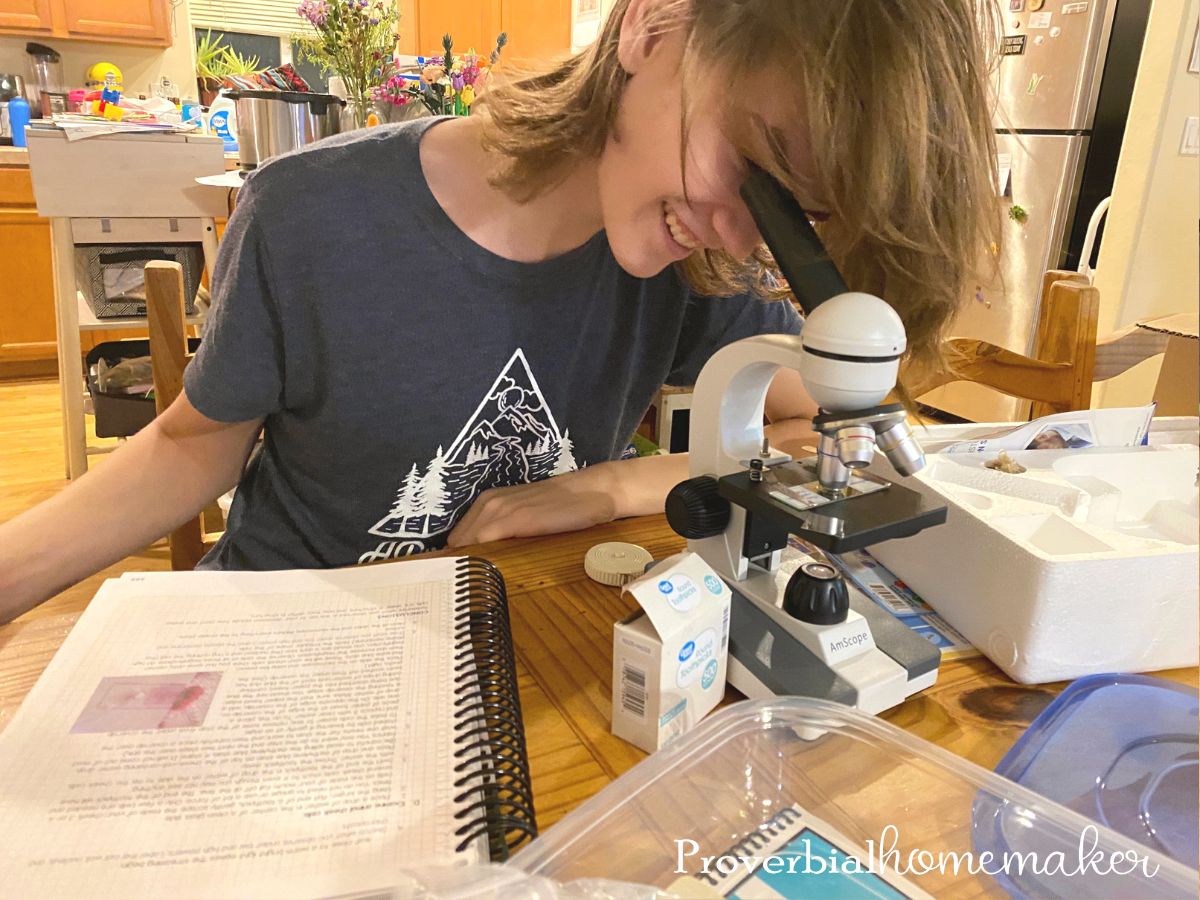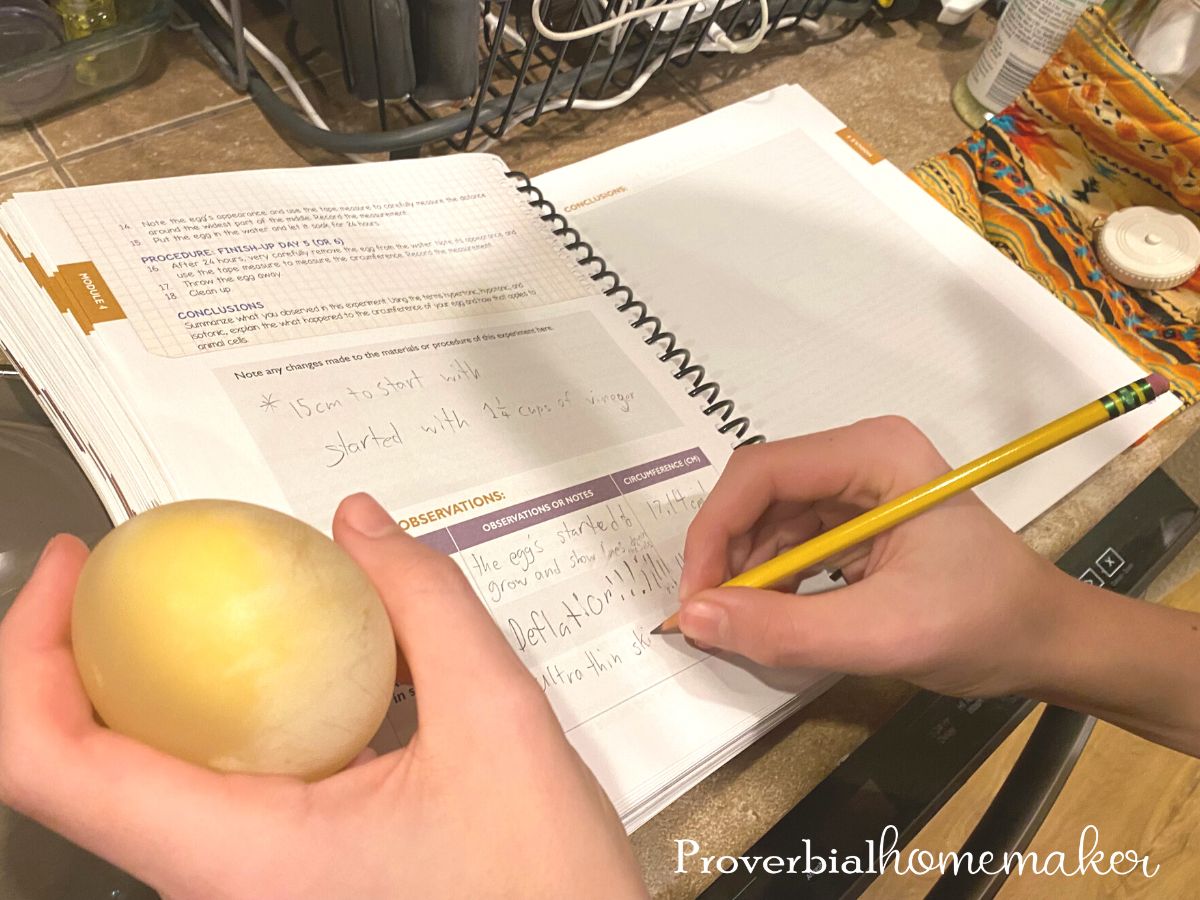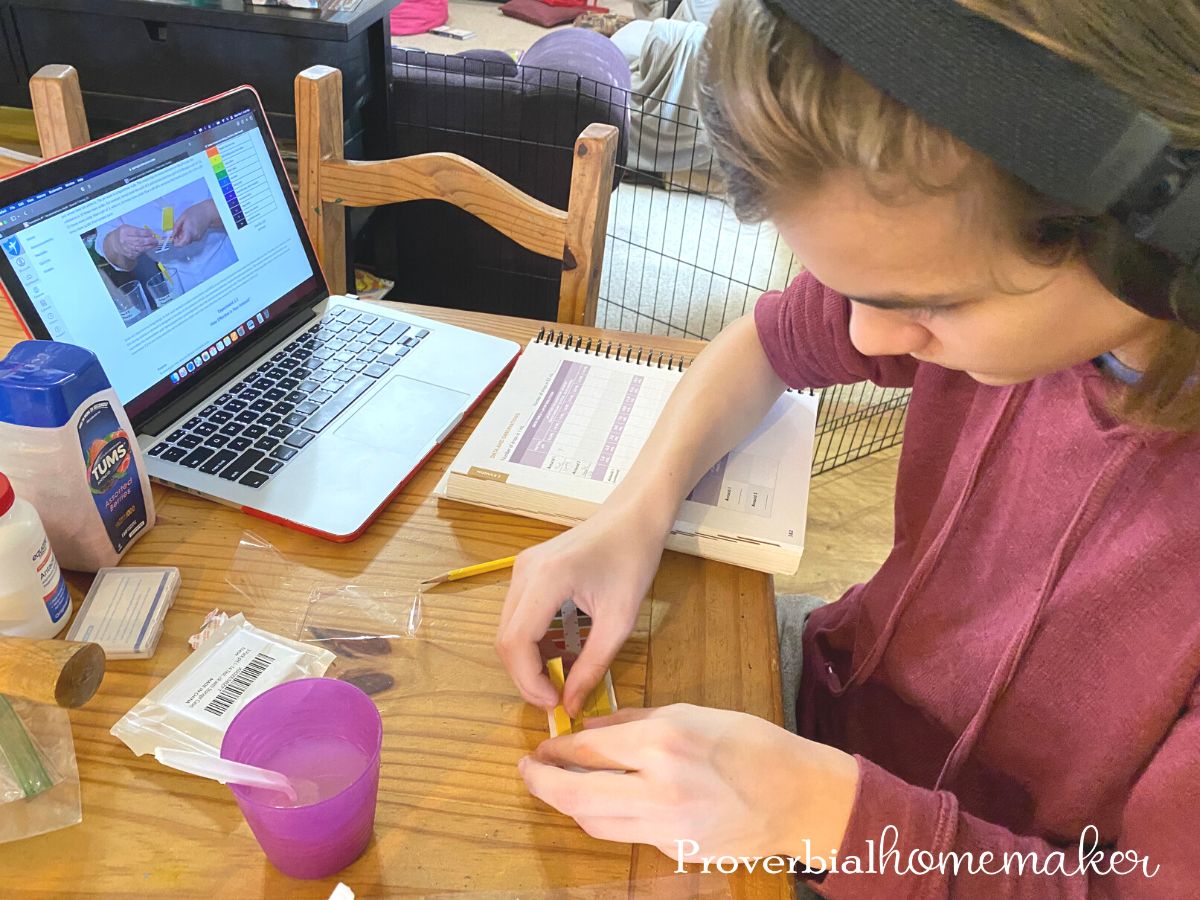 Challenges We Encountered
Sometimes the online course platform can be finicky and there are a few things that would make things more user-friendly. For example, when you're working through the module, there's no checkmark or other indication that displays when you finish a lesson. The plus side is that the customer service was very quick and helpful whenever we reached out.
The course is challenging. Of course, that always depends upon the kid, right? But my oldest is a science-y kid and we still found that it was overwhelming at first. There are SO many experiments and the tests can be really difficult. Once I realized where my son's challenges with the course were, however, they were easy to adjust for.
How We Adjusted Apologia Biology to Fit Our Needs
Adjust the experiments. In my research, I found that the author suggested to another family struggling with the volume of experiments that they could just do two of the three categories if they wanted (household, dissection, and microscope) and they would finish enough for the credit course. You can also count by hours if you want. Typically, 30 hours of lab time is appropriate for a science with lab credit.
I also decided that not all the experiments he documented had to be done by him in-person. For some of them, we relied on the videos in the curriculum or went to youtube where others recorded their experiment results (especially for dissections).
Tests can be administered however you want. The curriculum suggests at different points in the course when to allow re-taking tests and/or whether it should be open or closed book. But you're the homeschool mom so you can do what you want. I wanted my son to enjoy the course, learn a lot, and really understand the content. I also wanted him to have a good foundation in the end so that, with some extra study, he can take the CLEP test when he's finished.
So to help him overcome the overwhelm, we approached the tests more gradually. At first I allowed totally open book tests, then just using the study guide/notes, and then closed book. I made those transitions when he showed that he was able to do so confidently with good understanding of the content, rather than when the curriculum instructions suggested it.
While the tests (which are called quizzes in the course platform) are automatically graded by the system, you can also request alternate tests by emailing customer service. Those tests are a bit less intense, which may be a good option for your student, at least in the beginning. However, they won't be automatically graded.
Apologia Homeschool High School Science Curriculum
Of course, Apologia has other homeschool high school science curriculum options as well! Here's what you can choose from for their high school courses:
Biology
Chemistry
Physics
Astronomy
Human Anatomy & Physiology
Marine Biology
Advanced Biology
Advanced Chemistry
Advanced Physics
Health & Nutrition
Explore all of Apologia's offerings!
Bottom Line on Apologia for High School
Our experience with Biology was so good that we'll likely come back to Apologia, especially when we do chemistry and physics! Here's why:
Christian worldview
High-quality content and materials
College-prep level, but flexible to allow for different needs and pacing
I'd say it's a win and another reason why I recommend Apologia as one of my top picks for homeschool science!
If you're considering Apologia for high school, especially the Self-Paced Biology, I hope this helps! As always, feel free to ask questions in the comments.
~ Tauna