As a busy mom, it's easy to find our families in a rut when it comes to the weekly routine. But we all know these years with our children at home are few and precious! One great way to change things up and add some fun to our days is to enjoy family fun nights with our kids! Not only will we enjoy the week more, but we'll be making valuable memories with our children they will treasure forever. Gather your family together and make a big list of family fun night ideas to work your way through! Here are 35+ ideas to get you started. 🙌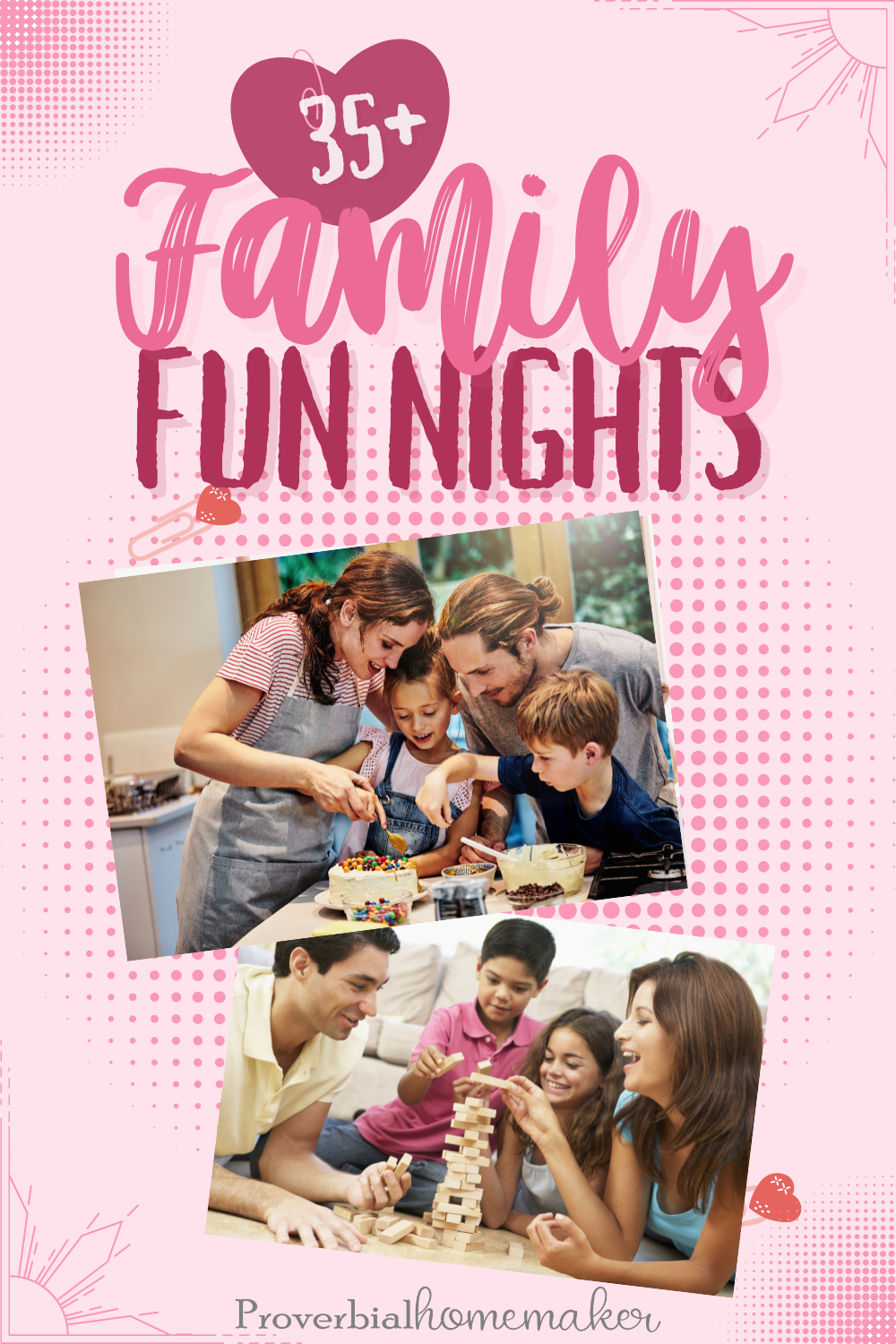 Disclosure: *This post may include affiliate links. As an affiliate, I earn from qualifying purchases. Read the disclosures and terms for more information.
Family Fun Night Ideas
1. Have a family board game night!
This is a great way to spend some quality time together as a family. Dust off the board games or try out some new ones that you've been meaning to buy. If you're a large family, look for games that everyone can play together, or get two or three games going that cover the span of ages of your kids.
2. Make some homemade pizzas
Pizza night is always a hit with the family. Let everyone choose their own toppings and get creative with it!
3. Have a movie marathon
Pop some popcorn, make some snacks, and snuggle up on the couch for a movie marathon. You can even make it into a themed marathon – like all superhero movies. Add some fun to the mix by setting up a popcorn bar with different flavors and toppings!
4. Make some arts and crafts
Get those creative juices flowing and make some art together as a family. It can be anything from painting, to origami, to making paper airplanes.
5. Go on a nature walk
Get some fresh air and explore nature together. It can certainly be an educational experience, like your homeschool nature studies, but you can learn and enjoy much just by walking and observing together! See who can find the most interesting leaves, rocks, or flowers.
6. Hold a family talent show
Show off your talents – whether it's singing, dancing, magic tricks, or telling jokes. Everyone gets to participate and have fun! Let your kids know the week before so that they have time to choose and refine their talent. Make a big to-do of it by recording it on video, announcing performers, and ending with a treat!
7. Bake some treats
Who doesn't love sweets? Spend some time in the kitchen baking cookies, cakes, or other tasty treats together. See if you can go with some seasonal recipes like dandelion cookies or bunny buddies for spring,
8. Play minute-to-win-it games
Our family loves doing minute-to-win-it games for family gatherings, holidays, homeschool group parties, and more! They're easy and fun to pull off for all ages. Make them an exciting family fun night idea!
9. Go camping
Camp out in the backyard together for a frugal and adventurous family fun night! If it's raining, bring it indoors, complete with tents, sleeping bags and s'mores.
10. Do a jigsaw puzzle
Clear the table and spend an evening or two putting together a puzzle! Add music, snacks, great conversation for meaningful family time. Younger kids can have their own puzzles set up nearby.
11. Have a karaoke night
Get your singing on with a fun family night of karaoke! Our family has an Apple TV that includes a karaoke feature (Sing, which is also available on newer iPhones) with a variety of music to choose from. You can also purchase karaoke machines or find phone apps with karaoke to enjoy!
12. Play hide and seek
Simple and fun, especially when their adults play with them, hide-and-seek is a game all kids enjoy! Get creative and see who lasts the longest.
13. Set up obstacle courses
Get the whole family involved in putting together an epic indoor obstacle course! Use as many rooms in the house to include in the course. Then have a competition to see who can get through it successfully!
14. Create an outdoor movie theatre
Our next-door neighbor likes to set up an outdoor movie theater in the summer and invite us to join. Grab a projector, set up a white sheet, or just display it on your garage door! It's a great way to make watching a favorite movie even more fun.
15. Build a Fort
See who can build the biggest or craziest fort in your family! Or work together to make something truly ginormous. Our kids make forts every week, it seems like, but they'd love to see the teens and adults joining!
16. Host a theme night
Make it a themed night! Pick a theme like '80s night or jungle night and go all out with the decorations, food, and activities. Why save the theme parties for birthdays only? Even better is having the kids come up with all the supplies and activities and having them host the adults!
17. Play the Heads Up game
Another easy and fun game that would make for a simple family fun night is the Heads Up app. You can find themes for all ages that are fun to do together and sure to bring lots of laughter to your evening!
18. Play verbal games
Our kids call them "family dinner games," because we often play them at the table while we eat or while waiting at a restaurant. But you can try them anytime!
Telling a story – One person starts a story and stops at a cliffhanger, which is then picked up upon by the next person. Go around the table inventing great twists and turns to the story!
Superhero game – One person says "my superpower is <ABC>." Everyone tries to think of a funny limitation on the power and shares it if the superhero calls on them. For example: "My superpower is that I can fly!" "Unfortunately, you always end up right where you started." Our family cracks up at this game!
Telephone – you know the classic game: One person whispers a message into their neighbor's ear and the message goes around the table. See how it changes on the journey!
Other games: 20 questions, I Spy,

etc.
19. Play charades or pictionary
These classic games never get old! Set up a simple game of charades or pictionary to enjoy with your kids. The great thing is that it works for all ages!
20. Put on scavenger / treasure hunts
Create a scavenger hunt around your home, neighborhood, or town. Write a list of clues down, each that leads to a new location. When they find the correct spot, let them find the clue hidden there or read it from your list to get them going in the right direction for the next location. Have a prize ready for the final destination! Here are some simple ideas for family scavenger / treasure hunts.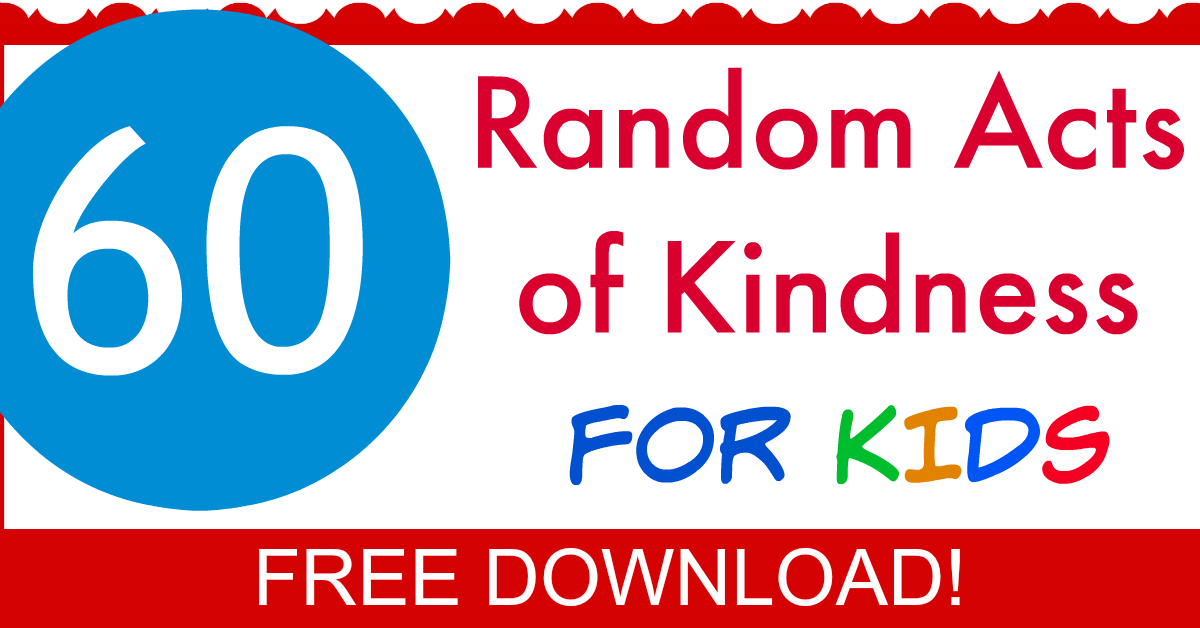 21. Hunt for Easter eggs
Our kids love Easter egg hunts all year round! You can hide treats or notes, or just leave them empty and see who has the most at the end. For a twist, try turning out the lights and using glow-in-the-dark eggs!
22. Try a family escape room
Escape rooms can be fun way to help your family work together as a team and enjoy a fun night together. You can look into buying kits or try some free family escape room ideas.
23. Enjoy family band night
If your family likes music, try a family band night! We have several instruments in our home but buckets, sticks, and shaker bottles work, too! See what music you can make together.
24. Do a service project evening
Serving others together can be a family fun night that also blesses those in need! Put together a gift basket and take it to surprise someone, make cards and notes of encouragement to mail out to the sick or elderly in your church, or go on a prayer walk in your neighborhood and pray for each family as you walk by their house. So many possibilities! Here are other ideas to consider.
25. Go on a "random acts of kindness" spree
We love doing random acts of kindness sprees during the holiday season. You can make it a family fun night anytime! Make a list ideas for random acts of kindness (or use this one to get started), gather the materials, and head out one evening to spread the blessings!
26. Play card or dice games
Card games and dice games are so much fun and are a frugal family activity. Learn new games together and enjoy the evening! Here are some ideas:
Here are more card games and dice games to consider!
25. Play Find the Item
This is an easy one even tired parents can manage for a spontaneity's family fun night. 🙂 have your kids go to another room or close their eyes while you hide an object. First kid to find it wins and gets to hide it. (Or take turns youngest to oldest.)
26. Do Lego Challenges
Lego Challenges and Bible Brick Challenges have made up a lot of fun family nights here! Break out the blocks and give your kids a challenge of something to build or try these ideas together:
Bible Brick Challenges – Try having your kids do build challenges based on Bible themes and stories!
Lego Build Books – Grab one of these books from the store or library for a great family fun night.
50 Lego Challenges – Download these free cards with two levels of difficulty for an easy start to Lego challenges!
Creationary Lego Game (I'm not sure why this is so spendy! We have it and the kids play it often. If you can't find it used or cheaper, try these free printable cards or look up other "Lego charades" games and use your own set of legos).
27. Have a bake off competition
This one might take a little prep but our kids love it. Do a bake-off challenge similar to the popular baking shows! Give your kids the same set of baking materials and challenge them to bake the creation of their choice. For example, one night we gave our kids a basic cookie recipe with tons of possible add-ons and they took turns in the kitchen making their own cookie creations. Mom and Dad are the judge!
28. Do rock painting
Kids of all ages can enjoy being creative with rock painting. Make a whole set to add decorations to your front porch or yard, give as gifts, or sprinkle around the neighborhood for others to find and enjoy! Get a rock painting idea book for inspiration.
29. Make a time capsule
Put a family time capsule together to open years down the road! Spend an evening planning and/or assembling your time capsule. It's a wonderful bonding time with your kids that puts a focus on the value of your family and uniqueness of each person in it! Consider using this free printable for an easy time capsule guide. Here are more ideas for a family time capsule.
30. Go bowling
Take the family bowling! This is a fun activity all the kids can do. Look up the kids bowl free program during the summer months, too!
31. Go swimming
See if your local swim center has open swim nights and take the kids! It's a good time to teach swimming skills, play in the shallow end, or have a rousing game of Marco Polo!
32. Go roller skating or ice skating
Check out nearby roller skating and ice skating rinks! Call ahead to see if they have any discount nights you can take advantage of.
33. Host a fancy dinner night
Have your kids help you plan and host a fancy dinner night for the whole family! Go gourmet and try new dishes. Set the table with special items and light the candles. Then get all dressed up and enjoy the night together! My kids love putting together menus for our mealtimes. This would be a fun chance to do that here!
34. Play laser tag or have a Nerf gun fight
Build up a stash of laser tag toys or Nerf guns and have a big event! One family we knew had a giant ottoman in their living room that hid a stockpile of Nerf guns for just such an occasion. 😆 Or you could find a local game center that has laser tag facilities and invite some friends.
35. Go to a drive-in
Drive-ins still exist in some places around America! See if there's one near you and watch for family-friendly movies showing. It would make for a nostalgic family fun night!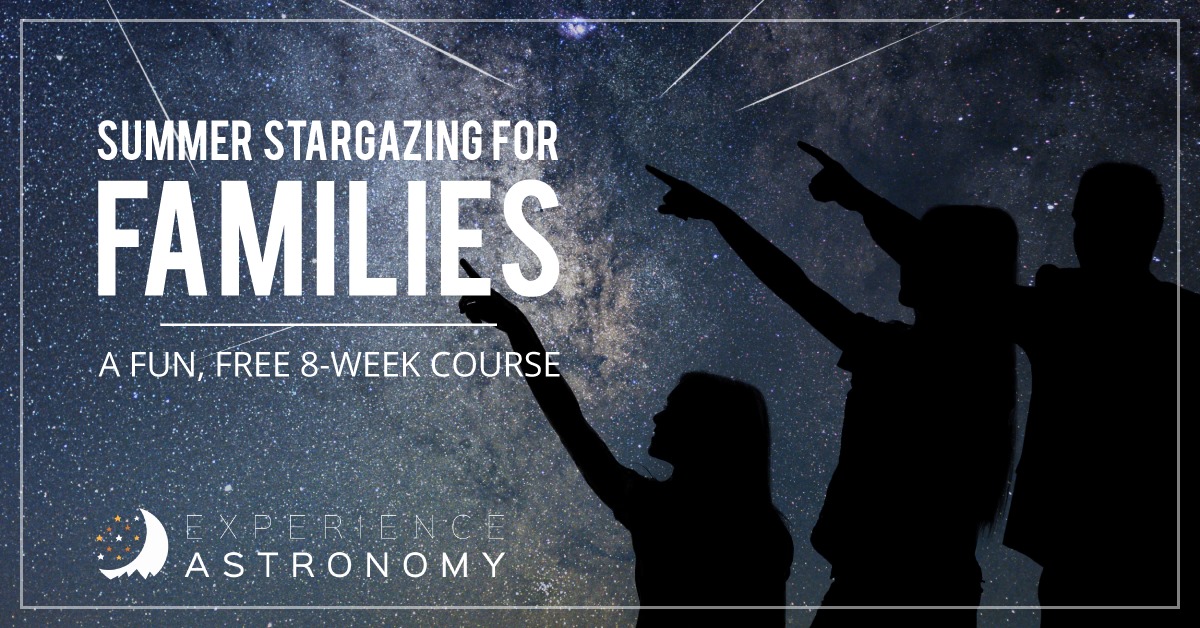 36. Go stargazing
Take a simple star guide or use the SkyView app to explore the night sky together. You can use a telescope if you have one or even use binoculars. Do backyard stargazing or head out to the country for a better view! Intoxicated on Life has a free summer stargazing course every year. Sign up here or get on the wait list.
37. Create family videos
Make some fun family videos together! Come up with a list of questions each member has to answer, or have everyone tell a fun story to record.
38. Watch family videos
We don't always take the time to go through old family photos and videos. A family fun night is the perfect occasion for it! Gather in the living room with a fun snack and have Mom or Dad narrate the photos and videos as the family enjoys them.
39. Play family-friendly RPG games
RPG (role-playing-games) aren't limited to D&D. There are different themes and age ranges, and they can all be adapted to remove anything that goes against your family's values or biblical truths. They take some prep work that way, but can be a fun ongoing family game night if you or your husband is interested in preparing the adventures ahead of time. I haven't checked these out, but here are some ideas to consider.
I'll keep adding to the list as we find more ideas!
Family fun nights are a great way for the whole family to spend time together and make memories. And with all of these ideas, no two nights have to look the same! So use this list as a jumping off point and come up with your own ideas, too. Comment on this post and tell us: what would you add to the list? The possibilities are endless! ❤️

You Might Also Like…
Character Training from Preschool to High School