When I was in school, science was my favorite subject. I loved learning about the natural world, examining microscopic treasures, and exploring all the creatures and habitats on our planet. Marine biology was my favorite! Nowadays, as a homeschool mom, I so enjoy being able to teach homeschool science and show them the wonders of God's creation.
How We Teach Homeschool Science (with a biblical worldview)
We've bounced around science resources and methods quite a bit in my homeschool because it's so much fun to do. In this post, I'm sharing how we teach homeschool science in our family and my favorite homeschool science curriculum resources!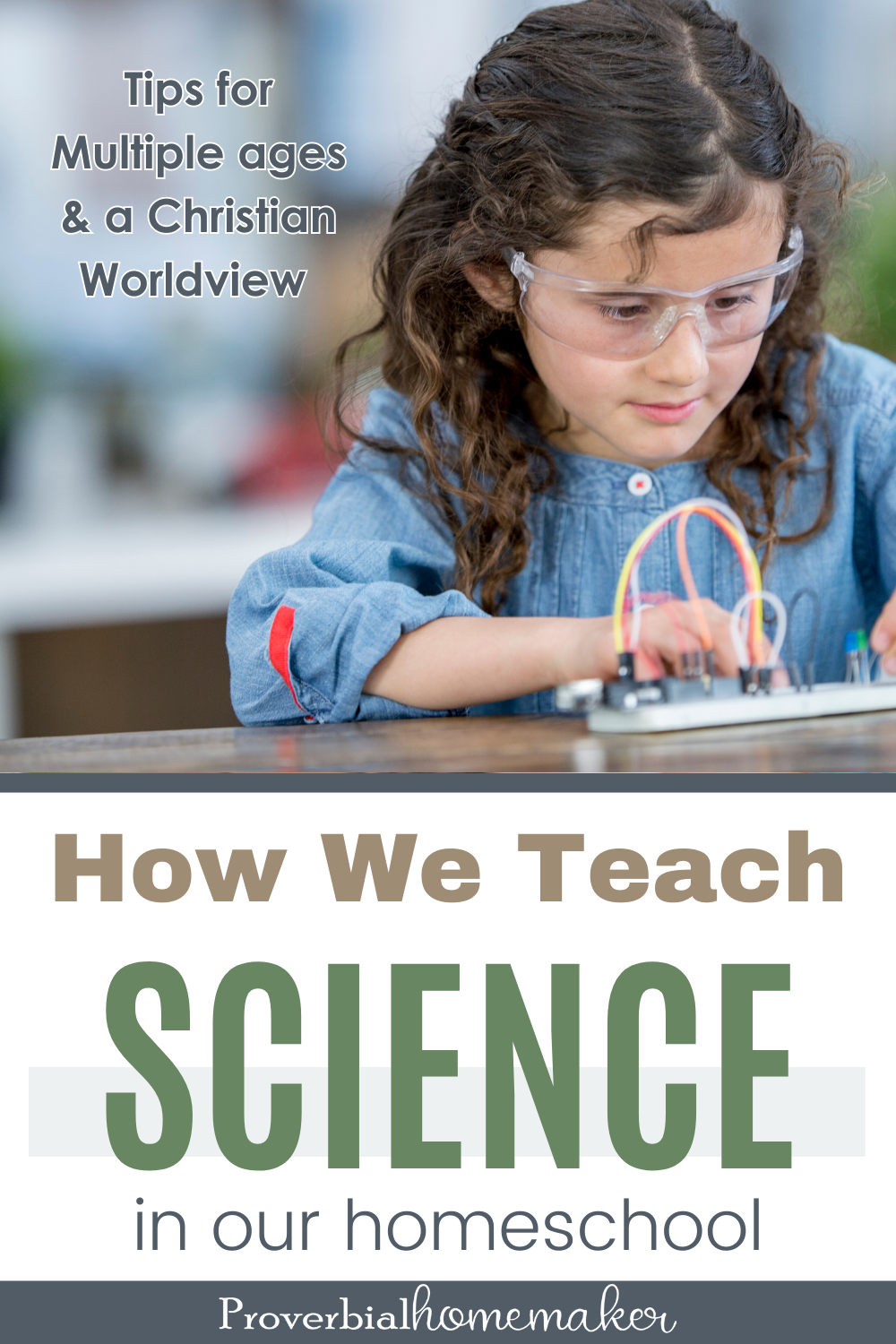 Disclosure: *This post may include affiliate links. As an affiliate, I earn from qualifying purchases. Read the disclosures and terms for more information.
I asked Apologia for their Zoology 3 and Chemistry and Physics elementary sets in exchange for this evergreen roundup post about how we teach science and the various curricula we use. They are one of our favorites!
Homeschool Science With a Christian Worldview
In our homeschool, we teach science with a Christian worldview. Why? Because we believe that there is a God and that He created the world. Moreover, we believe God wants us to know Him and give Him glory in all things. These truths have a huge impact on our faith and on how we understand and interact with the world.
Therefore, when we choose homeschool curricula, we aim for materials that do the following:
Acknowledge God as Creator
Help us draw connections between what we study and God's character and nature
Uphold the inerrancy and infallibility of Scripture as well as the literal, historical account of Genesis
Give God glory in our science studies, magnifying His goodness, sovereignty, and power
Help us equip our children with biblical answers to common secular arguments against God in the field of science
With this as the foundation of our science education, we may also bring in a book, video, or other resource that references evolution or old earth views. Even in the younger years, however, those are approached with discussion and discipleship in mind. We want our kids to be equipped with the truth when they come across such materials on their own.
As our kids get older, we keep using our solid Christian worldview science, but we also give them more insight into other viewpoints as we dig deeper into worldview and apologetics. We equip them with more advanced evidence and arguments for intelligent design and young earth history and help them practice respectful discussion and debate.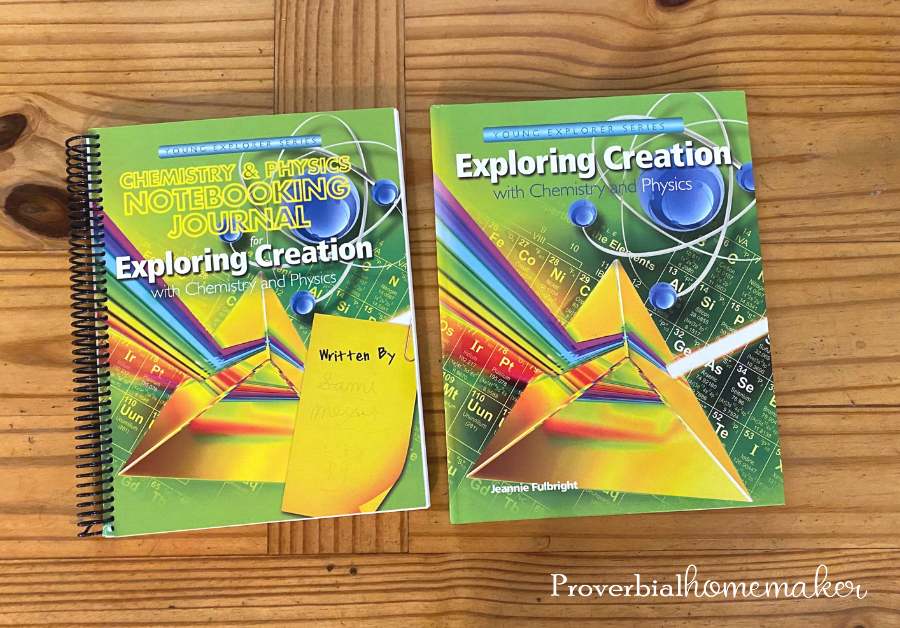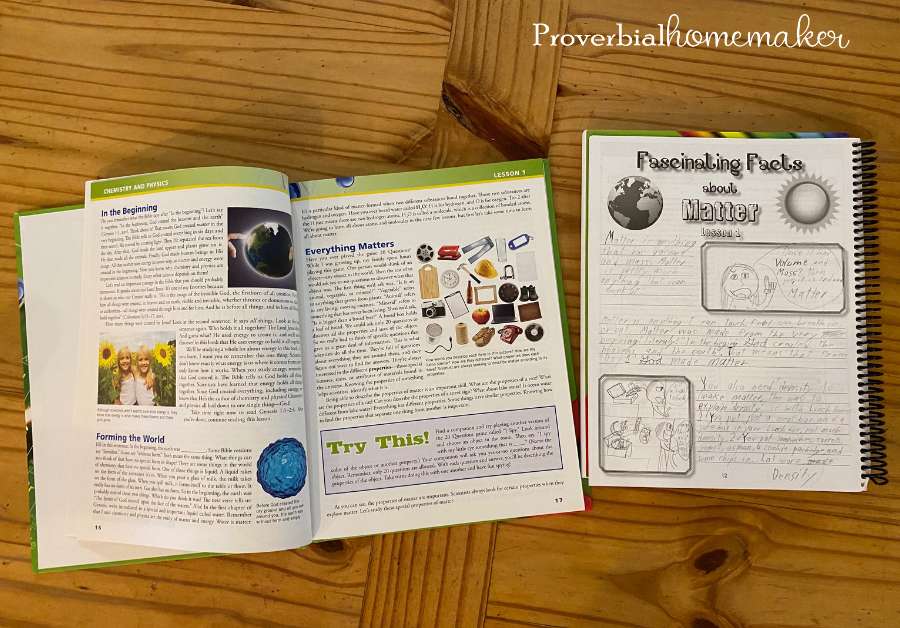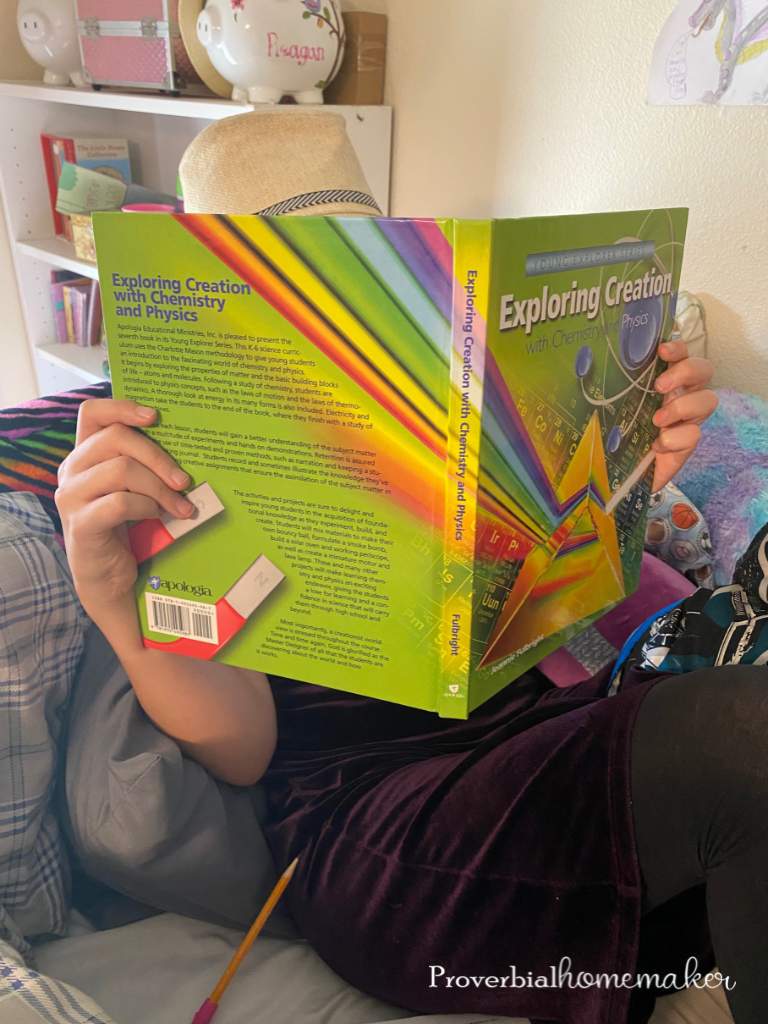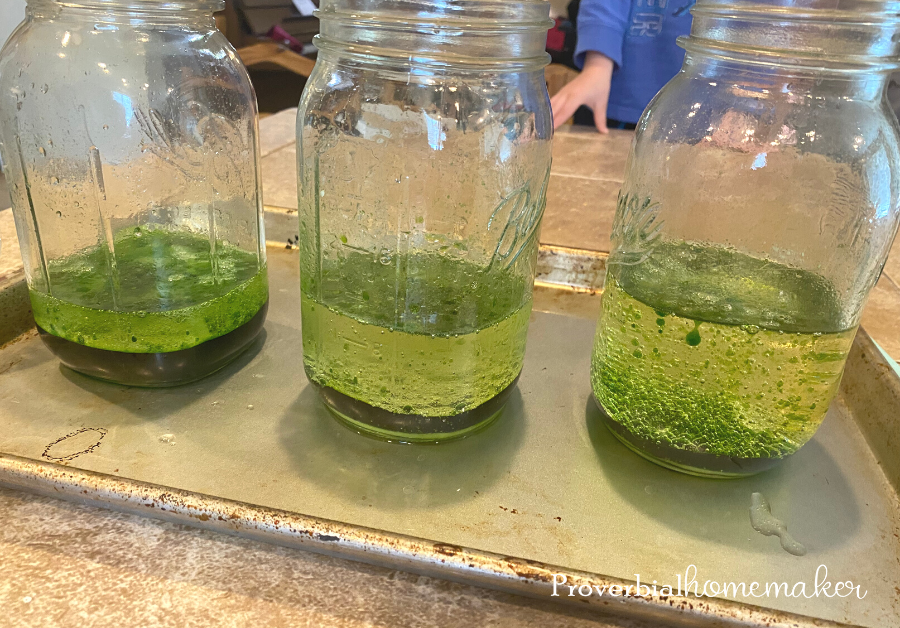 Keeping Homeschool Science Fun and Engaging
Science is supposed to be FUN! There's no reason to force kids through materials that are boring or dry, especially when it comes to science!
Here are ways we keep science fun for our homeschool:
Incorporate hands-on experiments and projects: Science subjects can quickly become uninteresting if only learned through textbooks. Hands-on experiments and projects can help keep things fun and engaging. By actually participating in experiments, children can see scientific principles in action; making the subject much more real to them. Other family
Take learning outside: It's refreshing to take a break from traditional classroom settings and engage with nature. Take a field trip to a nearby botanical garden or zoo, and let the children observe and interact with the environment.
Integrate games into the teaching: Games are a fun way to reinforce learning, and there are many STEM games available that can be tied into specific subjects. Quizzes can serve as fun and interactive review exercises to help cement learning.
Use multimedia resources: Videos, podcasts, and online resources like interactive simulations can be used to help explain complex scientific concepts. Online resources exist that can cater to different age groups and interests.
Go on rabbit trails: Make real-world connections: Help children see how scientific concepts relate to their everyday lives. Encourage them to observe and explain different natural phenomena and the role that science plays in it.
Encourage independent learning: Give children the opportunity to complete their own experiments and research projects. This helps foster creativity and curiosity, and can deepen their interest in the subject. Spark curiosity and creativity
The best science curricula are the ones that incorporate several or all of these tools in order to make science fun and engaging for all ages! If the resource you're using is feeling a bit dry or boring, see if you can give it a boost by adding some of these kinds of activities. If that doesn't work, it might be time for a curriculum switch!
Explore Their Own Interests
Let them choose the science topic. There are so many to choose from!
– Biology
– Chemistry
– Zoology
– Astronomy
– History of science
– Forensics
– Earth science
– Geology
– Oceanography
– Archaeology
– Anatomy and Physiology
– Physics
– Computer science
– Agricultural science
– Environmental science
– Paleontology
– Aeronautics
– Meteorology
– Ornithology
– Equine science
– Robotics
– Botany
– And more!
Let them choose the curriculum. I like to give my older kids some options to choose from and let them pick their course. It makes it more likely they'll enjoy it and persevere! You can go to a local homeschool conference or store to flip through curriculum together, watch reviews on YouTube, borrow it from a friend to look through, or look at samples on the publisher website or sites like Rainbow Resources.
Do science "inquiry" projects. Try doing science inquiry projects! Let each child choose one specific science topic to study for a month. They'll brainstorm research ideas (questions to ask, materials to find, etc.) and then put together a presentation of their choice. For example:
Study desert biomes and put together a diorama.
Learn about birds of the NW and write a paper.
Find out how tornadoes work and present the info in a video.
Study mushrooms and try a mushroom-growing kit
You get the idea!
Homeschool Science Curriculum: Which Method / Style ?
There are so many different types of science curricula to choose from! I don't like limiting myself to just one 🙂 so we've tried them all and like them all. Take into consideration your child's learning style and your preferences as far as homeschool methods. Beyond that, try out what looks good and see how it goes!
Textbook: Not all textbooks are dry and boring. Find a good one and uses it as a read-aloud or independent study! They often come with notebooks, quizzes, etc. You can even find some with audio versions!
Unit Studies: Learn about science in a fun way with unit studies! Similar to the "inquiry" projects above except with threads to other subjects such as history, math, art, etc. Make your own or use pre-made ones!
Hands-on: For early years, a good science experiment book is just fine. But many curriculum options also include great hands-on experiments and activities! You can often buy kits with the materials readily available, too.
Video-based: Great instructional videos can be a core part of a science curriculum or an excellent supplemental resource. These days, I at least look for videos to go along with what we're learning in science!
Nature study: For several years, nature study was the main science activity in our home and we still love to do it! It's versatile, uses what's already around you, and is a wonderful way to grow observation and appreciation of God's creation.
Literature-based: There are even ways to study science through literature! Read missionary biographies together and study the animals, climates, and habitats of the country in the story. Try reading biographies or historical fiction about inventions or famous scientists and find activities based on them!
Group Work or Individual Tracks for Homeschool Science?
We have 6 children in our family and are currently homeschooling levels kindergarten through 9th grade. We do science as a group AND have some kids who do their own science studies.
Science as Group Work: I'm always doing science as a group work subject with my elementary and middle school kids. (The high schooler joins us sometimes, too.) For example, we might do a weekly nature study, go through an online course, read aloud from a textbook and do the activities together, or just pick fun ideas out of an experiment book.
Middle School Kids: If my middle schoolers show interest, they may do a science track on their own in addition to our group work. For example, my daughter who is a big reader is cranking through engaging textbooks and science-related literature selections on her own. Another daughter is really into birds and has spent a whole year doing a bird study. This coming year she'll be digging into more advanced ornithology studies!
High School Kids: My high schooler is on his own science track to prepare for college. He'll be doing some basic courses (Biology, Chemistry, etc) but also be given choices to pursue his own interests (he loves loves loves geology!) I try to make sure our high school curriculum is engaging, challenging (but flexible), and will help teach him skills he'll need for high school, such as note-taking, performing labs, writing labs reports, etc.
---
Resource Highlight: Apologia's Exploring Creation Series
One of our favorite homeschool curriculum options for science is Apologia's Exploring Creation series for elementary students. Several years, we choose one to do as a read-aloud together and then explore the extra projects and activities as they interest us. this is a fantastic way to do multi-level teaching with Apologia!
I often let my kids choose which curriculum they'll use from a set of choices I provide. This year, my 5th grader did Exploring Creation with Zoology 5: Land Animals. She read the textbook, narrated it to me, and then did the Junior Student Notebook. The coloring pages and copywork pages were her favorite. They also included pages to record experiment results, cut-and-paste activities to review information, and more.
My 7th grader decided to do the Exploring Creation with Chemistry and Physics textbook and student notebook. (Shown earlier in this post.) She did some of the suggested activities and experiments. She is my voracious reader so I knew it wouldn't last her long. She decided to also read and narrate the Zoology book her sister was using.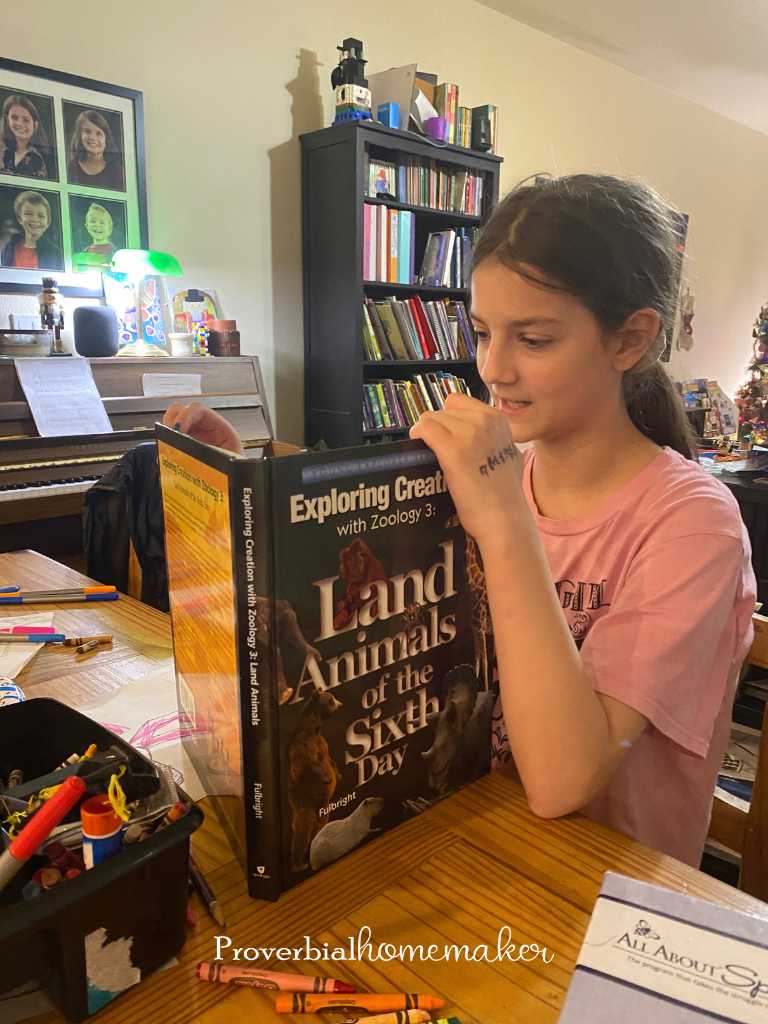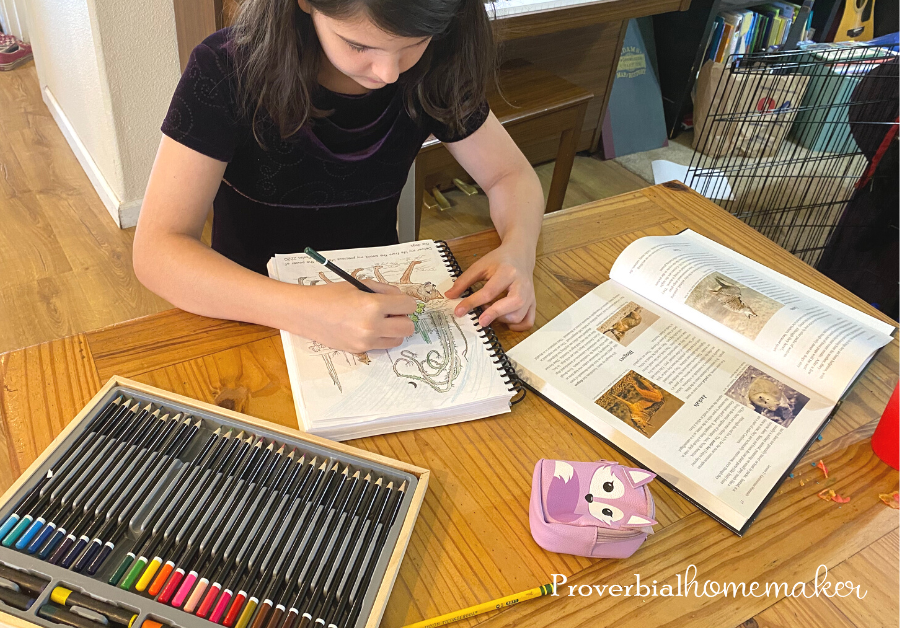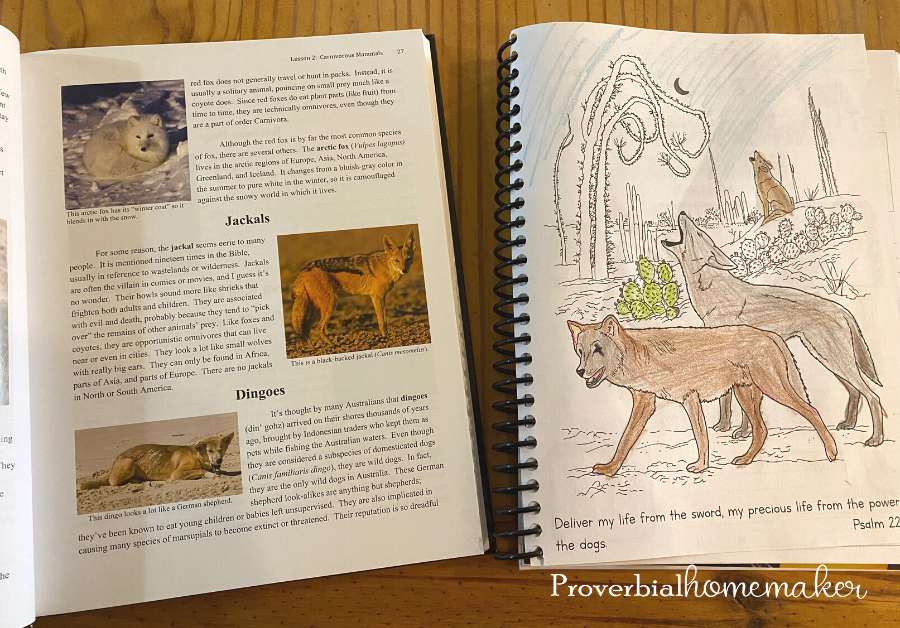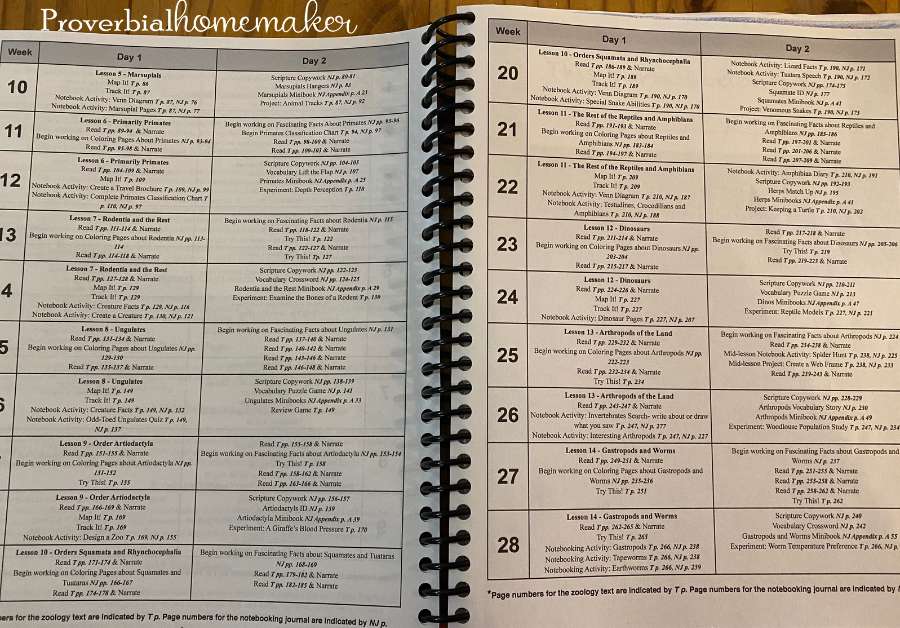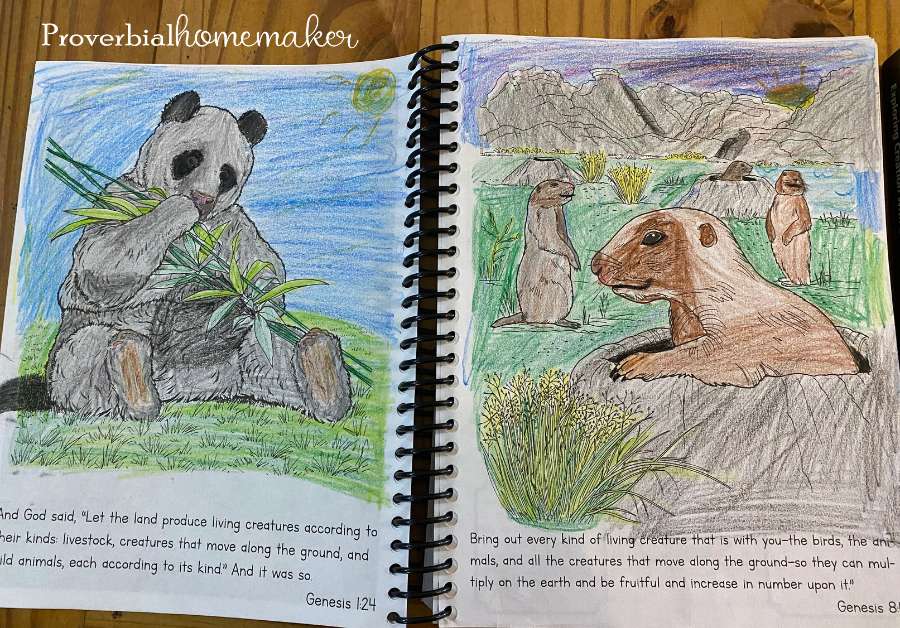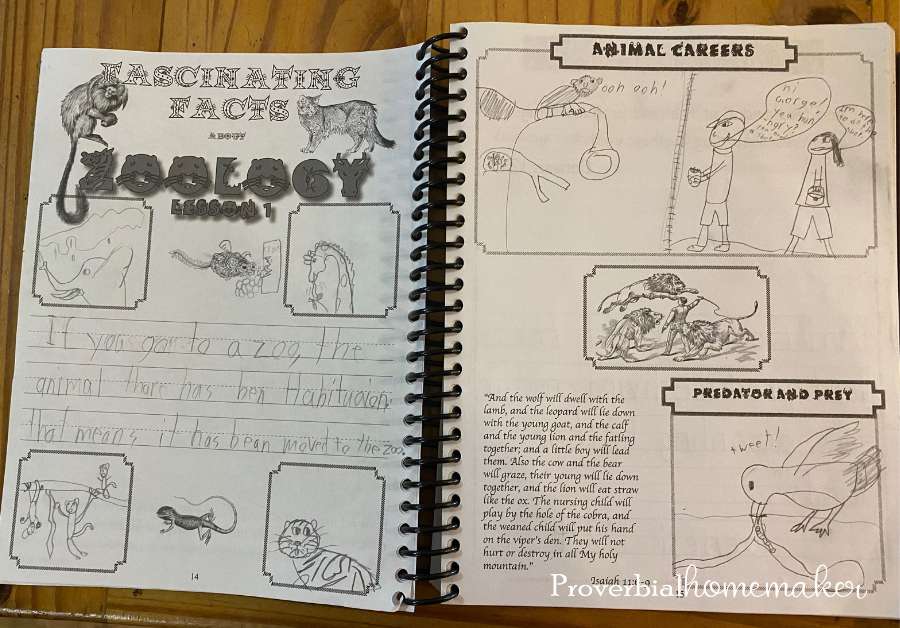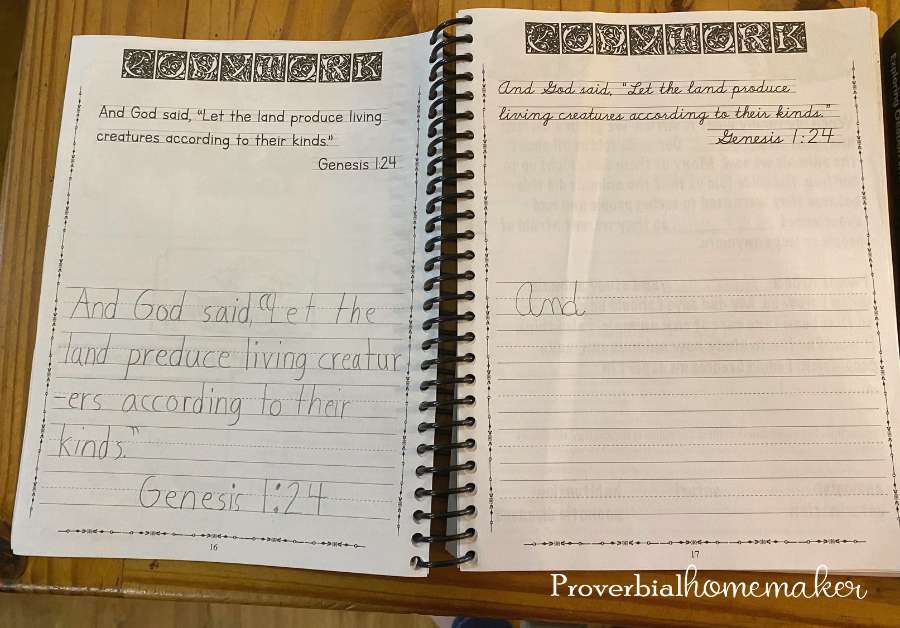 I didn't require my children to do all the pages from the Student Notebooks, but only the ones they wanted to do and then some that I thought they'd particularly benefit from for review purposes. It worked out well!
Whether you're doing multi-level teaching and reading the text aloud or having your kids do independent work, definitely check out Apologia science. It has been a blessing in our home for years. (You can also find a review on their Middle School General Science and high school Biology.)
---
Our Favorite Homeschool Science Resources
We've used several homeschool science curriculum resources throughout the years! Here are some of my favorites!
Apologia – This has been a staple in our home for years. We have enjoyed nearly all of the elementary series as read-alouds with activities. The General Science course is fantastic for middle school and transitioning to high school science. My oldest has been doing the Self-Paced Online Biology for 9th grade and it's been great! Apologia is a good curriculum academically and has a solid Christian worldview. I particularly like all the options they have for many of their courses now – textbook, notebook, audio, video, live online, recorded, and self-paced.
Science 101 Series – Our family LOVES these videos. They are aimed at high school and come with a pdf with activities and such as a stand-alone curriculum, but we've used them mostly as a supplement. What we love about them is that they're extremely well-done and engaging, have a fantastic biblical worldview, and our whole family (pre-k to adult) enjoys watching them together and discussing them!
Northwest Treasures – This is a fantastic resource for biblical worldview geology studies. They are unique in that they provide sample kits that are well-worth the cost for truly hands-on learning. We have used several of their elementary sets and will be trying out their high school curriculum soon. They also have a fun Dinosaur Day Camp resource that's an easy and fun way to try out their material!
No Sweat Nature Study – If you struggle with being consistent with nature studies or just want some extra learning to go along with your nature walks, this is a FANTASTIC resource! You get access to live bi-monthly classes, a library of past recordings, and more. My kids of all ages really enjoy this!
CLP Nature Readers – These are my favorite readers for nature. My kids read these as practice and then narrate to me, or I'll use them as read-alouds.
Handbook of Nature Study (the older or newer set) and Burgess books are other great resources for nature readers. I tend to use them as edit-on-the-fly read-alouds to edit out the "mother nature" leaning. Of course, my older kids can do that editing on their own so I don't mind handing the books them and they love the conversational tone.
Wonders of Creation Book Series – We bought this set a few years ago and get a TON of use out of it. They're leveled for different age ranges, have wonderful content and photos, and cover a wide range of topics. You can use them as read-alouds, independent reading for science supplements, or as a part of the Master Books General Science curriculum sets.
Journey Homeschool Academy – Journey Homeschool Academy provides online courses specifically designed for homeschoolers. They are very well done video-based courses with printables, experiments, and go-along books. We really enjoyed their elementary biology course together. (Note that their resources are overtly Christian and focus on God and Creator but intentionally do not mention earth age.)
Unit Studies by Amanda Bennett – Unit studies are a fun way to do science with multiple ages and cover several topics at once. You can do them year-round or just over the summer! Our favorite unit studies are from Amanda Bennett. They're just the right amount of content, IMO, and are very open-and-go. They have several science unit studies to choose from.
I hope that helps you find more ways to teach science and explore some excellent resources!
Have fun teaching your little scientists. ❤️
~ Tauna