It's no secret that I love coffee AND I love tea. I'm non-discriminatory like that. 😉 However, with the summer heat lately, I've been completely obsessed with my iced tea packets. It's definitely one of my favorite products! I drop a packet into some water, wait a few hours, add some ice, and viola: perfectly fragrant and tasty iced tea that is refreshing and healthy, too!
Yes, you can do DIY infused teas, but I've tried that, and while they're good, they're just not the same as the premium tea I use: Blooming with Joy Tea & Gifts. I get all my hot and iced teas from them! The best thing through is taking advantage of some great iced tea ideas and including my kids in on the fun!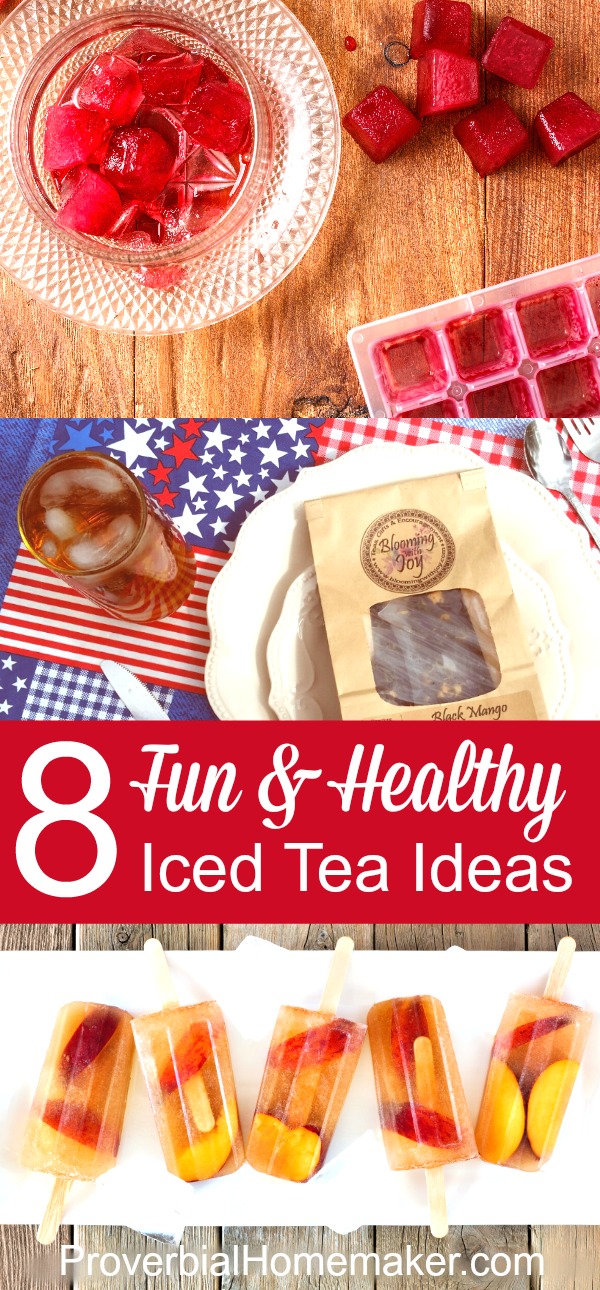 Disclosure: *This post may include affiliate links. As an affiliate, I earn from qualifying purchases. Read the disclosures and terms for more information.
8 Fun & Healthy Iced Tea Ideas
Drink Black Iced Tea for a Pick-Me-Up
I usually like to have a cup of something in the afternoon as a pick me up. In the hot weather, iced Black Mango tea has become my go-to for a refreshing and healthy pick-me-up that doesn't leave me feeling weighted down like coffee can do sometimes! Sweet Peaches with Oolong is also a great choice.
Drink Green Iced Tea for a Healthy Treat
Another pick-me-up option that is also a powerhouse for healthy living is green tea! Fresh Citrus Green Tea is perfect for that
Make Iced Tea Cubes
One simple thing I like to do is take the leftover infused tea, or a fresh pot just for this purpose, and make ice cubes! Adding those to your water throughout the hot days gives a hint of flavor and helps you drink more. Use a caffeine free version for a fun treat for kids!
Serve Iced Tea Instead of Juice
Speaking of kids, with all the vitamin C you find in some of these iced teas, they are a perfect substitute for juice! I make a big pitcher of Berry Blast or Blood Orange, sweeten with raw honey, and I have a wonderful juice for a special treat or party time!
Have an Iced Tea Party
Just because it's summer doesn't mean you can't still have a tea party! We do tea parties often with the kids and sometimes they invite friends over. On hot days we use iced tea instead of hot! Sometimes we make some of the other tea-related treats listed here as well. The kids love their special tea!
Gift Iced Tea Packets to Neighbors
The Blooming with Joy iced teas come in white fine mesh tea bags that can easily be made into a gift for neighbors. That is what I plan to gift to ours as a get-to-know-you attempt! Get the kids to help put them into a baggie and tie with a ribbon, then attach with some twine to a card and a label tag. It will be such a sweet gesture!
Make Iced Tea Popsicles
Brew some iced tea and add the liquid and packet contents into popsicle molds for some fun and healthy popsicles! Again, honey is a great way to sweeten, and if you want some extra goodies in them you can use the pieces of fruit from the tea bags or cut up and add more fruit!
Don't Waste Used Tea
I hope you enjoy theses fun iced tea ideas! My last tip: Use all of that goodness up! Let your kids help take the contents of the used herbal tea bags and throw them into the compost bin, work them into the garden, feed them to the chickens, add them to DIY soap recipes or dry them and add them to crafts, and so on.
July Coupon for Blooming with Joy Iced Tea!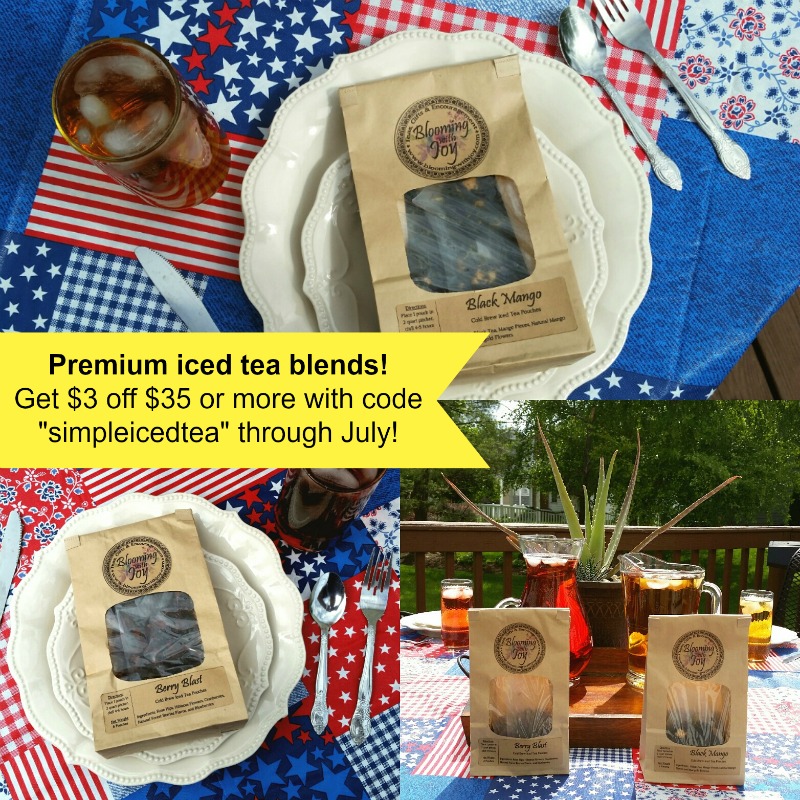 Through July 31st, Proverbial Homemaker readers can get $3 off any purchase of $35 or more with coupon code "simpleicedtea" – Enjoy!