Learning about the United States of America is a full year-long class at most high schools. Most states require a U.S. History course be completed as part of the graduation credits. But should you really wait until high school to teach about the United States?
Completely leaving U.S. History until the high school years is probably not the best approach.
What if you started teaching your children from a young age about the United States of America? Of course it would need to be fun and engaging, not too much history, and just enough information to get them excited about this great country, but is that possible?
Yes it is! Teaching your children about the United States doesn't have to be boring. It can be fun and engaging. And starting with a few simple tips, I think you will find it can be easy too!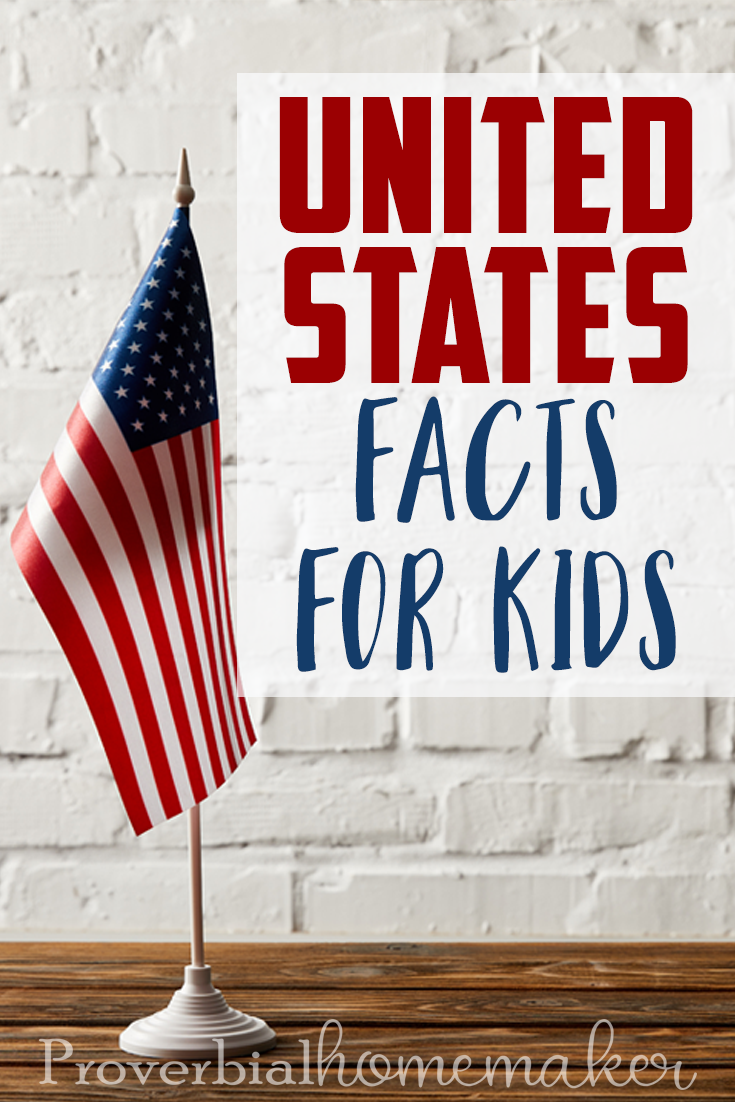 Disclosure: *This post may include affiliate links. As an affiliate, I earn from qualifying purchases. Read the disclosures and terms for more information.
5 Ways to Teach United States Facts for Kids
Geography Activities & Games
Fun printables and activities are always a great way to help kids learn a subject. Not all kids like printables, but by making them fun and interactive with games, helps them engage and retain the information better. This 50 United States Printable Game set is a great way to introduce young learners to the United States.
In this fun pack kids will learn the 50 States in alphabetical order, their capitals, nicknames and the date they entered the Union. It also includes a blank map for students to label and identify the states by their shape and geographical location, a page about citizenship, a crossword puzzle, word search and maze all perfect for young learners ages 5-8. (You can get your free copy at the end of this post! )
Flash Cards
Using flash cards (aff) is a fun and simple way to help kids learn different facts. If you have previously studied the United States, flash cards are great way to review and help kids remember the states, capitals and other fun facts. If you're introducing them for the first time, flash cards are a simple way to help kids focus on one state and/or fact at a time while they commit it to memory. And speaking of memory, using flash cards for a fun game of "memory" is a great way to drill your children after they have learned the states!
Silly Songs
Many people might remember learning about the 50 states through song. Singing is actually a great way to learn and retain information. Teach kids about the names of all the states with the classic Fifty Nifty United States song. If you like a little country twang, this fun rendition teaches kids the kids the names of the states, their capitals, while showing the outline and then their state flag. And this song has some fun rhymes and takes students all across the USA while the illustrator writes the state and their capital on a fun hand-drawn map. The rhymes may be silly and the songs aren't usually chart-worthy, but they are engaging, fun and keep the kids' interests…plus they're easy to remember!
Books
Whether your children love to read or not, books are a wonderful way to introduce and learn more about the United States. Take your kids on a virtual trip across the United States with this Beginner's Atlas (aff) that is packed full of maps, pictures, facts and fun for kids ages 5-8. If it's unique and interesting facts you want, check out these fact-filled maps (aff) for all 50 states! This is a fun and engaging way to help kids learn more about each state. If you're looking for more fun, bite-sized information this Super Social Studies Infographic (aff) series is just the ticket. Children can learn about everything from U.S. culture and history to U.S. Government, geography and more!
A State-by-State Unit Study
If your learners want more than just a few simple facts about the United States, unit studies are a great option. You can study a state a week, or combine them and study a specific region every few weeks or months, until you have studied all 50 states.
Across the USA is a unit study based approach to learning the 50 states. Across the USA takes students through 6 different regions of the United States by covering facts about the state, a brief history and coloring pages for the state bird, state flower and state flag. The 648-page study also includes quizzes about the state birds, state flowers and state trees, map identification quiz, and several notebooking page options for students to do their own research for each state.

Annette has been married to her husband and best friend since 2003. Together they are raising their six children to follow the Lord's will, no matter what. Annette longs for the day when she will meet her 9 angel babies who have entered heaven before her. She enjoys creating fun and engaging printables, unit studies and curriculum for homeschool families. You can follow her crazy life at In All You Do where she blogs about marriage, parenting, and homeschooling all while maintaining her sanity. She is also the owner of Thrifty Homeschoolers, where she shares free printables and resources from around the web as well as deals on curriculum and homeschooling resources. You can also keep up with her via Facebook, Twitter, Instagram and Pinterest.