Disclosure: *This post may include affiliate links. As an affiliate, I earn from qualifying purchases. Read the
disclosures
and
terms
for more information.
My husband and I were pondering the other day about how amazing it was that we'd managed to avoid illness the entire cold or flu season. Really, since last summer! Then, BAM! Two hours later my 2 year old wakes up sick and coughing terribly. Isn't that just how it goes? Poor kiddo. 
We've been using essential oils along with all the other recipes and practices that help us get and keep our kids healthy so that little man can get back on his feet again. Three days later he is almost back to his normal self. This time I decided to use the lovely raw honey given to us as a gift to make something new to us: homemade cough drops for kids! 
When children are coughing they are just miserable. Adults have a hard enough time as it is but those little bodies are made that much more uncomfortable when they have to deal with a racking cough, sore throat, and drainage. However, the cough drops you buy at the store are so hard and I just didn't feel good about giving them to my kids. So I decided to try out a new recipe and make some homage cough drops that would help him!
This recipe is super easy. You simply combine all the ingredients and pipe them onto a tray and freeze them. Your kids will love the sweet taste (in fact, you may have to fight off requests for more and more) and they really do help! The ingredients are safe for kids and soothing to their throats and/or help boost their immune system. 
I wondered at whether these would actually help my son's cough. I can say that they didn't get rid of it altogether, but they definitely helped. As we'd put him to bed, for example, he'd be coughing a lot and we'd give him two or three of the cough drops to help and it soothed him enough to help him fall asleep. It also seemed to help when he complained about a sore throat from coughing so much. So, I think it's worth trying this recipe just to see if it works for your kids, too! 
Homemade Cough Drops for Kids
Here's how to make these. I adapted this from the recipe I found by Coconut Mama. For my version, I found adding more cinnamon and adding lemon worked very nicely. I also found a way to make these without special small ice cube trays since I don't have those! But you could also spoon the mixture into miniature ice cube trays and freeze those instead.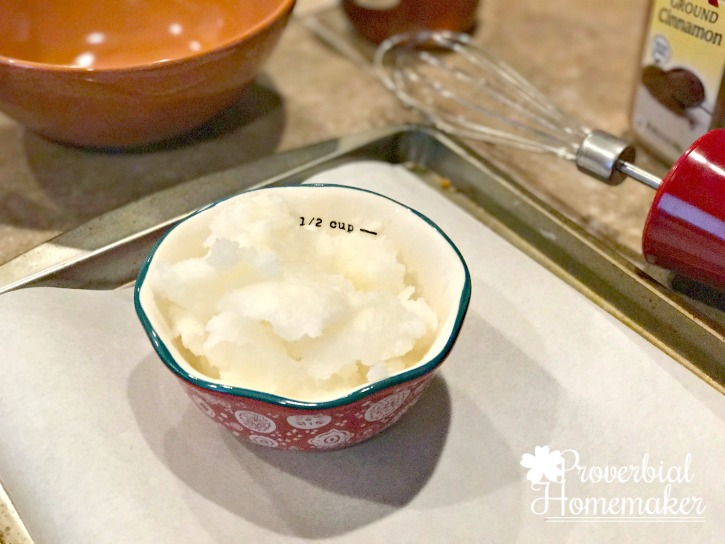 First, combine all the ingredients in a bowl. I didn't show the lemon here but decided to add the juice of one medium lemon (2-3 tbp) as well, remembering how much tea with honey and lemon helps with cough and cold. 
***Update: Some readers have had great results with the recipe as-is and others have said it's too runny. You may want to try leaving out the lemon juice at first. Add more solidified coconut oil until it's the right consistency and then add the lemon a bit at a time. Otherwise the kids will be scraping it off the wax paper with their teeth. lol!***
Next, use a whisk or hand blender to whip up your mixture. (I ended up putting it in a larger bowl after spraying myself and the kitchen with it. lol!) I do love my hand blender, but you can also use a regular blender just fine. Then scoop the contents into a ziplock bag and snip the end a bit to make it a piping bag. 
On a cookie sheet lined with wax paper or parchment paper, pipe little spirals of the size you want. I got playful and made some hearts I knew would wow the kids. Because I have to maintain my rockstar mom status with my crew, right? 🙂 Cough drop hearts will do that, I'm sure. 
Put your trays in the freezer. You can start using them in about 30 minutes but wait a few hours before removing them from the tray and putting them in a container. I tried them in a bowl and a glass tupperware container and they seemed to stay un-stuck from each other just fine. You definitely want to keep these in the freezer though. Put them on the counter and they will melt in a few minutes! 

Homemade Cough Drops for Kids
Natural homemade cough drops for kids that soothe their coughing and sore throats while giving them a boost to their immune system!
Ingredients
½ cup coconut oil
½ cup raw honey
2 tsp ground cinnamon
2 tbsp lemon juice
Instructions
Use a hand mixer or blender to mix the ingredients well until well combined.
Scoop into a ziplock back and snip a small piece off the corner of the bag.
Squeeze the mixture onto a cookie sheet lined with wax or parchment paper. Spirals, hearts, or other shapes work well.
Freeze for 20 minutes or more before using.
After freezing for a few hours, store in a sealed container in the freezer.
You Might Also Like…