Would you like to add some pizzazz to your dinner menu? Take a look at these delicious 50 easy instant pot chicken recipes. I love cooking with chicken because there are so many things you can do to it to add lots of flavors. It goes well with vegetables, bread or fresh fruit.
You can even cook it once and enjoy the leftovers the next day, and it will taste just as impressive. You can make each one of these dishes in your Instant Pot so clean up is a snap. Check out these yummy meals and your family will thank you later!
Wondering what all the hype about the Instant Pot is? We have TWO of them and I use them both weekly for making rice, yogurt, main dishes, cooking dried beans without soaking, and more! They are great time and sanity savers and wonderful for cooking in the summertime (so you don't heat up the kitchen) or freeing up space in your oven
[Read: The Solution to Mealtime Madness]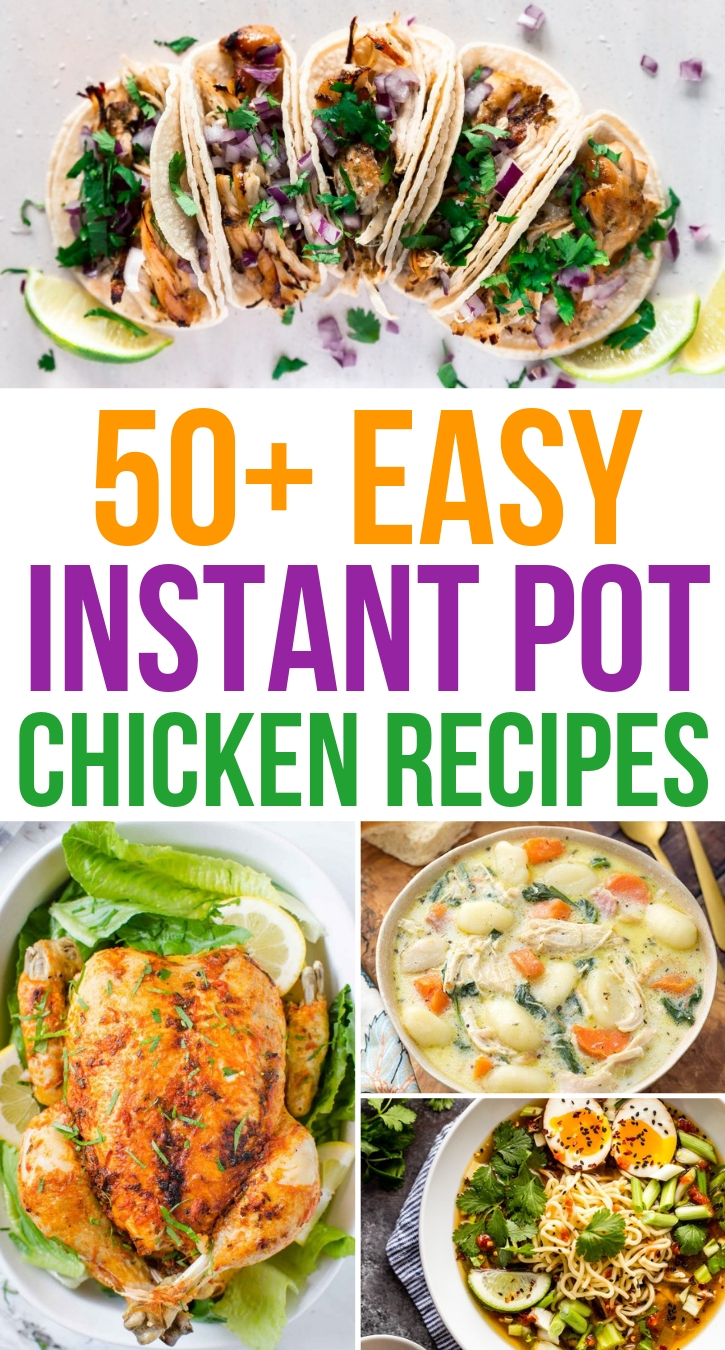 Disclosure: *This post may include affiliate links. As an affiliate, I earn from qualifying purchases. Read the disclosures and terms for more information.
Easy Instant Pot Chicken Dinners You Need To Cook Right Now
Instant Pot Jalapeno Popper Chicken from Taste And See| Spicy, creamy and rich chicken dish that is perfect for your next get together. Serve on some buns, and you are all set.
Instant Pot Zesty Barbecue Chicken from This Old Gal| It doesn't have to be summer to enjoy barbecue chicken! Using your pressure cooker will save you time and energy! Serve with some seasoned french fries.
Instant Pot Creamy Italian Chicken from This Vivacious Life| Gluten-free recipe that only takes forty minutes to cook. Serve with a garden salad and breadsticks for a complete meal.
Instant Pot Chicken Wings from Sweet & Savory| Anyone who is a wing fanatic needs to try this recipe. It is full of tangy sweetness that you can't get enough of.
Instant Pot Spaghetti Squash Buffalo Chicken from Taste And See| The taste of this tangy buffalo style dish is just what you need in your life! The best part is that it is super healthy too!
[Read: Instant Pot Batch Cooking: Save Time and Money!]
Instant Pot Chicken Chili from Diabetes Strong| Salsa verde, tender chicken, and seasonings topped with queso fresco, avocados, and radishes. They give you a couple of options on how you can serve this too.
Instant Pot Creamy Sun-Dried Tomato Chicken Parmesan from Wondermom Wannabe| The first second this chicken touches your tongue you are going to be hooked.
Instant Pot Butter Chicken Freezer Meal from Freezer Meals 101| Savory butter chicken that melts in your mouth. Pairs nicely over a bed of fluffy white rice and warm dinner rolls.
Balsamic Ginger Chicken from This Old Gal| If you are looking for a crowd pleaser, then look no further! This is tangy, sweet and decadent.
Instant Pot White Chicken Chili Verde from Thrifty Jinxy| Perfect soup to take to your next party or event because everyone will love how great it tastes. Serve with some crackers or bread.
[Read: 15 Ways to Avoid Eating Out]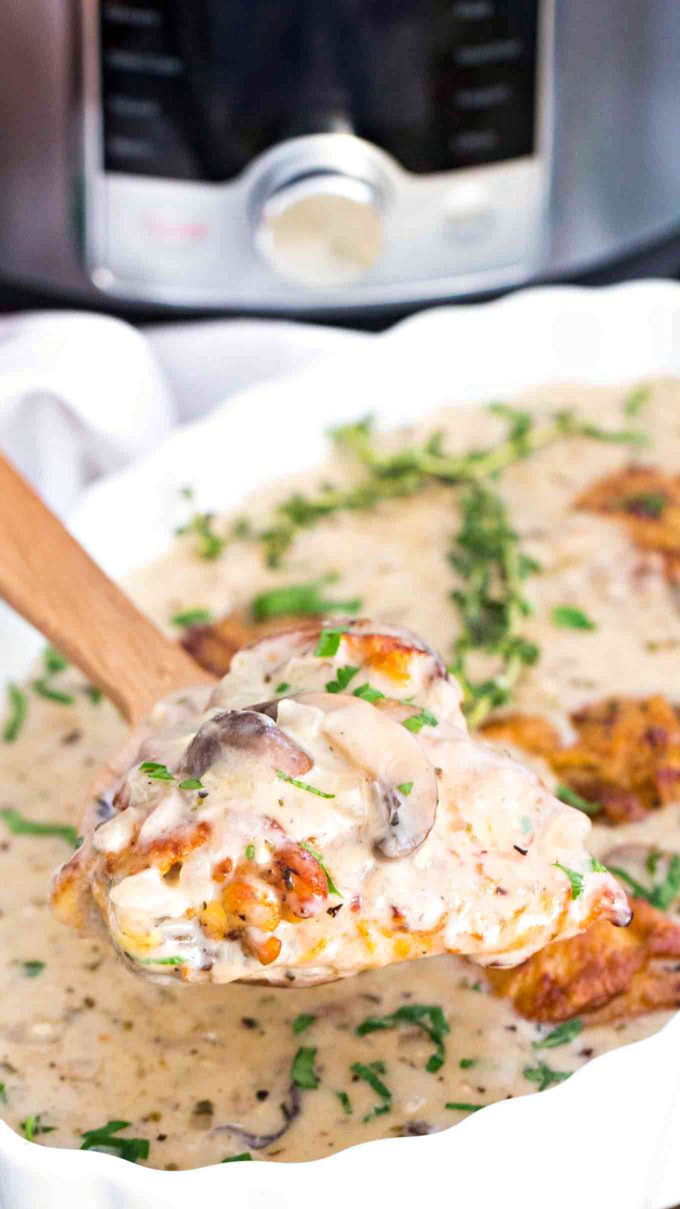 Instant Pot Chicken Marsala from Sweet & Savory| Rich, bold meal that will make your taste buds feel like they are in heaven. Add some steamed veggies on the side.
Instant Pot Chicken Enchilada Casserole from Wondermom Wannabe| Add some spice to your regular taco Tuesday. I promise you are going to fall in love with this casserole.
Ranch Instant Pot Wings from Bake Me Some Sugar| Irresistible wings that your friends and family are going to go crazy for! Serve with some loaded cheese fries or mozzarella sticks for a fun meal!
Instant Pot Chicken Shawarma from Freezer Meals 101| You can have restaurant style food in your own home when you make this mouthwatering dish. Enjoy with a side of hummus.
Honey Sesame Chicken from Thrifty Jinxy| Everyone will think you have been slaving away in the kitchen all day because the flavor is a home run!
[Read: 25 No-Cook Meal Ideas for Summer]
Instant Pot Creamy Chicken Gnocchi Soup from Simply Happy Foodie| If you are looking for a creamy soup that gives a terrific presentation then you have found the right one. This tastes as amazing as it seems too.
Instant Pot Chicken Noodle Soup from Curry Trail| You can never go wrong with comfort food. This soup will warm you up on a cold winters day.
Instant Pot Wine Braised Chicken from Foodal| All you need is 45 minutes and a few simple ingredients to make this elegant chicken. Your family will go crazy for it.
Instant Pot Honey Garlic Chicken from The Flavours Of Kitchen| Tender chicken in a succulent sauce made of soy sauce, honey, garlic, and sriracha. Serve with cooked broccoli and rice.
Instant Pot Chicken Taco Pie from Simply Happy Foodie| I love the spin that this recipe has on tacos. It is filling, loaded with yumminess and looks gorgeous.
[Read: 25+ Frozen Chicken Instant Pot Recipes]
Instant Pot Chicken Carnitas from Powered By Mom| Serve this protein-packed chicken on tortillas and sprinkle with lime juice. Add some refried beans or Mexican rice on the side.
Instant Pot Chicken and Stuffing from The Cozy Cook| You will crave this recipe after you taste it the first time. Your kids are going to beg you to make it time and time again!
Instant Pot Chicken Tortilla Soup from Savory Nothings| I promise you won't be able to get enough of this appetizing soup. The tortilla strips add the perfect crunch to every bite.
Chicken Casserole With Kale & White Beans from The Cooke Report| This casserole is stunning looking and is so scrumptious you will want to devour every last drop.
Instant Pot Cashew Chicken from A Mom's Impression| You will feel like you have take-out made right in your kitchen. Throw in some fortune cookies for a little extra fun!
[Read: 25+ Instant Pot Bean Recipes]
Instant Pot Creamy Chicken Stew from The Cozy Cook| This delectable recipe only takes 30 minutes to make and will leave you impressed! It is creamy, rich and has bold flavors.
Instant Pot Teriyaki Chicken from Salt & Lavendar| Sweet, tender and juicy chicken that will blow your mind! It is so simple to make and goes fantastic with rice.
Korean Inspired Spicy Chicken Noodle Soup from Carmy| You may have never heard of spicy chicken noodle soup before, but now that it is in your life you will remember it forever! So yummy!
Honey Garlic Chicken Lo Mein from Love On A Plate| Chicken breasts, honey, soy sauce, ketchup, garlic, fresh vegetables, and low mein noodles go together to give you magnificent flavors.
Instant Pot Apricot Chicken from Huckleberry Life| If you love sweet chicken, you are going to become a massive fan of this dish. It has scrumptious flavors, and you will keep coming back for more.
[Download the Mix n' Match Menu Planner!]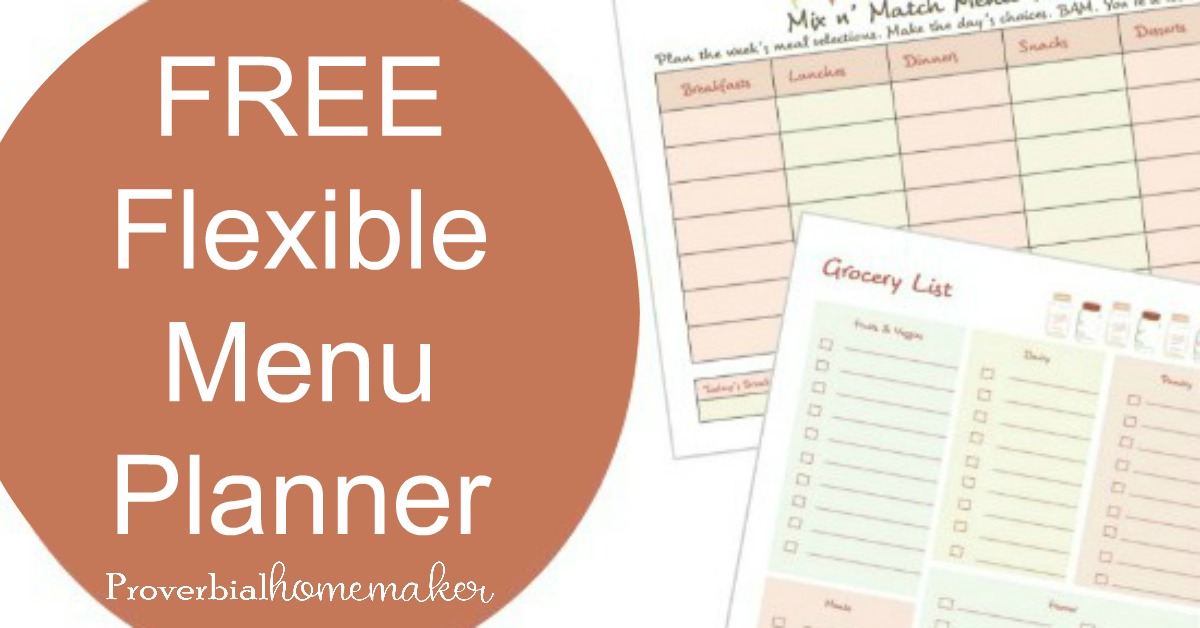 Whole Chicken With Delicious Gravy from Watch What U Eat| This chicken is love at first sight! It looks splendid and tastes phenomenal. You can enjoy the leftovers in a number of different ways too.
Thai-Inspired Instant Pot Chicken Thighs from Hello Nature| Eating food from all cuisine's keeps your meals lively and never dull. If you are looking for something extraordinary, try this!
Instant Pot Filipino Chicken Adobe from Mommy Musings| Vinegar based sauce over chicken legs is tasty and will keep you full. It tastes like you spent hours cooking.
Peruvian Chicken from Bacon Is Magic| This dish is legendary! You will want to add this to your recipe rotation as soon as it touches your tongue. Serve with some steak fries.
Chili Lime Chicken Thighs from Tasting Page| Cooking with chicken thighs is always a great idea because they are moist and tender cuts of meat that are very pleasing to the palet.
[Read: Teach Kids to Cook Simple Meals]
Instant Pot Chicken Ramen from Fox and Briar| This recipe blows store-bought ramen noodles out of the water! You won't believe how amazing this tastes! Plus, it is beautiful and will surely impress your family.
Instant Pot Creamy Chicken Pasta from Imageilicious| An Italian inspired recipe that is the most amazing comfort food. Enjoy some nice garlic bread and a garden salad.
Paleo Cranberry Chicken from The Cheerful Kitchen| You only need a few ingredients, and you can whip up this succulent chicken. Serve with some green beans and dinner rolls.
Instant Pot Chicken Shredded Chicken Tacos from Foodal| Looking for a change for taco night? Take a look at this mouthwatering shredded chicken. It is packed full of Mexican spices!
Instant Pot Whole Lemon Chicken from The Holy Mess| Tangy and savory lemon chicken is a recipe everyone needs to try. Serve this at your next dinner party and your friends will be amazed.
[Read: Best Gifts for the Busy Homemaker]
Instant Pot Cognee – Chicken and Rice from The Work Top| As soon as this is finished cooking you are going to be ready to grab a spoon and dig in. It smells amazing too.
Instant Pot Teriyaki Pineapple Chicken from Sixth Bloom| This is an ideal set it and forget it type meal. You can also freeze the ingredients and dump them in the Instant Pot when you are ready to cook.
Healthy Chicken Stew from Imageilicious| Imagine biting into a luscious stew that melts in your mouth. That is precisely what will happen when you taste this meal.
Instant Pot Honey Sriracha Chicken from Salt & Lavendar| Sweet and spicy chicken that is done in around thirty minutes! The sauce is made up of ketchup, sriracha, honey, soy sauce, and corn-starch.
Instant Pot Chicken Fajita Soup from Eating On A Dime| This soups makes a leisurely lunch or dinner idea. Serve with a fresh garden salad and top with some tortilla chips and sour cream.
[Read: 25+ Healthy Snacks for Kids]
The Best Instant Pot Chicken Breast from Recipes From A Pantry| You can add this chicken to salads, casseroles or eat the breasts. Serve with some cooked vegetables and warm bread.
Instant Pot Chicken & Dumplings from Sixth Bloom| Cooking doesn't get any easier than this four-ingredient recipe. It will warm you up and leaves a lasting impression.
Instant Pot Tortellini Alfredo from My Organized Chaos| Bacon is a game changer with this luscious Italian meal. Add some parmesan cheese on top and serve with garlic knots.
Pressure Cooker Chicken Corn Soup from Delightful Plate| This is a Vietnamese inspired meal that will please a crowd. The corn adds a fantastic sweetness.
Citrus Herb Chicken Chorizo from Low Carb Yum| Unique dish that will become famous in your household. This is a terrific meal to take to someone who just had a baby or dealing with the loss of a loved one.